(ATF) FTSE Russell said on Monday it would include Chinese sovereign bonds in its flagship index from October 31, as it hinted at later possible inclusion of India in an emerging market benchmark.
Chinese government bonds will be added to the FTSE World Government Bond Index (WGBI) over three years from the end of October, the company said in a statement.
"The decision to add the second largest bond market in the world to our flagship global government bond index reflects our robust index governance," FTSE Russell chief executive Waqas Samad said.
The 36-month phase-in is longer than the one-year process FTSE had initially announced in September 2020.
The index provider said "a more conservative" schedule was appropriate because of feedback from market participants, which had included concerns from Japanese investors around settlement and liquidity.
"The People's Bank of China welcomes FTSE Russell's inclusion of Chinese bonds into the WGBI," Pan Gongsheng, the central bank's deputy governor and director of the State Administration of Foreign Exchange, said.
"We will continue to work to actively improve relevant regulations and policy arrangements and promote the further opening of China's bond market to international investors," he added. 
INDIA ON WATCH LIST
FTSE Russell said Indian, as well as Saudi Arabian, government bond markets will be placed on its watch list for potential future inclusion in the FTSE Emerging Government Bond Index. Russia and Vietnam would remain on the watch list, the company added. 
China's debt is increasingly popular with global investors, attracted by its yield and its relative insulation from movements in other bond markets. Benchmark 10-year CGBs yielded 3.209% on Monday, compared with a 1.7116% U.S. 10-year yield.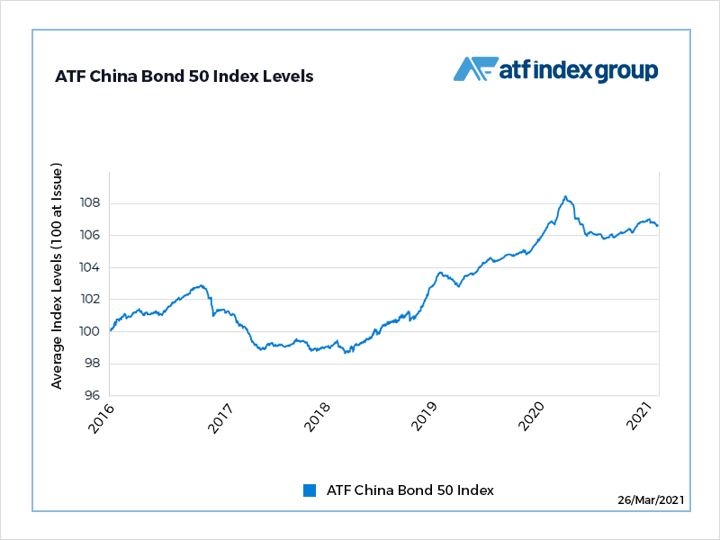 Foreign investors held a record 2.06 trillion yuan ($318.7 billion) of Chinese government bonds (CGBs) in February, even as premiums over US debt shrank.
With roughly $2.5 trillion tracking the WGBI, about $130 billion in inflows could be expected at a rate of about $3.6 billion a month, according to an HSBC analysis.
"FTSE Russell estimates that China's WGBI weight is currently at 5.25%, which implies a rise of around 0.15ppt per month over the 36-month inclusion period," André de Silva, head of global emerging markets rates research at HSBC in Hong Kong, said. 
UNDERWEIGHT WORRIES
China's weighting fell short of many analysts' expectations.
"The announced index weight of 5.25% came in lower than our prior estimates of 6%," Duncan Tan, a rates strategist at DBS in Singapore, said, attributing the smaller figure to a change in threshold sizes. 
CGBs issued before January 1, 2020 will be included in the index if the bonds meet the minimum size threshold of 100 billion yuan, while CGBs issued after January 1 2020 are eligible for inclusion if the outstanding stock is at least RMB35 billion yuan.
"Based on the current list of outstanding CGBs and the CGB issuance calendar for 2021, we estimate that there will be 51 CGBs eligible for inclusion when the inclusion period begins in November, with an average modified duration of 5-6 years," de Silva said.
Chinese government bonds were previously included in JPMorgan and Bloomberg Barclays indices, but inclusion in the FTSE WGBI is expected to have a larger effect due to the size of passive flows tracking it.
The index provider also said Malaysia was no longer on a watch list for exclusion. "This is a much welcome relief and will allow investors to re-focus on other external drivers," de Silva noted.
With reporting by Reuters
ALSO SEE: