The New York Stock Exchange's (NYSE) recent delisting of
China Mobile, China Unicom and China Telecom

may become a milestone of terminating permission of the three telecom players' businesses.

But politics played a significant role in the event and while delisting is projected to diminish some liquidity of the three operators' stocks, it's possible that it may not go ahead. Some analysts say that is the risk that companies and investors should pay attention to.
Background
On November 12, 2020, Donald Trump, the former president of the United States, signed an executive order prohibiting American citizens and corporations from investing in companies related to China' military forces. As China's 5G application vanguards, the country's three major telecom players – China Mobile, China Unicom and China Telecom – were included on the prohibited list.
At the end of 2020, the NYSE announced plans to delist the three operators before January 11, 2021. However, the largest exchange suddenly recalled the plan on January 4, 2021 – and, only two days later, the NYSE suddenly announced it would continue the delisting action.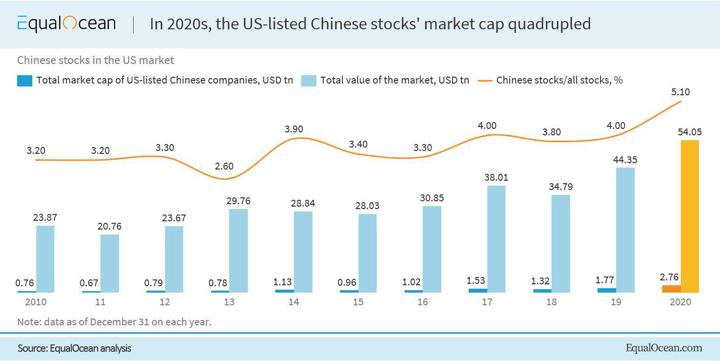 Digging into the event, we can find that the thing is closely related to the US presidential election of 2020. In recent ten years, the market value of Chinese companies listed in the United States increased by 300%. Meanwhile, Jeffrey Sprecher, chairman of the NYSE, and his wife, Republican Senator Kelly Loeffler, have been attacked by other politicians for doing business with Chinese companies.
January 5, 2021 was the day when the count of the vote for the Senate in Georgia ended. We have reason to believe that the previous delisting decision was a way for senator Kelly Loeffler to get more political chips, while the cancellation was a way for the couple to reduce the impact on their businesses once the voting was nearly over. However, senior government officials, including US Treasury Secretary Steven Mnuchin, immediately opposed the cancellation action. Pushed by the government, the delisting plan restarted.
This report was published originally on EqualOcean by Zhenduo Wang, to read the full article, please click here
ALSO SEE: