Investors are in a quandary at the moment with, on the one hand, the post-pandemic fiscally-fuelled rebound in the US encouraging positivity while, on the other hand, fears the bounceback will spark inflation spoiling the mood
ECONOMIC EVENTS
(AF) Investor appetite for risk this week will remain strong as positive data continues to flow from the world's two largest economies, but markets will also pay attention to central banks' views on inflation. 
Wall Street finished on an upbeat note last week after strong US consumer spending positioned the economy for upward growth as rising vaccinations eased Covid-19 pandemic's grip. 
For the month, the Dow has added 1.94%, the benchmark S&P 500 rose 0.55%, and the Nasdaq shed 1.53%.
Also on AF: Carbon-polluting firms warned a tidal wave of litigation is coming their way
But data also showed consumer prices accelerated 3.1% in the year to April, blowing past the Federal Reserve's 2% target and posting its largest annual gain since 1992.
The strong US readings come ahead of China's PMI data this week which is likely to hit 51.1, according to a Reuters poll.
Investors are cautious about the PBoC's monetary stance with flows already reflecting concerns the Chinese central bank will begin normalising its policy.
On the economic data front, attention will be paid at the start of the new month to the purchasing manager indices and inflation figures for the previous month. ING Bank economists expect MI numbers to show improving trends in countries with falling Covid-19 cases and weaker in those with rising infections.
"The most market-sensitive PMI data will be from China, which is expected to be solid like the US and Eurozone, while PMI data from Malaysia, Singapore and Taiwan should be in the weak camp," said Prakash Sakpal, Senior Economist, Asia.
TRADERS WARY
The most eagerly anticipated data point this week will be the US jobs numbers with some traders wary that the upcoming report on May job creation could reignite the move higher in long-term yields. 
While a Reuters poll predicts a 621,000 rise, the median forecast of economists surveyed by Bloomberg is for an increase in payrolls of around 671,000. Expectations that the Fed's current pace of $120 billion a month US Treasuries purchases will be slowed are already emerging – the build-up of dollars in the short-term interest-rate markets seems to suggest that ahead of the next central bank policy meeting on June 15-16. 
Tapering chatter may also emerge at the Kansas City Fed's annual gathering at Jackson Hole in August.
Money-market traders are currently pricing in about 18 basis points worth of Fed rate hikes by the end of next year – down around 3 basis points from levels late last month. That equates to around a 72% chance of a standard 25 basis-point increase in 2022. 
FUND FLOW
In the week top May 26, investment flows rushed into Europe and US equity markets with India and China seeing outflows in the backdrop of slowing equity inflows in emerging markets, EPFR data showed.
Developed Markets Equity Funds were positive for the 22nd straight week with Europe Equity Funds posting their biggest weekly inflow in over three years. US Equity Funds pulled in fresh money for the ninth straight week and Global Equity Funds for the 38th week in a row.
"Investors remain torn between the eye-popping rebound in US economic growth, bolstered by epic levels of fiscal stimulus and expectations that the combination of current vaccinations and past infections will add up to 'herd immunity' against Covid-19 by 3Q21, and fears this rebound will lift inflation – and inflationary expectations – to disruptive heights," said Cameron Brandt, EPFR's Director, Research.
Bond funds experienced slowing inflows as investors shifted their focus to when, and to what degree, the world's major central banks will taper the measures deployed to buffer their economies from the impact of the Covid-19 pandemic.
EXITING INVESTORS
In Emerging Asia, the two biggest economies both saw outflows, as both China and India saw investors exiting in contrast with Emerging Markets Equity Funds which posted their 17th inflow in the 21 weeks year-to-date.
China Equity Funds posted their fifth outflow quarter-to-date and India Equity Funds their 10th in a row. India continues to wrestle with a spike in Covid-19 cases that is still killing over 4,000 people a day while enthusiasm for China has been dented by the perception that the first major economy to stage a post-pandemic recovery will be the first to meaningfully curb its stimulus measures.
Benefiting from China outflows are markets in Taiwan and Hong Kong where Equity Funds are seeing hefty inflows. Taiwan saw over $1.8 billion of money flowing in during the past four weeks and Hong Kong Equity Funds over $500 million.
Economic data calendar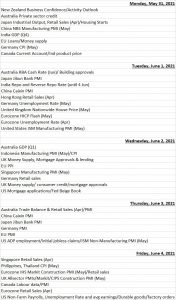 Last week's rating changes

Read more:
China bets on REITs to shift risk of public works into private hands
AF TV: The massive projects being funded by record bond issuance