Search company sought to balance its falling status in China's tech pantheon by ploughing head-first into EV software. Everything looked promising until the road began to get bumpy
(AF) When Chinese search engine Baidu Inc launched a new low-cost robotaxi last week with the claim that it would have three million users by 2023, the news got lukewarm reception in both New York and Hong Kong. 
Baidu's Nasdaq-listed shares rose sightly by 0.51% while its Hong Kong-listed shares declined by 0.44%. In stark contrast, Baidu soared by 15.6% in a day in early January on a report that it plans to enter the electric vehicle (EV) business through a tie-up with automaker Geely.
Once a leader in the so-called "BAT" club (which stands for Baidu, Alibaba, and Tencent), Baidu is playing catch-up as up-and-coming rivals like TikTok owner ByteDance takes a larger share of China's online advertising market.
But the search giant's foray into autonomous cars has acted as a catalyst that boosted analysts' outlook for the company.
Cathie Wood, head of ARK Investment Management and manager of the popular ARK Innovation ETF (ARKK), told Yahoo! Finance in early February that she was bullish on the potential of Baidu building cars.
Wood has had a special interest in emerging technologies, and her investment in Tesla has put ARK at the top of the industry.
ARK started to increase its holding of Baidu stocks in December after the search giant's business rebounded in the third quarter. As of mid-January, several ETFs under ARK held 2.7 million shares of Baidu ADRs worth almost $600 million in total. Baidu was the eighth-biggest holding by the ARK Autonomous Technology and Robotics ETF (ARKQ), and the only Chinese company of the top 15 holdings by the ARK Innovation ETF (ARKK).
Short flight
Wood's endorsement sent Baidu's stocks skyrocketing, but the growth didn't last long.
After soaring almost 145% within two-and-a-half months and hitting an all-time high of $354 per share in late February, Baidu's Nasdaq-listed ADRs have been moving downward. As of June 22, they were at $187.6 per share, back to their value of December 2020.
On the heels of registering Jidu Auto, an EV joint venture (JV) with Geely in early March, Baidu had its secondary listing in Hong Kong and raised $3.1 billion to fuel the expansion of its AI and autonomous-driving businesses. 
The Hong Kong secondary listing got lukewarm reception with investors wary of the fundraising flurry in the city and the search company's growth plans.
Baidu shares closed at HK$252 ($32.5) each on their debut, in line with the price set for the Hong Kong listing, while the Hang Seng Index lost 1.3% in the session. The lacklustre debut contrasted with some of the city's other major first-day movers in 2021, such as Kuaishou Technology which gained 160% in early February. 
"We think it will take a few more quarters for the market to duly appreciate Baidu's efforts in cloud and other initiatives and value the stock as a comprehensive internet stock," Shifara Samsudeen, an analyst from LightStream Research, said. He also noted that secondary listing debuts were generally not as strong as primary listings.
Baidu's Hong Kong-listed shares are now at HK$182.7, down 27.5% from their first session.
Weighting in the shadows
After admitting that Baidu was one of the top "detractors" that affected ARKQ's performance in the first quarter, ARK sold off massive holdings of Baidu shares in May.
Baidu was ARKQ's worst-performing stock in the first quarter, dragging down the ETF's performance by 46 basis points, according to ARK Invest's report for the first quarter. 
ARK attributed Baidu's poor performance to several factors.
"We believe BIDU detracted for several reasons: the Archegos liquidation that forced investment banks to sell, renewed fear around the potential delisting of Chinese ADRs, and rumours that the Chinese government will form a joint venture with internet giants to aggregate consumer data," ARK Invest said in its Q1 report.
ARKK, one of Wood's flagship ETFs, has cut back on Baidu holdings significantly. Baidu's weight was reduced to 0.02% as of mid-May, down from 3.3% at the end of March. The ETF now has no holding in Baidu, according to the latest disclosure on ARK Invest's website.
But ARK's other ETF with a focus on EV, the ARKQ, still holds 676,444 shares of Baidu ADRs, accounting for a weight of 4.28%.
Future uncertain
While the future of Baidu's EV business remains unclear, the company's stocks have remained weak in both New York and Hong Kong.
In Baidu's first-quarter earnings call in mid-May, founder Robin Li told analysts that the Apollo unit that is developing self-driving capabilities supports "all kinds of business models and directions" that include robotaxi ride-hailing, software services for the automakers and building Baidu's own EVs.
He noted that efforts in all these directions will "feed back data… and market signals" to make Apollo a stronger platform for both autonomous driving and smart transportation.
However, analysts from Kongfu Finance, a financial education service provider, said problems loom over Baidu's autonomous-driving business.
The "segment is facing most challenges in Robin Li's AI empire," a commentary from Kongfu said on Monday. "The unit couldn't spin off from the group to receive direct financing, and hasn't been able to identify a good monetisation model. The autonomous-driving team has been losing its core talents, and there hasn't been any solid development with the new car-making business."
No one in the driving seat
Baidu kicked off the self-driving car project as early as 2013, in a move similar to Google's sibling Waymo in 2009. 
Wang Jin, who headed Baidu's Level 4 autonomous-driving segment – that which develops IT enabling full autonomy is selected areas – reportedly proposed to spin off the unit in 2016 to attract external capital and help incentivise the team. But the plan was shot down by the group, after which the unit has been primarily focused on government-led "smart" transportation infrastructure projects.
Last August, Apollo received a 460m yuan ($71m) "smart" infrastructure contract from a local government in Guangzhou city.
In such projects, the municipal governments dominate the decisions on car models, testing venues, and product development, which hurts Apollo's technological innovations, Kongfu Finance said.
Slow start
Baidu's Apollo Go autonomous ride-hailing service has had limited commercial use so far.
In May, Baidu started to charge fees for Apollo Go – billed by the company to be China's first fully autonomous ride-hailing service with no one in the driver seat. At the Shougang Park, a Beijing 2022 Winter Olympics site, Apollo Go rides are priced at 30 yuan each, which is almost three times as much as regular taxi rides.
In comparison, WeRide has been offering commercial robotaxi services in the busy streets of downtown Guangzhou since 2019, charging the same fees as regular taxis. 
Because of a lack of a commercialisation model for the L4 "high automation" technology, Baidu has allocated more resources to advanced driver assistance systems (ADAS) – or Level 2 and Level 3 technologies – that can already make money from the automakers. 
More than 10 Chinese and international automakers, including GAC Group, Changan Automobile, Toyota and Weltmeister, have installed Baidu's ADAS in their vehicles. But China's top three EV startups, Nio, Xpeng and Li Auto, have all chosen to develop their own autonomous-driving systems so they can have full control of data collected by the systems, which is fed to train and boost the controlling algorithms.
Quick exit
Baidu's tech heads that have ambitions in autonomous driving have left the company one after another to set up their own startups.
Wang Jin left and founded WeRide. Yu Kai, previously vice president of Baidu Research Institute, founded AI chip company Horizon Robotics. Peng Jun, previously chief architect of Baidu's self-driving unit, founded autonomous-driving company Pony.ai.
With autonomy over their own business directions, some of these entrepreneurs have created what are considered the strongest technological capabilities in China's autonomous-driving field.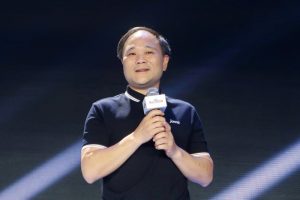 With an eye to bag more profits from autonomous-driving, Baidu has decided to make its own cars. It owns a 55% stake in Jidu Auto, the joint venture with Geely, which was announced by the Geely Holding Group's chairman Li Shufu (pictured left).
Jidu Auto will be entering an extremely crowded space and facing competition from Tesla, Nio, BYD Auto, and a slew of traditional automakers that are transitioning to the EV sector. Also joining the race are other Chinese tech giants, such as Xiaomi, Huawei, DJI and Qihoo 360.
Jidu Auto has revealed a plan to launch its first mass-produced car within three years, which indicates the company would not be able to make a profit in at least five to six years, some analysts have pointed out.
Best of three
Of the three Apollo business models pitched by Robin Li to investors, providing software services to the automakers appears to be the only viable one in the near future, Zhang Nan, an analyst from EqualOcean, said.
"The other two directions – making Baidu's own cars and robotaxi ride-hailing – both require significant upfront investment and are unlikely to reap returns in the short run," she said.
Long hailed as a technology that would soon be ready to commercialise broadly and cheaply, robotaxi's development is costing more and taking longer to safely deploy than initially expected.
Waymo, Alphabet's self-driving unit after which Baidu's Apollo was modelled, is moving far behind its goal of commercialising the technology by 2020. The company has continued to bleed money since 2009 and its robotaxi service still isn't out of demonstration phase. 
Uber and Lyft have both sold off their self-driving units to improve their bottom line.
Nevertheless, Robin Li remains upbeat about the prospects for Apollo.
"According to China Insights Consultancy, a market research and consulting firm, the TAM for Apollo intelligent driving, which includes robotaxi ride-hailing, EVs, and self-driving services for automakers, will reach $467bn, almost nine times the size of our advertising TAM of $53bn in 2025," said Li at Baidu's Q1 earnings call.
TAM, or the Total Addressable Market, refers to the overall revenue opportunity that is available to a product or service if 100% market share was achieved.
Traditional market
Advertising now accounts for about 80% of Baidu's revenues, if not counting the video streaming service iQiyi.
Analysts from Guosheng Securities think Baidu is "significantly undervalued".
"Baidu's ADAS solution is entering commercialisation in 2021. ADAS and Baidu's leading robotaxi technology will be the company's growth drivers in its third decade of existence," Xia Jun and Xia Tian, analysts from Guosheng Securities, said.
They expect Baidu's revenues to increase by 19% in 2021 to reach 127bn yuan, and have valued the company at $93bn – of which Apollo accounts for $17bn.
The brokerage firm has given Baidu a "buy" rating for the first time, with a $269 pricing target for its US-listed ADRs and a HK$261 pricing target for its Hong Kong-listed shares. 
They represent room for increase of 43.4% and 42.8%, respectively, from the current prices.