(ATF) The year-long pandemic has crushed numerous industries, except that of "fake meats".
A shortage of animal protein, worldwide lockdowns and growing health awareness have accelerated the demand for plant-based protein during the pandemic. Business has seen significant growth despite the global economic turmoil. After international firms came in to whet the appetite of the Asia market, China has become a new battleground.
"We see a triple or even quadruple growth for our Omnipork series in retails in Q3 and Q4 on a year-to-year basis," said David Yeung, founder of Green Monday. Omnipork products, which include minced plant-based pork and frozen dim sum dumplings, are available in supermarkets and online shops in Hong Kong, e-commerce platforms like Tmall on mainland China and around the rest of Asia.

Read More: Retail madness: China's cities in a race to ramp up consumption
Meanwhile, Silicon Valley-based Impossible Foods marched into 200 supermarkets in Hong Kong and Singapore last month with its signature Impossible Beef Made From Plants. It is available for home chefs outside of the US for the first time. 
Apart from seeing increasing demand under Covid and the resulting meat shortages, the pandemic "also laid bare the fragility of the animal agriculture industry," said Nick Halla, senior international vice president of Impossible Foods.
The pandemic hasn't halted the company's expansion. It launched the ground pork Impossible Sausage Made From Plants this year. According to Reuters, the $4 billion-valued company secured 500 million in its latest series F funding round from mostly Asian investors, including South Korea's Mirae Asset Global Investments in March.
In Malaysia, fast-growing food tech start-up PHUTURE Foods changed its launch plans from Hong Kong to Singapore in the second quarter due to coronavirus travel restrictions. Co-founder Jack Yap said the company's PHUTURE Mince has been well received and is now available in more than 60 restaurants and cafes in the lion city within various Asian fusion cuisines.
The pandemic might have given a push to the industry after 2019 was dubbed the Year of the Vegan by The Economist. Global forecasts project that plant-based alternatives might reach $27.9bn  in value by 2025, according to Market and Markets research last year. Key players' eyes are on the Asia market after the US and Europe, especially China.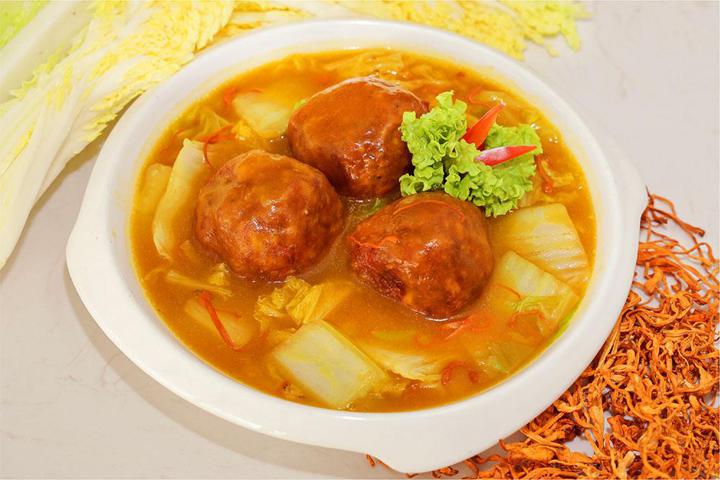 PHUTURE Foods meatballs.
Despite the strong meat culture in the country, the national nutrition advice issued in 2016 encouraged citizens to reduce meat consumption to 50%, which leaves the door wide open for plant-based meat products to flourish. Local players such as Zhenmeat launched the first plant-based meat mooncake during the Mid-Autumn Festival this year. Qishan Foods, which sells faux oyster sauce and plant-based abalone, has recently released mock sausage varieties made from pea and soy protein. Last year, it teamed up with Walmart to launch its products at stores in China. Euromonitor predicts China's plant-based meat market would grow to $12bn by 2023 from around $10bn in 2018.
"We have taken China into account at the very early stage," said David Yeung. 
After stepping in the mainland China market at the end of last year, Yeung said Green Monday plans to sourcing more ingredients from China and build a manufacturing line in Guangdong next year to ride the "uptrend". He also noted that the company's "showcase" Green Common, a self-branded plant-based grocery shop and cafe, will be opening in Shanghai next month, and another in Singapore in January, debuts for both cities. 
Beyond Meat
Another key US player, Beyond Meat, will be the first international brand in the industry to open a major production line in China. It signed a deal with the Zhejiang Government at the China International Import Expo on November 5. it also plans to build two plant-based meat production facilities in the province's Jiaxing Economic & Technological Development Zone (JXEDZ) next year.
Matilda Ho, founder of Bits x Bites, China's first food technology venture capital group, told Associated Press news agency that it saw a good opportunity to introduce consumers to plant-based alternatives to meat amid concern that there is a potential link between meat products and  the coronavirus. The industry's biggest challenge would pricing, which tends to be higher than for other food.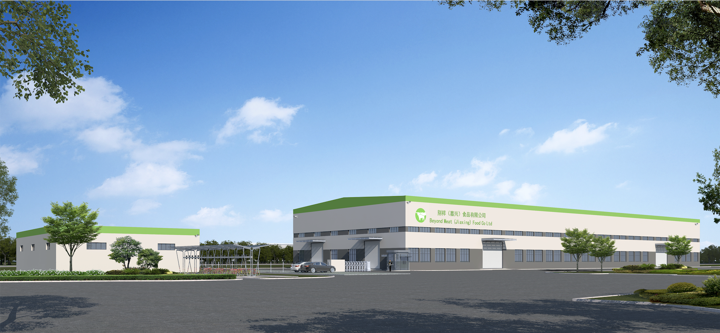 Beyond Meat's Jiaxing factory
"One key to the branding of plant-based meats could be found in promoting organic vegetables as healthier and worth the price. The big question producers of plant-based meats need to address is 'where does this fit into an already crowded food category'?" said Ray Rudowski, managing director of Epic Communications, which has helped food producers to develop messaging strategies.
It takes longer to change culinary cultures, however. Halla at Impossible Foods found behavioural changes in Asian customers encouraging for when it expands into the region. 
"We can see that consumers are open and interested in becoming more sustainably minded through their food choices and are loving Impossible's delicious meaty taste and versatility in Chinese, Asian and Western cuisines, which is critical to achieving our mission," he said.
Plant-based meats may be a new trend, but it might not fit everyone's appetite. Last month, Green Monday launched a plant-based luncheon meat menu with MacDonald's in Hong Kong and Macau but faced a backlash among local vegetarian groups, who said the product was not a healthy option.
"It depends on what you are comparing it to," Yeung said. "If you compare it with whole food, then of course it can't be a healthier choice. But if you compare it with original luncheon meat, you can't even know what meat they are putting in it, then our plant-based luncheon product must be a healthier choice. 
"We are just offering healthier alternatives for meat lovers," Yeung defended.