(ATF) The benchmark China Bond 50 index and the ATF ALLINDEX Corporates lost 0.12% and 0.26%, respectively on Monday, as China's Q3 GDP data came in lower than forecasts. The country nonetheless recorded an acceleration in growth of 4.9% year-on-year versus 3.2% year-on-year in the previous quarter.
No gains were seen in the ATF ALLINDEX Enterprise and Local Governments. Only the ATF ALLINDEX Financials rose, climbing 0.03%.
"The market is a bit upset by the 4.9% year-on-year growth as the consensus has been 5% or more," said Iris Pang, Chief Economist for Greater China at ING. "Ten-year yields went up and CNY per USD has retreated slightly. But the market should recover these losses when it has time to digest the substance of the GDP report instead of just reacting to headlines."
Ting Lu, chief China economist at Nomura, stated that September's activity data indicates that the domestic recovery is continuing unabated, noting that forecasts have been challenging due to high volatility.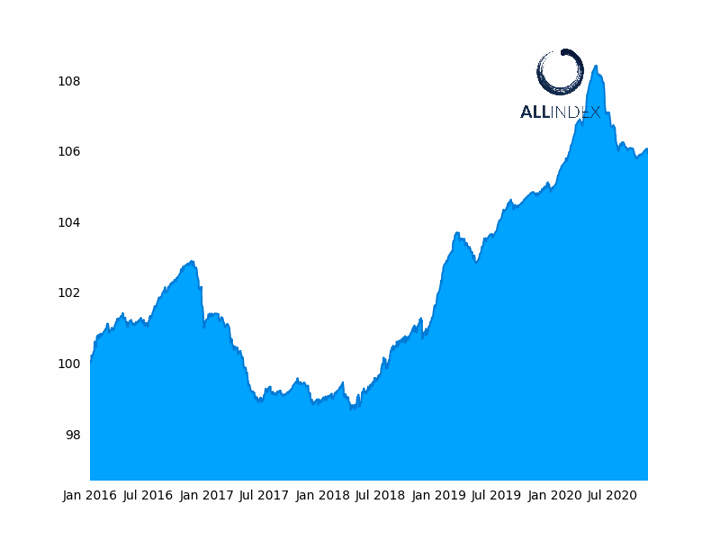 The ATF CB50 Index fell 0.12%
A breakdown of the data confirms an improvement in industry and construction to 6% from 4.7% last quarter, with the biggest pick-up coming from the service sector. This rose from 1.9% year-on-year to 4.3%. The Industrial Production print, which also came out today, accelerated to 6.9% year-on-year from 5.6% in August. Meanwhile, retail sales jumped to 3.3% year-on-year from 0.5% in August, indicating an encouraging pick-up in consumption. The services production index rose to 5.4% from 4% in August. 
Meanwhile, Fixed Assets Investment held steady at 7.6%, while unemployment fell to 5.4% from 5.6%.
"We think growth will continue to pick up in the near term," said Julian Evans-Pritchard in a research note. "Fiscal policy is set to remain supportive  until at least the start of next year, which should keep activity in industry and construction strong."
"Meanwhile, tightening labour market conditions and improving consumer confidence mean that the recovery in consumption and services activity probably has further to run." 
Pang of ING flagged the strong growth in property development, which grew 5.6% year-on-year in September from 4.6% in August, and which appears to be providing substantial support to the economy. Pang warned that property prices could be vulnerable to another wave of COVID-19
"Another round of COVID-19 has come in Europe and the US, which will certainly dampen China's exports. And this might also weigh on prospective property investors' appetite for property investments with investors more cautious about committing cash to illiquid investments like property."