What if investors could gain exposure to the upside potential of the crypto boom, avoid volatility, minimize risk, and still get stellar returns?
Blockchain-focused Exchange-Traded Funds (ETFs) are designed to do exactly that, and so far this year they're delivering. They include names such as Siren Nasdaq NexGen Economy (BLCN), First Trust Indxx Innovative Transaction & Process ETF (LEGR), and Capital Link NextGen Protocol ETF (Koin), which is owned by AF parent Capital Link International.
These ETFs invest in world-leading companies positioned to capitalise on blockchain technology. Because they are established, well-regulated companies, they shield investors from the wild swings of opaque, and poorly regulated digital currencies such as Bitcoin.
Blockchain ETFs are being buoyed this year by the broad boom in crypto assets, abundant liquidity and rising inflation. The AF Future of Money Index, a basket of 11 digital currencies from Avalanche to Bitcoin and Solana (SOL), is up a stunning 3646% in 2021, driven by Solana's stratospheric rise of more than 15,000%.
Ample global liquidity as central banks counter the pandemic has also emboldened investors to take more risk. At the same time, rising inflation has left low-yielding assets such as government bonds out of favour and prompted investors to seek assets with higher real returns.
The result is shown in the chart above. Koin, which tracks the AF Global Fintech Leaders Index, rose almost 22% percent so far in 2021. That compares to an almost 28% increase on the Invesco Nasdaq 100 ETF, which stands at close to a record high. BLCN rose about 26% while LEGR was up almost 22%.
A wide range of companies use blockchain to make their businesses more efficient and Koin has holdings in companies from Visa Card to Nestle SA and Microsoft Corp. That diversification has helped it outperform this year more narrowly focused, innovation-driven ETFs such as sector giant ARK Innovation ETF. With more than $21 billion of assets, it's down for the year by almost 5%.
Nvidia's Surge
Among the underlying companies helping drive Koin's advance are Nvidia, which has seen its stock surge 132% so far this year. It began making dedicated chips for mining cryptocurrencies earlier this year and saw sales of $266 million in the second quarter. Salesforce, which uses blockchain in its customer relationship management software, is another company that's bolstering Koin.  Its shares have jumped 39% this year.
The underlying idea of blockchain ETFs is that they gives investors the opportunity to invest in a technology that arguably will be more transformational than digital currencies themselves. It's seen as a potentially game-changing technology that's able to help a wide range of businesses become more efficient.
"Our view is that there could be more opportunity than skeptics expect,'' said crypto and digital assets strategy analysts Alkesh Shah and Andrew Moss at Bank of America in a research note. "In the near future, you may use blockchain technology to unlock your phone, buy a stock, house or fraction of a Ferrari, receive a dividend, borrow, loan or save money, or even pay for gas or pizza.''
For investors unconcerned about the risk and volatility of digital currencies, there is the potential for massive gains and substantial losses. So far this year it's been the former, as shown by the following chart that tracks AF's Future of Money Index against Bitcoin and Ethereum.
It shows that diversification into digital a basket of digital currencies actually enhanced returns on this occasion with AF FoM's basket of 11 outperforming Bitcoin and Ethereum by a wide margin.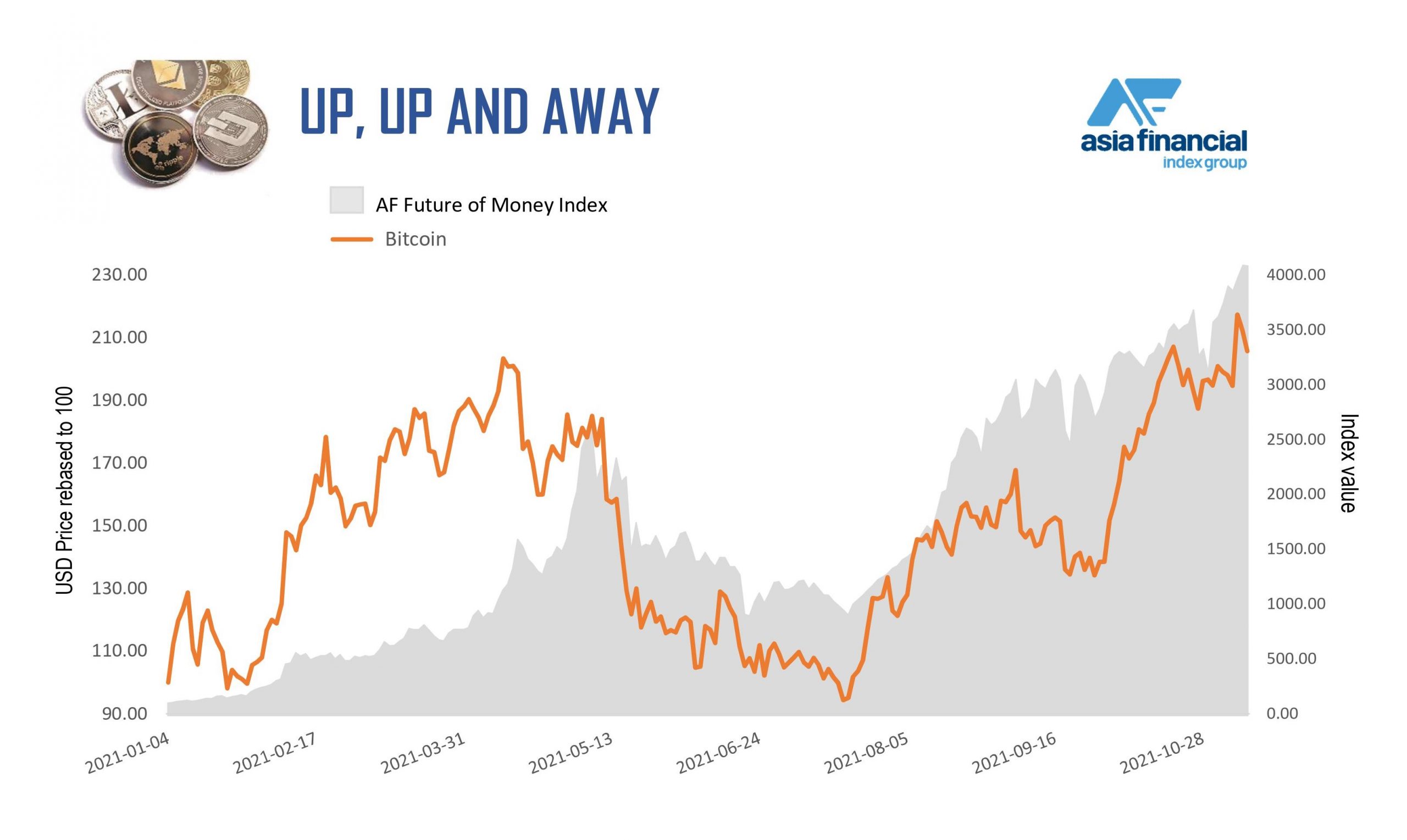 Aside from SOL, the biggest gainers in the AF FoM index were Terra (+7,818%) and Dogecoin (+4,460%).  For investors without a strong tolerance for roller coaster rides, blockchain ETFs are likely a safer, steadier bet.
•By Kevin Hamlin and Richa Gandhi
ALSO ON AF: Ether Races To Record $4,600 High As Crypto Surge Continues
This story was updated on November 15 with a new chart.