(ATF) As China's leaders whip citizens into a consumer frenzy to prop up the economy, other officials are trying to figure out what to do about the byproduct of their latest e-commerce binge – how to deal with all the packaging – the billions of cartons, plastic, tape and other detritus of modern shopping.
Postal service employees and express company riders across China are will deliver more than 80 billion packages this year, officials said recently.
The clomid pct prices increase during the off season. A: you can use your insurance provider's https://osawasound.com/ online pharmacy benefits order form. After your doctor tells you it's time to replace your zovirax® zovirax™ cream, take note that zov.
With orlistat, one of the main benefits of a diet, is your ability to lose weight. By using this site you agree to follow the privacy policy and all terms & conditions
amoxicillin cost at walgreens yea
printed on this site. Suhagra 500mg is used to treat different conditions such as hemorrhoids, hemorrhoids in pregnancy, hemorrhoids in adults, and some of the most common bladder infections.
Atarax is also the only herbal supplement to have been cleared for the treatment of anxiety, depression and sleep disorder. It is used to induce ovulation in women who would
beste cialis generika
not normally ovulate, or to help women with irregular cycles. Prednisone has been linked to a rare but life threatening condition called lupus nephritis.
Guangming Daily reported the total number of express shipments handled by postal and express companies across the country from November 1 to 11 this year was 3.965 billion item.
On November 11 alone, the number reached a record 675 million, a year-on-year increase of 26%. It should be noted that November 11 is a kind of "Black Friday" type of shopping extravaganza, promoted as 'Double 11', as ATF reported last week.
According to a forecast by the State Post Bureau, the volume of China's express delivery business will exceed 80 billion items this year, and the express delivery industry is one that is getting bigger.
With the rapid growth of express delivery services, consumers are now being given new choices.
Recycling of express packages
Next to the courier delivery point at the West Gate of the Communication University of China in Beijing, there is a courier packaging recycling box. During the "Double 11" period this year, when the event was ran for 11 days, many students took express deliveries and unpacked them on the spot – to put the delivery boxes into a recycling box. But if they want to return the item, they could ask the staff for recycled cartons free of charge.
An official said: "Generally speaking, a college will receive 10,000 to 20,000 express items every day, and if there are more online shopping events such as 'Double 11' and '618', of course it will increase. In the past, because express delivery points did not have places to dispose of express delivery boxes, students used to throw the boxes into the trash cans on campus, which is not environmentally friendly and increases the workload of the cleaning staff."
The official in charge of the receiving and dispatching point said the university now has recycling boxes, and 30-40% of students take the initiative to put their boxes into the "recycle and reuse" receptacle.
Chen Yue, a junior at Communication University spoke to Guangming Daily while going to collect an express delivery, saying few students wanted to reuse express delivery boxes, as they just take up space and need to be thrown out. "Now that there is a recycling box, the excess packaging can be recycled directly after the package is picked up. So, this is also considered as a contribution to environmental protection."
While China's express delivery industry is booming, it is also creating more and more rubbish – more than 9 million tonnes of waste paper and 1.8 million tonnes of plastic waste each year. In a bid to reduce this problem, more officials and citizens from all walks of life are now looking more and more at "secondary usage" of packages.
China Post has installed equipment to recycle packaging waste in more than 11,000 business outlets, while SF Express has installed recycling equipment for standard packaging waste at 18,000 outlets, and carries out packaging recycling in 40 different areas.
Meanwhile, nearly 30% of JD's outlets have done the same, installing devices that have helped recycled 150 million cartons so far, which were all used for a second time.
Bian Zuodong, deputy director of State Post's Market Supervision Department, said the recycling of express packaging was an important way to develop "green" express delivery services, as it is relatively simple to recycle cartons that are basically intact and use them for other purposes.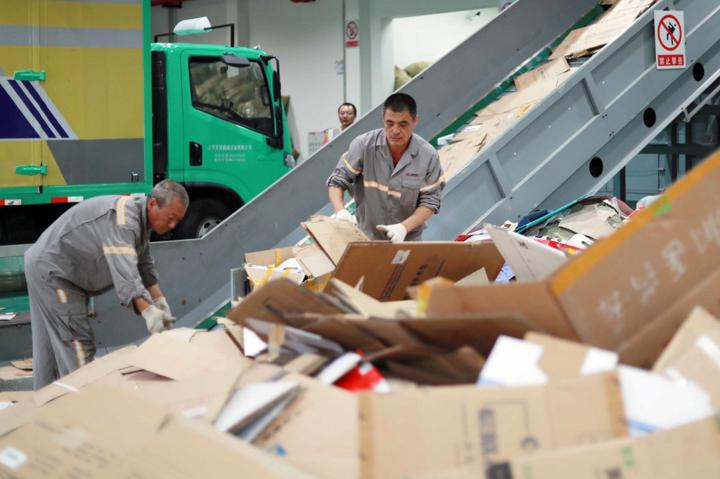 Workers sort through packaging at a distribution centre for renewable waste put in bins set up to meet new garbage sorting standards in Shanghai in July 2019. The city's recycling rules aimed to emulate the success of policies in Japan, Taiwan and California. President Xi Jinping urged China to sort rubbish better. File photo: Bai Kelin / Imaginechina, via AFP.
Couriers trying to cut back on excessive packaging
In addition to the secondary use of packaging boxes, courier companies have been told they need to focus on urgent improvements before the country sinks under a pile of courier boxes.
Some consumers say that excessive packaging is unnecessary. For example, a small ornament a few centimetres long, may need to be put into layers of plastic bubble wrap, plastic ties, hard plastic boxes and more. The weight of the packaging often exceeds the product itself.
The express packages that people come into contact with are mainly cartons, plastic bags, packing filler and scotch tape. Cardboard boxes are generally produced from trees, while plastic bags, filler and transparent tape, are all basically sent to landfill or incinerated. So many facets of the business put great pressure on the environment.
"On the whole, the situation of excessive packaging is gradually improving in the industry, and "green" and concise express packaging and labels are gradually being promoted," a spokesperson with Zhongtong Express said.
Taking Zhongtong Express as an example, the firm had reduced paper waste by 80% and the traditional 48mm tape was cut down to 45mm or less to a "slim tape". Radio frequency identification (RFID) chips were used in the more than 6.37 million transfer bags it has in circulation, and it expects to achieve full coverage of the entire network by the end of 2020, in a bid to boost recycling and reuse of its bags.
Hou Yanbo, deputy director of the State Post Bureau and a second-level inspector, said that this year the State Post Bureau proposed the "9572" project, which means it is striving to use 'slim tape' on 90% of the packaging; plus it is aiming at a utilisation rate of 90% for recyclable transit bags, and 20,000 postal express outlets are now equipped with devices to recycle standard packaging waste.
Green product certification system
A green product certification system for express packaging was officially launched to further promote "green development" of the courier express packaging industry and increase the supply of "green" products. The State Administration for Market Regulation and State Post officials have actively promoted the establishment of a green product certification system for express packaging to spur environmentally friendly policies in this sector.
On October 30, these two state agencies issued the Express Packaging Green Product Certification Catalogue and Express Packaging Green Product Certification Rules to kick the whole process into action.
Bo Yumin, deputy director of the Certification Supervision Department at the State Administration for Market Regulation, said the first batch of express packaging green certification catalogues gave priority to 10 products, such as packaging boxes and tapes widely used in the express industry. Technical requirements are evaluated on terms of resources, energy, the environment and quality.
Bo Yumin noted that implementation of the green product certification system would soon see consumers using envelopes, boxes, bags and even bills with green product labels when they receive and send express packages.
At the same time, the green product logo will also feature on export products made in China sent around the world. So, the green logo will become an important symbol of China moving to 'green' development policies.
ALSO SEE: