Beijing has played down the impact of the Wagner rebellion in Russia, dismissing claims that the insurrection on Saturday had greatly undermined Russian President Vladimir Putin.
The Global Times quoted Chinese experts as saying claims that the "short-lived revolt" by Wagner mercenary chief Yevgeny Prigozhin eroded Putin's power were "wishful thinking" by the West.
China's foreign ministry said late on Sunday that it supports Russia in maintaining its national stability, after the mutiny by Prigozhin and his heavily armed mercenaries was defused with the help of Belarus.
Russia's Deputy Foreign Minister Andrei Rudenko held talks in Beijing on "international" issues on Sunday following the most serious challenge to President Vladimir Putin's invasion of Ukraine and his 23-year grip on power.
ALSO SEE: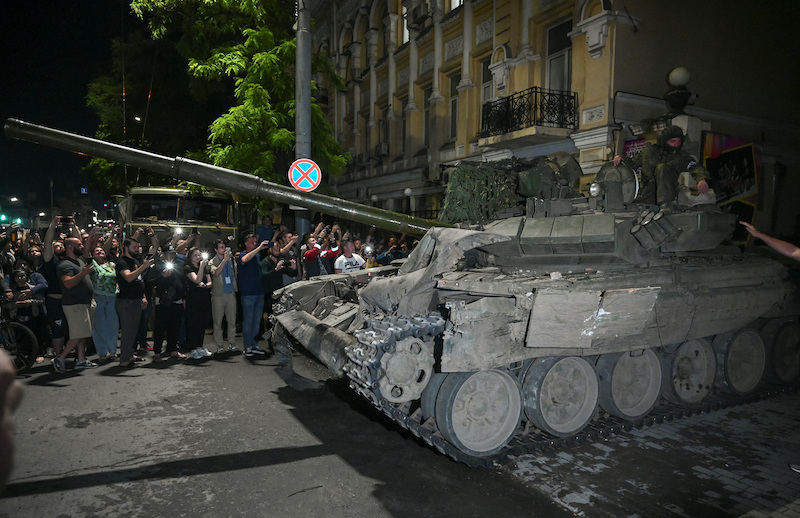 Russian deputy minister briefs Qin Gang
"The Chinese side expressed support for the efforts of the leadership of the Russian Federation to stabilise the situation in the country in connection with the events of June 24 and confirmed its interest in strengthening the cohesion and further prosperity of Russia," the Russian foreign ministry said.
China's foreign ministry initially said only that Rudenko had exchanged views with China's Foreign Minister Qin Gang on Sino-Russian relations as well as "international and regional issues of common concern".
It later said China supports Russia in maintaining its national stability and that the recent escalation in tensions in Russia was Russia's "internal affairs".
"As a friendly neighbour and comprehensive strategic partner in the new era, China supports Russia in maintaining national stability and achieving development and prosperity," it said, without explicitly referring to Putin personally.
It was unclear when Rudenko arrived in Beijing, or whether his visit to China, a key ally of Russia, was in response to the rebellion led by Prigozhin.
The mutiny was aborted on Saturday in a deal that spared Prigozhin and his mercenaries from facing criminal charges in return for Prigozhin pulling his fighters back to base and moving to Belarus.
'Attempt to undermine Russian social unity'
China and Russia's leaders, while not formal allies, have had close ties since before Moscow invaded Ukraine in February 2022.
China has refused to condemn the war, while the US and the European Union have warned Beijing not to supply Russia with lethal arms that could be used in the war.
China earlier made no comment on the rebellion that Putin said threatened Russia's very existence while Western leaders including US President Joe Biden said they were closely monitoring the situation.
"China will support Russia while stressing no interference of its internal affairs," prominent Chinese military expert and TV commentator Song Zhongping told Reuters.
"Prigozhin realises that it is difficult to achieve the desired results through this rebellion."
Prigozhin had said his "march" on Moscow was intended to remove corrupt and incompetent commanders he blames for botching the war in Ukraine.
The rebellion has been closely followed by Chinese media, which has largely refrained from comment ahead of any official remarks.
But Chinese state-controlled Global Times said on Saturday that hyping the "mutiny" of Prigozhin and creating an "illusion" Russia has many internal contradictions and "the building is collapsing" amounted to the latest attack by Western media and another attempt to undermine Russian social unity.
Many Chinese citizens expressed support for Putin on social media.
"You can do it, Russia!" multiple social media posts read.
China's Embassy in Russia told Chinese media outlet Southern Metropolis Daily on Saturday that the region around Moscow was calm.
Reuters with additional reporting and editing by Jim Pollard
ALSO SEE: