At first glance, Taiwan Semiconductor Manufacturing Corp's plan to build foundries in Japan and the US looks like just another routine business expansion.
The $8.6 billion venture in Japan and a $12 billion one in the US get TSMC closer to customers in major markets, help diversify its supply chain, and even reduces the risk of disruption from the earthquakes that afflict Taiwan.
But dig deeper and it quickly becomes clear that these are not just more run-of-the-mill deals.
As tensions between Taiwan and China mount, TSMC's pivotal role in the global semiconductor supply chain has emerged as one of the gravest risks to the world economy.
That's left western nations and TSMC grappling with how to mitigate a worst-case scenario where China invades or blockades Taiwan, cutting off a supply of chips that are crucial to the global economy.
"If China cuts off TSMC's supply chain, it could cause a major crisis in the world economy,'' said Paul Clifford, a non-resident fellow at Harvard's Kennedy School and author of "The China Paradox – At the Front Line of Economic Transformation.'' TSMC is moving toward shifting "some of their production out of Taiwan because of that concern.''
It's hard to understate TSMC's importance to the world. It accounts for more than half of global foundry revenue while in the manufacturing of advanced chips under 10 nanometers it controls about 84% of the global market, according to the European Institute for Asian Studies in Brussels.
Those chips are at the heart of every leading-edge device and weapon on the planet and they are central to the battle for tech supremacy between the US and China.
World's Most Important Company
That's why Scott Kennedy, an expert on China and semiconductors at the Center of Strategic and International Studies in Washington says TSMC is "possibly the most important company on the planet."
TSMC's production though remains concentrated in Taiwan. With China taking an increasingly aggressive posture toward the island it claims sovereignty over, it leaves the world economy precariously exposed to disruptions.
In August and September alone, Chinese warplanes made 554 air defence zone intrusions into Taiwan's air space.
China's armed forces are now capable of blockading Taiwan's key harbours and airports, its defence ministry warned last year, adding that its giant neighbour poses a "grave'' military threat.
Just exactly how TSMC and western nations navigate the transition away from production heavily concentrated in Taiwan is a delicate balancing act. If it is moved out too quickly or if too much pressure is applied on TSMC to create a supply chain that excludes China, Clifford warns it would cause "serious friction'' with Beijing.
For TSMC there are other crucial factors to consider, too, not least that China is the world's biggest market for semiconductor sales. It's also more efficient to keep production concentrated in one place, providing economies of scale that have given TSMC a gross margin of almost 50% over the past three years.
Overseas Expansion Accelerates
The shift is underway nonetheless, and it's accelerating significantly.
Until 2020, TSMC was a reclusive company that showed little appetite for leaving its home base. Aside from production facilities in Shanghai and Nanjing, its only other overseas facilities were in Singapore and Washington.
That began to change when Donald Trump's administration labelled China a strategic competitor and criticised the tech industry supply chain's vulnerability to China.
TSMC broke ground on a $12 billion plant in the US in June last year and it's scheduled to start producing 5-nanometer chips in 2024. It may add up to five additional fabs on the site, Reuters reported.
The $7 billion Japan venture with Sony was announced in November with work due to begin this year and production of 22 and 28-nanometer chips starting by the end of 2024. This month TSMC announced a plan to expand the project, located in Kumamoto on the southern island of Kyushu,  with an initial $1.6 billion investment from Denso Corp., which is taking a 10% stake.
Preliminary discussions have also been held with the German government about a factory there and TSMC says it plans to invest $44 billion on expansion this year.
The need to expand was hastened by the chronic chip shortages that erupted as world economies recovered from the pandemic. That dislocation highlighted just how vulnerable the world is to kinks in the global semiconductor supply chain.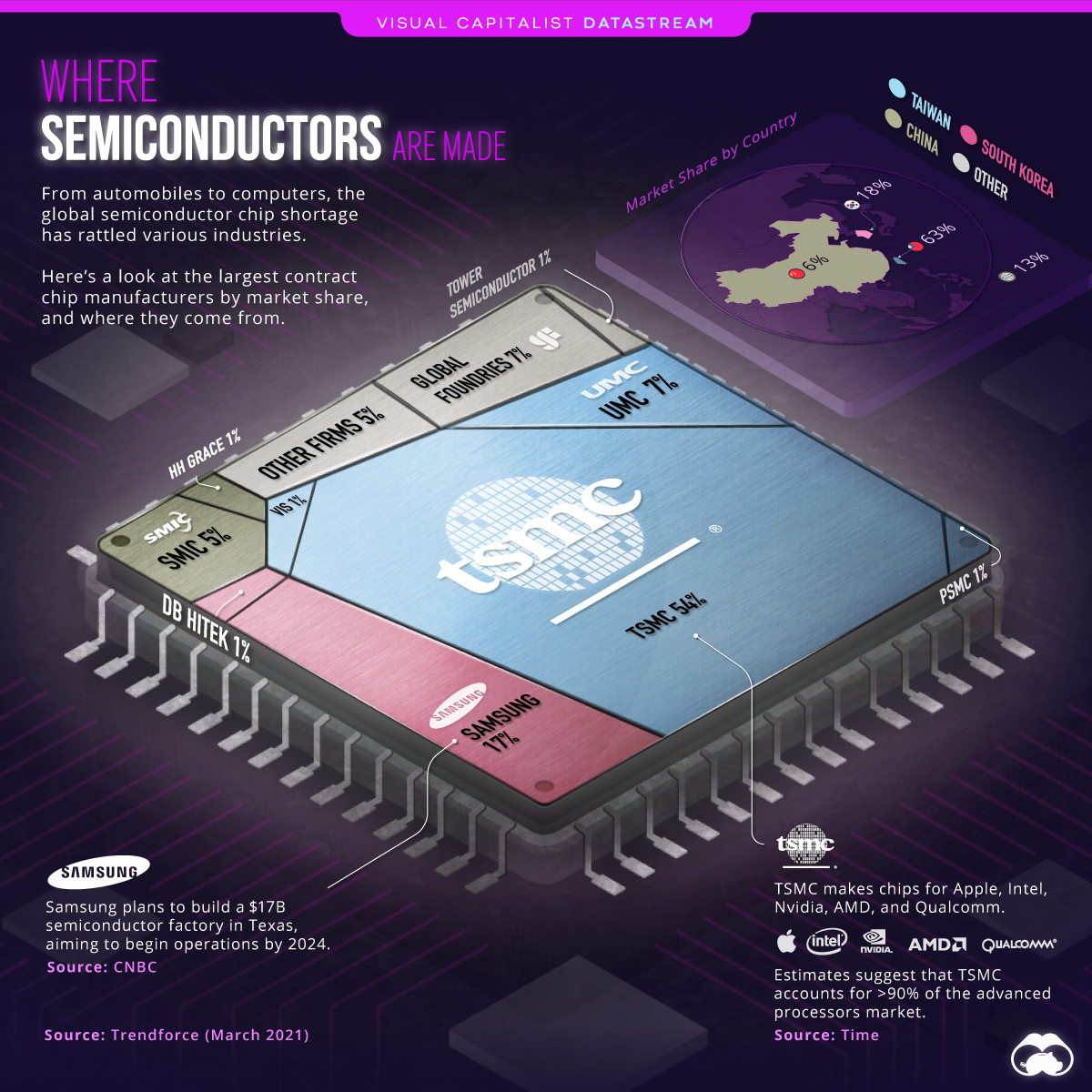 Infographic by Visual Capitalist
'Perfect Storm'
When coupled with geostrategic anxiety over Taiwan and China's rise as a competitor in the high-technology arena, it's created a "perfect storm" that reinforced a sense of urgency among policymakers around the world to expand fab capacity and bring it onshore, said Kennedy.
"TSMC is a vital asset to the global chip industry and we need to ensure that it can continue to operate,'' he said. "We also need to diversify production around the world and the sources of supply.''
China isn't likely to stand idly by if western nations try to shift the crown jewels of the semiconductor industry to their home markets. While Taiwan is a self-ruled island, China considers it sovereign territory and warns it will be reclaimed by force if necessary. It is especially sensitive toward any move towards independence on the island.
China, which has only a 7.6% market share of global semiconductor production, will likely have the world's largest share of chip production by 2030, helped in part by an estimated $100 billion in Chinese government subsidies, according to a report by the Semiconductor Industry Association. But it remains several generations behind in chip-making and thus it is as reliant on TSMC as the west.
What China will be closely watching is whether TSMC's overseas expansion accelerates further, and especially whether it starts shifting production of leading edge, 3-nanometer chips to foreign countries, says Clifford.
Production of three-nanometer chips is already under development in Taiwan, and is scheduled to ramp up in the second-half of this year.
Asked how likely it is that 3-nanometer chips will in future be produced in either the US or Japan, a TSMC spokesperson said, "TSMC does not rule out any future possibilities but at the moment the company is focused on the construction of its advanced semiconductor'' fabs in Arizona and Japan.
The spokesperson also says TSMC's global expansion strategy is based on customers' needs, business opportunities, operating efficiency and cost considerations. "The company is investing where necessary to support customer needs and to address the structural increase in long-term demand of semiconductor technology," the person said.
Red Carpet
Western allies are rolling out the red carpet for the company. The US House of Representatives passed a multi-billion dollar bill on February 4 designed to bolster competitiveness with China and boost local semiconductor production capacity.
It includes $52 billion to subsidize semiconductor manufacturing and research of the key components used in autos and computers. It also plans to allocate $45 billion over six years to ease supply chain problems that have exacerbated chip shortages.
Japan is sweetening its deal, too, by spending part of 617 billion yen ($5.4 billion) in approved funding for domestic semiconductor investments on the project
"Semiconductors are the brains behind every industry," said the Minister of Economy, Trade and Industry, Koichi Hagiuda, last year. "Building a stable supply of chips is important from a national security standpoint."
The Policy Recommendations Task Force of the Semiconductor Board of the Japan Electronics and Information Technology Industries Association had urged Japan to roll out measures to attract chip makers.
The geopolitical risks justify bringing TSMC to Japan, says its head, Toyooki Mitsui, who is also chairperson of the Joint Steering Committee of the World Semiconductor Council.
Says he, "We think that something could happen at any time between Taiwan and China.''
By Kazuhiko Shimizu and Kevin Hamlin
Also on AF: