About a year ago Chongqing – a large city in western China – was enduring a major flood. This year, its more than 16 million citizens are enduring a severe drought.
A record heatwave that has lasted more than two months has caused more than 60 rivers in the region to dry up.
Chinese citizens in Sichuan province and others further east along the Yangtze River basin are experiencing the dire impacts of climate change, which weather experts have long warned about, while governments in Beijing and the provinces have prioritized economic growth and continued to approve more coal-power plants.
Citizens in many countries pay a heavy price for officials' disregard of these warnings, indeed similar scenes have played out in Europe and California in recent weeks.
But in China where the state-run media is heavily censored and public dissent often suppressed, the scale of these crises can be played down and not fully grasped – until the impacts are too significant to miss.
In the tinder-dry countryside along the Yangtze, veteran farmer Chen Xiaohua recalled the last severe drought to hit his crops more than 60 years ago.
"This year is drier than 1960," said Chen, 68, from his plot of land in the village of Fuyuan in the rugged rural fringes of the Chongqing region in China's southwest. "The temperature is higher."
Chen's small plot, situated close to the Yangtze and its tributary, the Longxi, normally relies on fresh water from mountain streams, but that has dwindled to nothing in recent days, drying out his main crops, which includes sweet potato.
"In the past, at this time, August, sweet potato leaves grow very thick," said Chen, wearing a wide-brimmed hat to protect himself from the fierce sun. "From August to September, sweet potato should bloom."
Mercury Hits 45C in Sichuan
As many as 66 rivers across 34 counties in Chongqing have dried up, state broadcaster CCTV said on Friday as weather service data showed a district in the region to be the country's hottest, hitting 45 degrees Celsius (113 degrees Fahrenheit).
Rainfall in Chongqing this year is down 60% compared to the seasonal norm, and the farmland in several districts is severely short of moisture, CCTV said, citing local government data. The local government also said crops in 10 districts were suffering badly.
According to emergency ministry data on Thursday, high temperatures in July alone caused direct economic losses of 2.73 billion yuan ($400 million), affecting 5.5 million people and 457,500 hectares of land.
Forced to take emergency action to protect the autumn harvest, China has sent specialist teams to vulnerable regions to better allocate water resources and devise action plans.
The Ministry of Water Resources warned on Wednesday that soil moisture had seriously deteriorated in Chongqing, neighbouring Sichuan and several other provinces along the middle reaches of the Yangtze.
It urged regional governments not only to seek out new drought-proof water resources, but also draw up "timeshare" rotas that will allow farms to take turns in accessing depleted rivers, streams and reservoirs.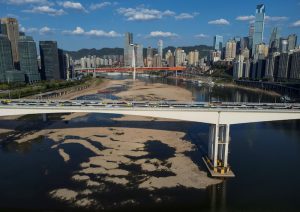 The central province of Anhui, which also relies on the Yangtze for water supplies, warned this week that excessively dry soil was affecting 88,000 hectares of autumn grain, according to CCTV.
China's has described itself as "a sensitive region in global climate change" and said this month that its ground temperatures were rising much more quickly than the global average.
With irrigation from the mountains now dried up, farmer Chen said he has had no choice but to carry buckets to and from a nearby pond every morning to try to save his crops. The leaves and stems have continued to die.
"The temperature is so high every day. We have to work in the morning," he said. "In the afternoon we only stay in the house. We are afraid to go out."
Factories, Mines Shut by Power Curbs
Many more than just farmers are suffering. Officials in Sichuan, which is a key manufacturing base for companies involved in the production of solar panels and semiconductors, also ordered power rationing at homes, offices and malls in 19 of the provinces' 21 cities last week.
Major companies such Apple supplier Foxconn and Intel were among those affected, as was Tongwei, the world's largest supplier of polysilicon, which has been forced to halt output because power consumption has soared and authorities need to ensure adequate supply for the public.
Sichuan is also a hub for mining, so the power cuts could affect prices of lithium (used in electric vehicle batteries), zinc, and aluminium. Tianqi Lithium and Sichuan Yahua Industrial Group both operate plants in the province.
Power restrictions caused by the heatwave have shuttered at least 500,000 tonnes per year of zinc smelting capacity, consultancy CRU Group said on Friday, with production losses expected to reach 5,000-6,000 tonnes a week.
China's southwestern Sichuan province ordered industrial plants to suspend production last week to prioritise residential power supply.
All zinc smelters in Sichuan halted production early last week, and a small smelter based in neighbouring Hunan province also stopped operations in the following days.
Reuters with additional editing by Jim Pollard
ALSO SEE: