(ATF) China is pulling no stops in its efforts to ramp up its domestic oil and gas production amid a marked increase in demand for both fuels as its economy continues to shrug off economic headwinds from the Covid-19 pandemic. Last week, China's first domestically-built, semi-submersible deep-water oil production unit was completed after 21 months of construction. 
The platform is now ready to see action in China's first deep-water natural gas field 1,500 meters below the surface of the South China Sea, 150km off Hainan province.
You Xuegang, who was chief manager and director of the project for China National Offshore Oil Corp (CNOOC), said special designs have been used to help the platform better adapt to the gas field's particular environment. 
This rig's platform weighs 50,000 tonnes, while its deck is as large as two standard football pitches. With a tank at the bottom and four pillars, the main body weighs 110,000 tonnes – equal to three medium-sized aircraft carriers, making it the heaviest of its kind in China, a Beijing-based CGTN report said.
The platform is also designed to resist oxidation and the region's harsh typhoons. It should be able to remain operational in the field for at least 30 years without needing to return to dry dock, the report added.
The rig will begin operations in June, providing 3 billion cubic meters (bcm) of gas per year to households in Hainan Province and the Guangdong-Hong Kong-Macao Greater Bay Area.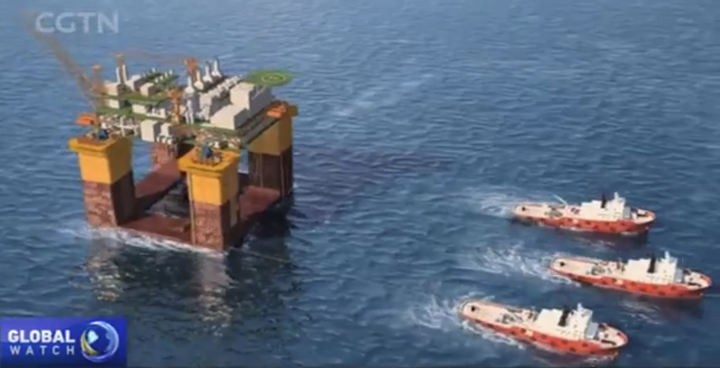 This artists' impression shows how the giant rig, which was built in Yantai in Shandong Province, will be towed into position. (CGTN screen grab).
Playing gas demand catch-up
The rig comes at an integral time for China as its gas demand trajectory continues to rise. The country's total natural gas imports, via pipelines and liquefied natural gas (LNG), reached 101.66 million tonnes last year, a 5.3% year-on-year increase, according to customs data.
In December, total gas imports soared to 11.23 million tonnes, a new record, with LNG imports representing over 9 million tonnes for the month – also a record high. It was the second month in a row that China's LNG imports bypassed current LNG global leader Japan.
Last year, China was the only G20 member to post positive economic growth, coming in at just over 2%, the country announced yesterday. That growth will tick-up even more this year at a 7.9% pace, according to a recent World Bank report.
However, CNOOC's new oil and gas platform comes just days after the US blacklisted the state-run oil and gas major and other firms for alleged ties to the Chinese military. CNOOC, China's largest off shore driller, was particularly singled out.
"CNOOC acts as a bully for the People's Liberation Army to intimidate China's neighbors, and the Chinese military continues to benefit from government civil-military fusion policies for malign purposes," outgoing US Commerce Secretary Wilbur Ross said.
"CNOOC has repeatedly harassed and threatened offshore oil and gas exploration and extraction in the South China Sea, with the goal of driving up the political risk for interested foreign partners, including Vietnam," he said.
Going forward, the US will require CNOOC to be granted a special licence before they can receive exports of high-tech items from US suppliers.
US ambiguity
However, there seems to be ambiguity over the US action since senior US officials told reporters on Thursday that new restrictions placed on CNOOC would not apply to crude oil, refined fuels and LNG. They also reportedly do not apply to existing joint ventures with CNOOC outside the South China Sea.
As such, Washington's move could be seen as political posturing just days before the end of the Trump administration. Moreover, analysts offer varying opinions on how much the ban will impact China's offshore gas production. 
Some claim the CNOOC ban could cause severe headwinds since China is still playing catch up to the US and others in its offshore production technology. But others downplay the move, claiming that China has already developed the needed know-how, while it can still obtain the technology from other countries if needed.
There's no word yet if the incoming Biden administration will repeal Trump's most recent pushback against not only CNOOC, but a growing number of other Chinese firms scattered across several sectors.
Russia's quandary
Russia has been confronting a similar, but more severe problem since 2014 when the US and EU prohibited the sale of oil and gas sector items and technology to the country over its involvement in the Ukraine and Crimea. That ban includes technology needed to produce at integral Russian Arctic offshore locations and shale formations.
Russia, the world's second largest crude oil producer after the US and Europe's largest natural gas supplier, lacks its own technologies to develop shale and Arctic fields, so it has been forced to put those projects on hold, slowing the country's ambitions to not only develop its Arctic fields, but to more quickly vie for and capture more market share in Asia, home to around two-thirds of global LNG demand.
An added quandary for Russia is that in the past it could obtain the needed technology by forming joint ventures with US or western oil companies. However, sanctions also largely prevent that option as well.  
But, soon after the US placed sanctions against Russia, the country reached a lucrative 30-year pipeline gas supply deal with China, as well as solidifying relations between Beijing and Moscow.
The first of two pipelines, the Power of Siberia 1 (POS), in operation since 2019, has been helping China fend off its coldest winter temperatures in 55 years. This will put on track an annual volume of 10 bcm for 2021 that doubles last year's level, state-run firm PipeChina said.
ALSO SEE: