(ATF) China's artificial intelligence industry is booming in the amount of patents being generated, but tangible results are still poor, while AI firms – known as 'little dragons' – are queuing to list. This is despite a government drive to push high-tech innovation to the forefront in the search for economic growth. Indeed, it looks like old 'dragons', like Baidu, China's version of Google will continue to dominate the field.
On the basis of the country's new infrastructure and booming internet market, the development of artificial intelligence technology has entered the fast lane, and internet companies have become the main force in the development of artificial intelligence.
Baidu began to deploy artificial intelligence in 2010. As China expands into the high tech field it is likely it will develop in parallel to western technologies, creating two different bubbles of AI development – one democratic and one under the leadership of China's Communist Party.
As an emerging field, artificial intelligence has non-standard products. For each new customer served, a new set of solutions will likely need to be provided. One size no longer fits all. On the Chinese side, Alibaba and Huawt, for instance, are also creating multiple AI solutions, such as Alibaba's flying delivery drones.
Due to China's new infrastructure policy, artificial intelligence technology innovation will be highlighted in 2020, and the number of artificial intelligence technology patent applications in China will continue to refresh. As of October 2020, the cumulative number of AI patent applications in China reached more than 694,000, which has greatly enhanced China's competitiveness in the global artificial intelligence patent layout.
In the fight against the coronavirus epidemic, the country's independent research and development of artificial intelligence technology has also played an important role, such as the premise of a "smart consulting assistant" and Baidu's AI multi-body temperature measurement system based on image recognition technology and infra-red thermal imaging technology.
'Little dragons'
On December 3, 'little dragon' Yuncong Technology – the youngest of China's "AI Four Little Dragons" – submitted its prospectus on the Science and Technology Innovation Board, paper.cn reported.
Among the other three top unicorns in China, Megvii Technology and Yitu have disclosed their listing documents, but Megvii's Hong Kong stock IPO has been put on hold repeatedly, and the IPO review status of Yitu on the Science and Technology Innovation Board has been changed to "inquired", while SenseTime is yet to announce a conclusive listing plan.
Yuncong Technology was once a hot target for venture capital in the burgeoning field. According to CVSource data, in 2017, the annual financing for artificial intelligence startups increased to 33.8 billion yuan (US$5.17 billion). By 2018, the total financing in the first quarter alone exceeded that of 2017, reaching 40.2 billion yuan. The total amount of financing in the artificial intelligence field in that year (2018) reached 113 billion yuan ($17.3 billion).
However, as the enthusiasm of venture capital ebbed, woes such as the profitability of the entire industry began to surface, and in 2019 the AI track entered a 'capital winter.' Many investors publicly stated that the valuation of AI startups over the past two years was too high, saying the money-burning model was irrational and unsustainable. In a public speech in 2020, Kai-Fu Lee, former Google China CEO, said: "Many AI companies curbed the enthusiasm of many investors…"
Yuncong Technology, which was founded in 2015, also exposed industry problems in its prospectus – it lost 2.3 billion yuan in three and a half years, and it is continuing to lose money. Its IPO plans to raise 3.75 billion yuan, which will be used for research and development of AI technology.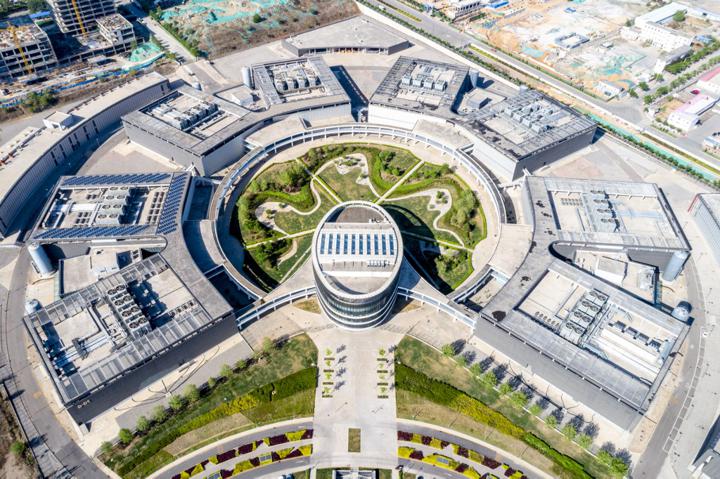 An aerial view of Baidu Cloud Computing Centre in Yangquan city in northern China's Shanxi province. Baidu specialises in internet-related services and products and artificial intelligence (AI). Photo byWang Zirui / Imaginechina via AFP.
Baidu ranks first
Recently, China's National Industrial Information Security Development Research Centre and the Electronic Intellectual Property Centre of the Ministry of Industry and Information Technology released the '2020 Artificial Intelligence China Patent Technology Analysis Report', which shows the country's new trends of innovation and development in the field of AI. In terms of the number of AI patent applications and authorisations, Baidu ranked first with 9,364 applications and 2,682 patent authorisations, respectively. Baidu has come top of this list for the last three years.
Among the top 10 by numbers of patents awarded, Chinese enterprises, universities and research institutes account for 8 places. Among them, Baidu has achieved outstanding results in AI patent applications, as the number is more than the combined total of the two leading foreign firms in the field, Microsoft and Samsung.
Baidu also ranks first in the number of patent applications and authorisations in the fields of deep learning technology, natural language processing, intelligent speech, autonomous driving, knowledge graphs, intelligent recommendations and transportation big data.
Baidu's deep learning patent applications have steadily increased over the past three years, and are on a steady rise. With the rapid development of Baidu's deep learning technology, the application of patents has also entered the fast lane. The Baidu Feipad deep-learning platform is China's first self-developed, open source, and fully functional industrial-grade deep-learning platform.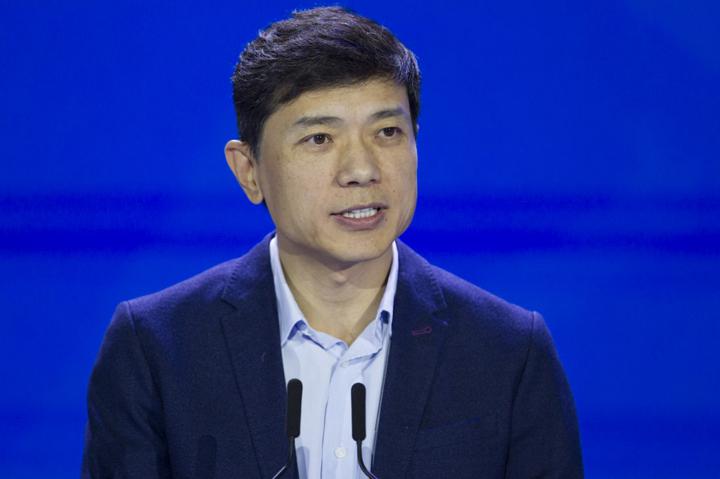 Robin Li Yanhong, chairman and CEO of Baidu, delivers a speech at the World Artificial Intelligence Conference in Shanghai in September 2018. He said even people who like driving can let a self-driving car park itself and allow them to manually drive the rest of the way. The government has called for AI to power the economy. Photo: DYCJ / Imaginechina via AFP.
Language processing
In the field of natural language processing, Baidu also ranked first with 1,383 patent applications, well ahead of the third-ranked Microsoft (647 applications). During the epidemic, Baidu's natural language processing technology played a huge role. Baidu Lingyi Zhihui launched an "intelligent consulting assistant" based on natural language processing technology to improve consulting efficiency by multiple levels, calling nearly 10,000 times a day.
From the perspective of the number of patent applications by applicants in the field of 'intelligent speech', the top ten Baidu companies have the largest number of applications (1,135), which shows it has a significant advantage over other companies. Currently, intelligent voice technology has been integrated into Baidu's many business developments, such as a series of intelligent voice products launched by Xiaodu.
Autonomous driving, 'intelligent' recommendation
In the field of autonomous driving, Baidu's patent applications numbered 1,928, overwhelming major foreign companies and ranking first again. In the application market, Baidu's autonomous taxi Robotaxi has been opened to the public for free in Beijing, Changsha and Cangzhou in Hebei.
In the field of knowledge graphs and intelligent recommendation, Baidu's patent applications and patent grants also occupy the top spot. Among these, the Baidu information flow recommendation is a typical conversion product of Baidu's intelligent recommendation patent, which recommends information for users. The algorithm also efficiently incorporates censorship efficiently under government guidance.
In the field of transportation big data, Baidu also ranked first with 1,237 patent applications.
At present, artificial intelligence has penetrated many aspects of production and life, quietly changing the way that economic and social organisations operate, and the "intelligent" economy is becoming "a new label for the future Chinese economy and a new engine for economic growth," according to Chinese officials who wrote the report.
As the importance of artificial intelligence gradually emerges, China's progress in this field will usher in more substantial development in terms of technical standards and intellectual property system construction.
ALSO SEE: