(ATF) As yet another large real estate firm dips into default, China's housing market looks to be in the middle of a crisis. Indeed, it looks increasingly like the government will step in – to take over real estate companies so that housing becomes affordable again and does not distract from the local consumer market. 
Since the beginning of this year, the pace of bankruptcy and closure of real estate enterprises is increasing at an ever faster pace.
According to incomplete statistics, complied by Shumo Finance from the first half of this year, 208 real estate companies across China were declared bankrupt. This is also bleeding into other Asian markets with large Chinese real estate investments.
Another one bites the dust
And in the past few days, news of another real estate company on the rocks has spread throughout the industry. This company is Tahoe Group, which we have written about before.
Chinese media reports say that last Friday evening (October 9), Tahoe Group issued an announcement, saying that because the company's debt is relatively large, their financing costs high, and a series of problems such as debt concentration on delivery, the company has sunk into a liquidity problem.
Therefore, the H7 Tahoe 02 bond will not be able to redeem the principal and interest on schedule. In the beginning, the scheduled interest payment and redemption date for this bond was October 10. It is reported that the scale of this bond is 3 billion yuan (US$445.4 million), with the remaining principal of 1.598 billion yuan on the date of publication; so, the principal and interest owed is 1.718 billion yuan.
The core business of Tahoe Group is real estate and it is a well-known enterprise in Fujian. According to public data, in 2010, Tahoe Group did a "backdoor listing" of Fujian Sanming Pesticide Group Co Ltd and successfully went public. At that time, Tahoe Group was the only real estate company in the country that had achieved a listing.
After that, Tahoe Group began to diversify. In addition to operating a real estate business, it also integrated finance, culture, health and other businesses, which they called the unique "Tahoe Model".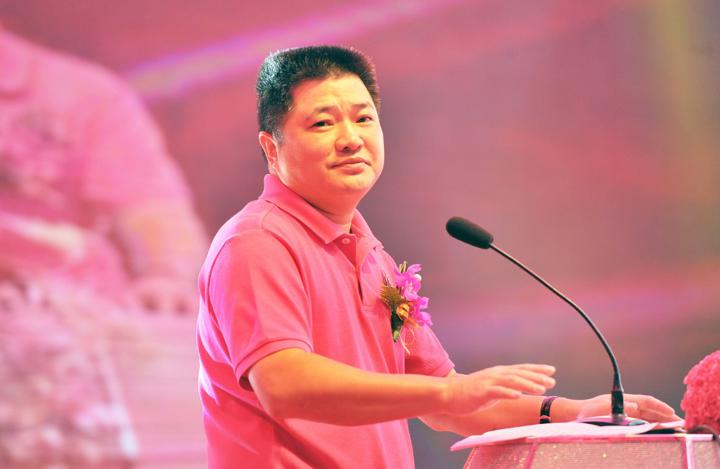 Another billionaire has fallen. Huang Qisen, chairman of Tahoe Group, attends the opening of Fuzhou Wusibei Tahoe Plaza in Fuzhou in Fujian province in Sept 2013. Seven years on, his Tahoe Group is defaulting on its debts. Pic: Ai Xi / Imaginechina; AFP.
In 2017, Huang Qisen, the chairman of Tahoe Group, also revealed in interviews with the media that in 2018, Tahoe would strive to enter the "200 billion era." Huang Qisen is known as the "King of Land" in Fujian, the southeastern province just north of Guangdong.
Now, Tahoe Group is defaulting on its debts. It is understood that Tahoe Group has defaulted on six bonds so far, failing to redeem the principal and interest on the dates those debt payments were due.
According to Tahoe Group's 2020 semi-annual report, there are large amounts of loans that have expired but have not been repaid. Moreover, as of August 15, 2020, the amount of capital that the group had accumulated had shrunk to 34.9 billion yuan ($5.18 billion), along with an unpaid interest debt of 4.332 billion yuan.
So, another real estate giant is falling, from "200 billion yuan king" to a lot less than a 200-billion bit player.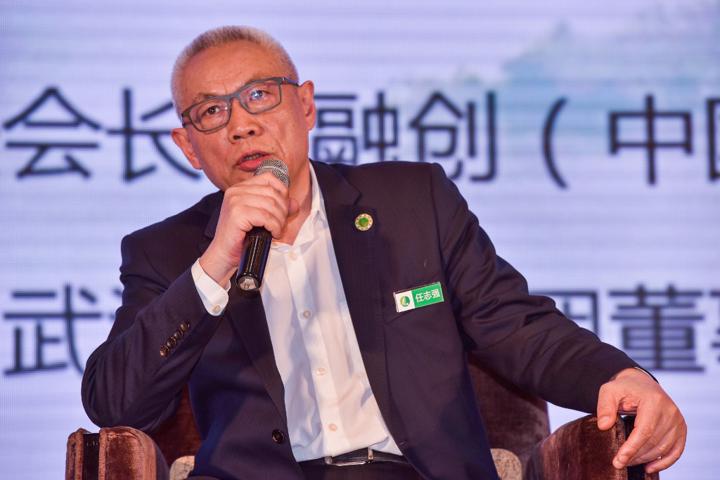 In happier days: Ren Zhiqiang, former chairman of Huayuan Property Co Ltd, attends the founding of the Sichuan Project Center in Chengdu in April 2018. Two weeks ago he was sentenced to 18 years in jail after pleading guilty to corruption and other crimes. Photo: Wang Huan / Imaginechina via AFP.
The party is over
In related news, Ren Zhiqiang, the former chairman of Beijing Huayuan Group, and a well-known entrepreneur and bon vivant in the real estate field, is in deep trouble.
The property tycoon Ren Zhiqiang – once among the Communist Party's inner circle – disappeared from the public eye in March, after penning an essay that slammed Xi's response to the coronavirus. The son of a former commerce minister, Ren was known for his outspokenness, which earned him the nickname "Big Cannon", AFP reported. He now appears to have paid a heavy price for an essay criticising Xi, in which he called the president a "clown".
The state press said recently that during Ren's dominance at the Huayuan Group he used his position to facilitate corruption, accept bribes, embezzle public funds and abuse his power over state-owned enterprises for more than 10 years, which allegedly caused heavy losses – more than 220 million yuan ($32.67 million).
On September 22, Beijing No. 2 Intermediate People's Court publicly convicted Ren Zhiqiang of these 'crimes'. It sentenced him to 18 years in prison and fined him 4.2 million yuan. Ren Zhiqiang pleaded guilty and said he would not appeal.
Government to step in?
NetEase Finance reported on September 11 that Guan Qingyou, dean and chief economist of the Rushi Financial Research Institute, said in a live broadcast that the government was very clear about the real estate market, saying that housing prices and urban competitiveness were moving in the same direction. The central government hoped that players in the real estate would focus on stability.
He said prices in "competitive cities" were not cheap. But higher housing prices put a lot of pressure on people working in the city; this was a "double-edged sword". The official intention of the government's "three stability" guidelines was very clear; the bid to stabilise land prices was aimed at local governments and developers, while the move to stabilise housing prices was aimed at developers and homebuyers, and its move to stabilise expectations was aimed at everyone.
In the future, the real estate industry would see the phenomenon of state-owned enterprises acquiring private enterprises, he said.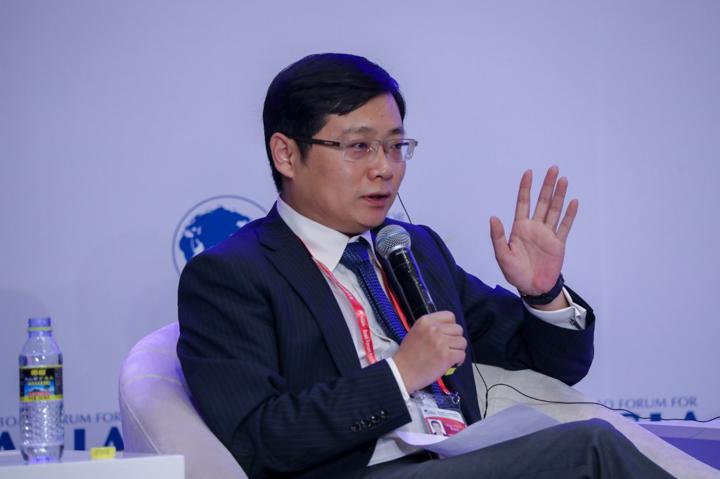 Guan Qingyou, chief economist and president of Rushi Financial Research Institute, talks at the 'The Real Estate Market: 30 Years of Ups & Downs' session during the Boao Forum for Asia Annual Conference in Qionghai city in Hainan in March 2019. Photo: Qian Xiaodun / Imaginechina via AFP.
Guan Qingyou believed that the secret for real estate companies to make money is getting a fast turnover for the group's entire capital, because real estate companies do not make money from rising housing prices. "Real estate companies rely on high capital turnover, high project turnover, and high capital turnover. In fact, they rely on leverage to make money, so the new financing regulations are very important.
"State financial authorities and the housing construction department have set three red lines for real estate companies, and divided them into four regions. They clearly focus on the management of real estate companies and the new financing regulations," Guan Qingyou said. "The impact on highly leveraged companies is that they need to reduce the leverage of asset-liability ratios. For most companies this will mean divesting some businesses and disposing of some assets. In the future, we should see a phenomenon of state-owned enterprises acquiring private enterprises [in this sector]," he said.
"The real estate industry is very important. It involves a large number of businesses and other industries. After China implemented housing market reforms in 1998, it has been very important in stimulating the entire national economy and has also made a great contribution," he said.
"However, due to its unique financial properties, the real estate industry has not only stimulated the national economy, but also generated many 'crowding-out' effects or negative effects. For example, it is obvious that it squeezes consumers to the degree they can only buy real estate. And as China's current real estate model is not working, the state will have to step in."