(ATF) Chinese electronics giant Xiaomi is the latest tech company drawn to China's booming electric vehicle market, pledging to invest $10 billion over the next 10 years in the EV business.
The company will set up a wholly-owned EV subsidiary and the initial phase of investment will total 10 billion yuan ($1.52 billion), it announced Tuesday.
Xiaomi chief executive Lei Jun will also be the CEO of the EV unit. "Xiaomi hopes to offer quality smart electric vehicles to let everyone in the world enjoy smart living anytime, anywhere," the company said in a statement.
Hong Kong-listed shares of Xiaomi soared 6% on Wednesday morning, but declined afterwards.
Companies in Xiaomi's supply chain, such as Allwinner Technology, Dalian Zhiyun Automation, and Tatwah Smartech, all listed in the mainland A-share market, soared over 10% Wednesday.
Lei said at a product launch conference on Tuesday that he is prepared for the tremendous investment and risks in the EV venture, which could take three to five years to make a profit. 
"With over 108 billion yuan ($16.5 billion) of cash at hand as of the end of 2020, about 10,000 employees in R&D, a smartphone business in the world's top 3, and the world's best intelligent ecosystem, Xiaomi can afford to lose money," Lei said.
Lei said he had long been interested in the EV business and had visited Elon Musk twice. Instead of setting up his own EV business, he shelved the plan and instead invested in over 10 companies in the EV sector, including Nio and Xpeng. 
It was not until January of this year that the company re-visited the EV initiative at the suggestion of the board.
While no more detail of the EV business was revealed, Reuters reported last week that Xiaomi was in talks to use one of Great Wall's plants in China to make EVs under its own brand and plans to launch its first EV around 2023, citing sources.
The move comes as eight-year-old Xiaomi seeks to diversify revenue streams from the smartphone business, which accounts for over 60% of its revenues but carries razor-thin profit margins. It flagged last Wednesday that rising costs from a global chip shortage and reported quarterly revenue below market estimates.
Alongside smartphones, Xiaomi makes dozens of internet-connected devices including scooters, air purifiers and rice cookers.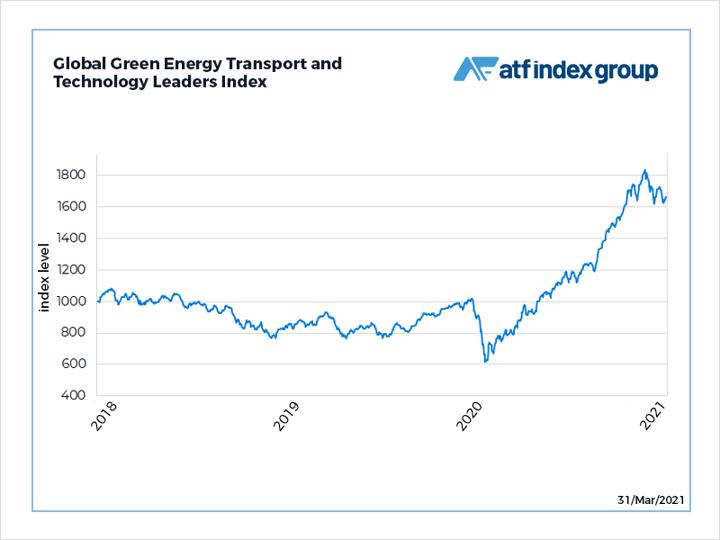 The Global Green Energy Transport and Technology Leaders Index created by Asia Times Financial in collaboration with ALLINDEX, is a benchmark that tracks shares of leaders in electric vehicle and renewable energy production and storage businesses.
'Sustainable growth challenges'
"Xiaomi's smartphone business is facing challenges in sustainable growth after hitting the ceiling. Its businesses in wearable and 'smart' home devices are scattered, and the average selling price (ASP) is not very high. The EV business, with much higher ASP, has significantly higher room for growth compared with internet-connected devices. We expect it become a new growth driver for the company," Qin Bo, an analyst from Everbright Securities, said.
The Chinese tech firm is jumping into an incredibly competitive space in China. Not only is Xiaomi competing with established automakers in the country, such a Geely and Warren Buffett-backed BYD Auto, but also upstarts such as Nio and Xpeng Motors.
The move also comes against the backdrop of automakers and tech firms working closer together to develop smarter vehicles with technology such as "smart" cabins and autonomous driving.
Chinese search engine provider Baidu said in January it plans to make EVs using an auto plant owned by Geely – an automaker with aspirations to offer engineering consultancy and contract manufacturing.
US tech giant Apple and and China's Huawei Technologies have also been reviewing their auto options.
As seen by Everbright Securities, Xiaomi has stronger software capabilities than established automakers such as Geely as well as upstarts such as Nio, but lags behind Apple and Baidu in terms of AI and big data capabilities.
Electric cars have taken off in China thanks to strong policy support from Beijing, including subsidies. Even though some of these measures have been reduced, research firm Canalys forecasts that 1.9 million electric vehicles will be sold in China in 2021, representing year-on-year growth of 51%.
ALSO SEE: