Switzerland has become a new listing destination for Chinese companies after China expanded a stock connect scheme late last year. 
Four domestically-listed Chinese companies have announced their plans for secondary listings in Zurich, where the market is seen as an alternative to New York with potentially higher valuations and less demanding local audit requirements.
"Switzerland is the world's largest wealth management centre with capital-rich investors ready to buy international assets," said Lisa Feng, a consultant and partner of Shanghai-based China Insights Consultancy (CIC). "Its capital market is small but sophisticated. There are only a little over 200 listed companies in Switzerland but their average market capitalisation is about $9.5 billion."
China broadened the Shanghai-London Stock Connect programme late last year to include capital markets in Germany and Switzerland.
Ningbo Shanshan Co became the fourth Chinese company within a week in March to announce a plan to sell Global Depository Receipts (GDRs) on the SIX Swiss Exchange to fund global expansion. GDR programmes allow companies to issue their shares in foreign markets through depositary bank intermediaries.
The company was answering "the call of China capital market policies,"  the company, which makes lithium-ion batteries, said in a statement.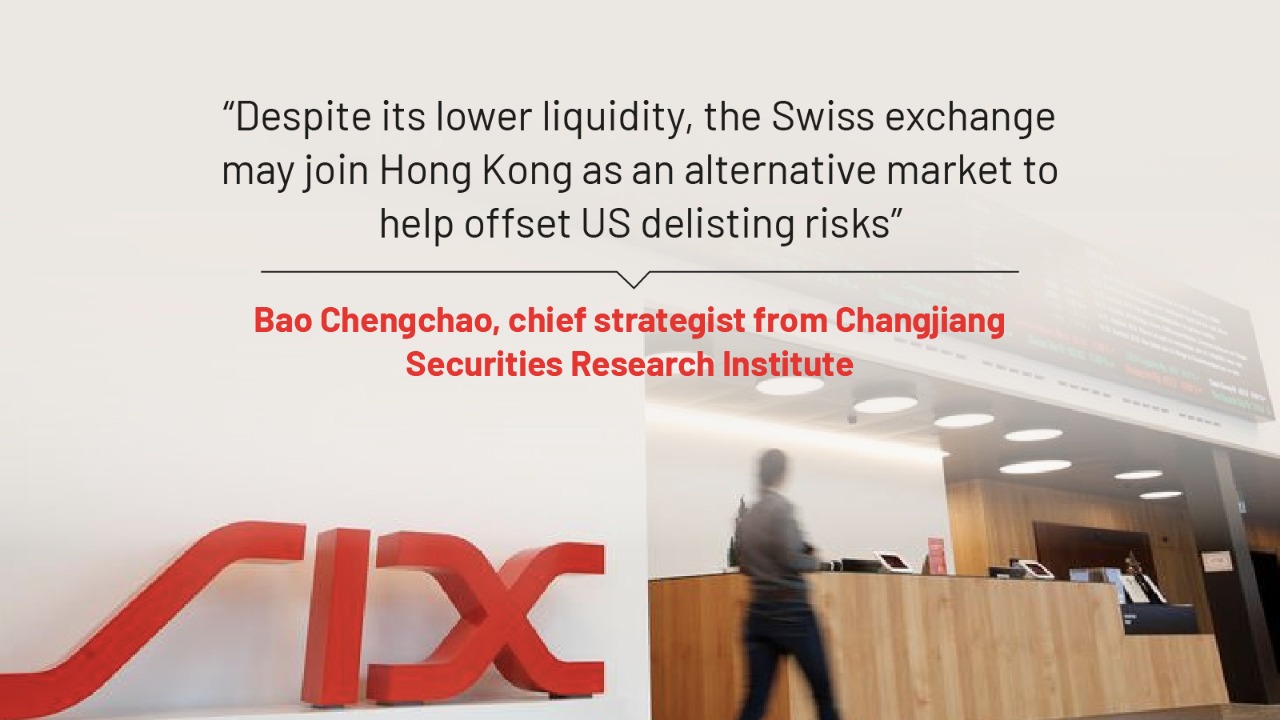 The other three applicants that have sought to take advantage of the expanded scheme are engineering machinery maker Sany Heavy Industry, Volkswagen-backed battery producer Gotion High Tech and medical equipment maker Lepu Medical Technology (Beijing).
All four said in respective filings that they would use the funds raised to support their international business expansion, and that they expect the secondary listings to help improve their global branding and market shares.
Higher Valuations
The Chinese companies seeking to secondary list in Switzerland will likely receive higher valuation than elsewhere, said Feng.
Less demanding audit requirements may be another factor that makes Switzerland a desirable alternative compared with New York.
While the US Holding Foreign Companies Accountable Act requires the auditors of foreign companies to open their work papers to US inspection, Switzerland's securities regulator only asks for audit reports in their IPO disclosure requirements, she said. 
Despite its lower liquidity, the Swiss exchange may join Hong Kong as an alternative market to help offset US delisting risks, said Bao Chengchao, chief strategist from Changjiang Securities Research Institute.
To date, five Chinese companies have listed their GDRs in Europe, namely Huatai Securities, China Pacific Insurance, China Yangtze Power, and SDIC Power Holdings Co in London and Haier Smart Home Co Ltd in Frankfurt.
China Stocks Delisting From the US
China and US regulators were discussing operational details of an audit deal in April that Beijing hopes to sign this year, in the latest move to try to keep Chinese companies listed on US exchanges.
A preliminary framework for audit supervision cooperation had been formed, with China likely to classify less information as confidential, potentially allowing more information into companies' audit working papers – and possibly bringing to an end the long-running audit stand-off between the US and China.
China was also reportedly discussing details of onsite inspections by the Public Company Accounting Oversight Board (PCAOB), giving the US audit regulator access to such papers.
At the heart of the audit dispute between China and the United States, was the PCAOB's demands for complete access to audit working papers of New York-listed Chinese companies, which are stored in China.
The request has so far been denied by China on national security grounds – a standoff, if no agreement is found, that could lead to roughly 270 firms being forced to delist from American exchanges by 2024, according to US regulators.
Read more:
China Tech Stocks Surge on US Delisting Hopes, Stimulus Vow
25 Chinese Stocks On The Brink Of Delisting From The US
Investors Brace For Delisting of US-Listed China Stocks