(ATF) US lawmakers have approved an $892 billion pandemic relief package after months of deadlock that saw Americans grow more desperate as coronavirus inflicted further damage to a fragile economy.
Donald Trump is expected to sign the deal into law, ending one of the most rancorous stimulus processes, one that arguably contributed to the outgoing president's defeat in last month's election.
The package would set the economy up for a stronger recovery next year as vaccines become more widely available, economists said.
Both chambers of Congrers worked deep into the night to pass the bill – worth about $2.3 trillion including spending for the rest of the fiscal year – with the House of Representatives first approving it and the Senate following suit several hours later in a bipartisan 92-6 vote.
See Also on ATF
The package will also keep the Federal Government open. 
Under the bill, most Americans will receive $600 as well as additional payments to the millions of people thrown out of work during the Covid-19 pandemic, just as a larger round of benefits is due to expire on Saturday.
Epidemic accelerating
The stimulus package, the first congressionally approved aid since April, comes as the pandemic is accelerating in the US, infecting more than 214,000 people every day and slowing the economic recovery. More than 317,000 Americans have died.
House Speaker Nancy Pelosi, a Democrat, said she supported the virus relief bill even though it did not include the direct aid for state and local governments that her party had sought. She said they would try for it again after Democratic President-elect Joe Biden takes office on January 20.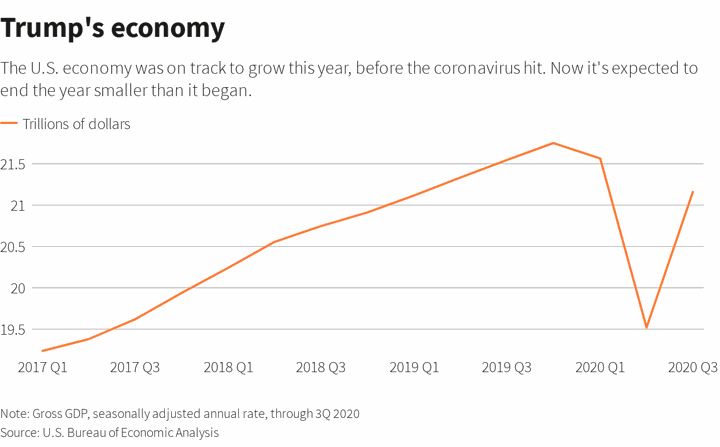 The bill, she said, "doesn't go all the way but it takes us down the path'.
Republican Representative Hal Rogers, who also supported the package, said "it reflects a fair compromise."
At 5,593 pages, the wide-ranging bill also spends $1.4 trillion on an array of federal programmes through the end of the fiscal year in September. Congress included a measure continuing current levels of government spending for seven days, ensuring no interruption to federal operations.
Unspent money
It has a net cost of roughly $350 billion for coronavirus relief, Republican Senate Majority Leader Mitch McConnell said, adding that more than $500 billion in funding comes from unspent money Congress had authorized.
Both Democrats and Republicans claimed victory but McConnell argued that the final bill came close to what Democrats rejected months ago as insufficient. 
A months-long impasse on relief that played in the background of the US presidential election was broken after a group of centrist lawmakers from both parties put forward a proposal that served as a framework for the final bill.
The deal, worked out in a rare weekend session of Congress, omits the thorniest sticking points, which included Republicans' desire for a liability shield to protect businesses from coronavirus-related lawsuits as well as Democrats' request for a large outlay of money for cash-strapped state and local governments.
If signed into law, the bill would be the second-largest stimulus package in US history, behind the roughly $2 trillion aid bill passed in March. Experts said that money played a critical role as social-distancing measures shuttered wide swaths of the economy.
More needed
The deal comes months after the last big fiscal aid package was passed and lacks direct help to struggling states and cities, as millions remain unemployed and businesses suffer anew from fresh restrictions to slow spread of the virus.
"While the deal is months late and will likely fall short of what is needed to prevent a rough winter, it's better than nothing," said Gregory Daco, the chief US economist for Oxford Economics.
Even before it is signed, there is fierce debate over whether more aid will be needed, and if it will reach the neediest Americans.
Still, San Francisco Federal Reserve President Mary Daly called the aid "unequivocally beneficial" in an interview on Sunday on CBS' "Face the Nation."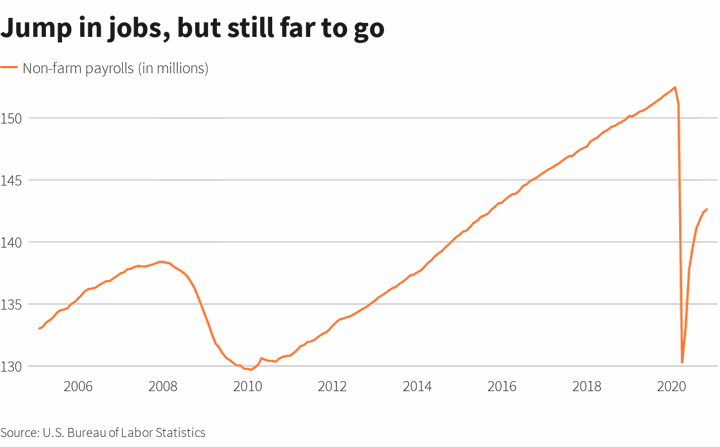 The US economy is roughly $1 trillion smaller than what it would have been without the pandemic and resulting recession.
That estimate is based on the gap between where economic output was headed this year before onset of the health crisis – it started 2020 at about $21.7 trillion – and where it is now. 
To Carl Tannenbaum, chief economist at Northern Trust in Chicago, the package's correlation with US economic gap is one indication "they've sized (it) almost properly." 
The economy is expected to rebound strongly next year once vaccines make it safer to be out and about, he said, so there's less of a need for the $2 trillion or more that some economists, like those at the Economic Policy Institute, have called for. 
Additional reporting by Reuters