While the Covid-19 pandemic has already accelerated businesses' digital linkages to consumers, it has only just started impacting B2B commerce, where it has the potential to make seismic transformations. 
China's saturated digital consumer market has seen Alipay and WeChat Pay grab over 90% market share with smaller players like Ping An, JD Finance, 99Bill, Suning, the state-owned UnionPay, and the UnionPay-China Mobile joint venture Union Mobile Pay accounting for the rest.
"China's digital ecosystem is arguably the most sophisticated in the world, with more than 850 million internet users, and a quarter of the world's startups valued in excess of a billion dollars," said McKinsey & Co in a report.
"Before Covid-19, China was already a digital leader in consumer-facing areas-accounting for 45% of global e-commerce transactions while mobile payments penetration was three times higher than that of the United States."
"It is also gaining traction in the traditionally less digitised part of the economy, such as areas requiring heavy physical interactions and business-to-business (B2B) processes," the report said.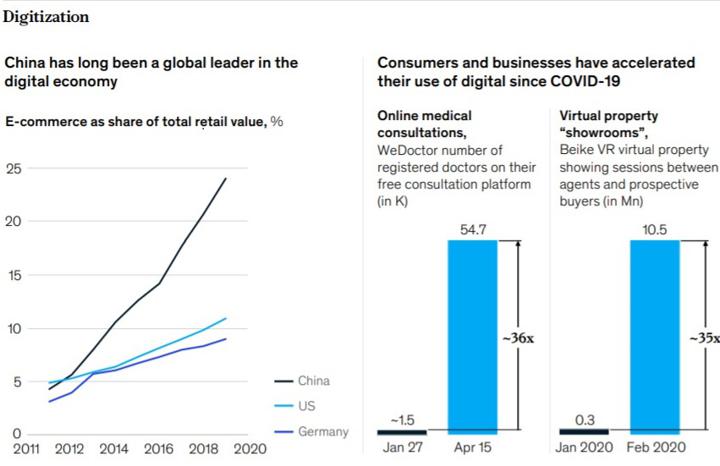 The business-to-business (B2B) market, also provides great opportunities for payment service providers to differentiate themselves, Dazhi Huang, a senior analyst at Suning Institute of Finance, said.
While B2B payments have been around for a few years, it has been challenging for payment service providers to develop customised and industry-specific solutions – a one-size-fits-all payment solution does not work in China's highly diversified business market.
Prior to the Covid-19 pandemic, many small- and medium-sized Chinese companies used manual tools to manage their inventory and fixed assets. It was not efficient, nor cost effective, and made it difficult for payment service providers to obtain data to better understand their business.
In addition, the payments between businesses happened less frequently and were of much larger volume compared with those between consumers and businesses. The B2B payments were mostly carried out through the banking system.
The pandemic has served as a "fast-forward button" for businesses' digital transformation. For example, schools have moved classes online, clinics have launched remote consultation services, and stock brokerages have moved services online.
In its notice in February to help small- and medium-sized enterprises (SMEs) to reopen business after the pandemic, the Ministry of Industry and Information Technology (MIIT) specifically mentioned that it would "support the enterprises' digital transformation by promoting remote office, video-conferencing, remote collaboration, and digital ways of managing their businesses, and provide innovative models to help enterprises move offline business online".
The MIIT also said it will accelerate the deployment of 5G and industrial internet applications to help SMEs boost their agile manufacturing and lean production capabilities.
"With big data technology, cloud computing, the Internet of Things (IoT) technology, and smart devices, it will be possible to obtain data of the entire value chain including customers, products, services, marketing, sales channels, and shipping," Huang said, "This will enable payment service providers to have deeper understanding of various industries and develop more targeted B2B solutions."
Moreover, SMEs will make business payments more frequently as they speed up their digital transformation, he said.
"Even though today third-party payment service providers are in no position to compete with banks when it comes to providing loans, deposits, and wealth management products to businesses, or processing hundreds-of-million-yuan transactions, we see opportunities in the future that they will take over more small-volume and high-frequency business payments," Huang said.
Hongyan Xue, Vice President of Suning Institute of Finance, believes IoT payments will become phenomenal for both consumers and businesses.
The IoT payment refers to autonomous payments initiated by smart devices based on real-time data analysis and preset rules – for example, a smart refrigerator placing an order for grocery when it detects a shortage and automatically paying for the order.
One type of IoT payment already widely adopted in China is Electronic Toll Collection (ETC) with a toll booth wirelessly connecting to an IoT device on the vehicle to automatically deduct the toll as the vehicle passes through the toll booth.
In addition to IoT payments, Xue considers micro money lending another B2B "killer application" in the fintech field.
When payment service providers have substantial data on consumers' shopping habits, credit scores, and risk preferences and are able to offer consumer credit and recommend wealth management products to the consumers, the lack of data has prevented them from offering financial services products to businesses. Alipay offers a micro loan service of up to 1 million yuan ($143,500) of credit but it is limited to Alipay sellers or merchants who sell on the Taobao marketplace, its sister company.
Big Data challenges will be solved as the adoption of 5G and IoT technologies make more business data available online and blockchain technology makes the data more reliable, according to Xue. It will be easier for fintech companies to feed the data to their engine and analyse the business performance of SMEs, thus providing micro loans more efficiently to meet small businesses' financing needs, he said.
According to iResearch's forecast, it is unlikely Alipay and WeChat Pay will dominate the complex B2B payment market like they have in the B2C market. Over time, a number of emerging players such as Ping An, China Telecom BestPay, Suning, VBill, 99Bill, and Lakala will share the market more evenly with Alipay and WeChat, iResearch said.
Alipay and WeChat Pay are owned by Alibaba and Tencent respectively. Alipay was launched in 2003 as an escrow payment method on Alibaba's Taobao marketplace and propelled Taobao's exponential growth. It later expanded to offline retail scenarios with the use of a digital wallet and a QR code. For many years, Alipay had the majority of the market share until WeChat Pay launched a "red packet" feature during the Chinese New Year in 2014 and became popular for person-to-person payments. WeChat later expanded to both online and offline retail scenarios.
According to Analysys's research, the total payment volume of China's mobile payment market was 53.5 trillion yuan (US$7.7 trillion) in the first quarter of 2020. Alipay accounted for 55% of the market share, and WeChat Pay 39%.