(ATF) While the Chinese government recently unveiled a plan to expand digital yuan pilot projects, many believe it will co-exist with 
the country's dominant digital payment players, Alipay and WeChat Pay – not replace them.
China's Ministry of Commerce issued a circular recently on the overall plan to deepen services and trade innovation pilot schemes. On the list are pilots of the digital yuan – known as the Digital Currency Electronic Payment (DCEP) system, which is being rolled out across China with a plan for the country to go partly cashless at some point in the future.
According to a task breakdown table released by the ministry, the digital yuan pilots will be carried out first in Shenzhen, Chengdu, Suzhou, the Xiongan New Area, and at the 2022 Winter Olympics. They will be expanded later depending on the benefits incurred.
While the market is speculating that a launch of the digital yuan is imminent, Guofeng Sun, director of the Monetary Policy at the central bank (the People's Bank of China), said at a conference on August 25 the digital yuan is still in a testing phase, and the PBoC does not have a timeline for an official launch.
There will still be demand for Alipay and WeChat Pay, the two main digital payment systems in China. Used via mobile phones, they have become so ubiquitous they currently have over 90% of the market and going out without a wallet is now common practice across the country.
A couple of industry professionals that ATF has spoken to do not think the digital yuan will make Alipay or WeChat Pay obsolete.
'Alipay is a wallet'
"Alipay is a wallet rather than the money itself. There will still be a demand for the wallet even when the digital yuan is launched," a seasoned payment industry professional and former senior manager at Alipay, told ATF.
He believed it would be difficult for digital yuan wallets provided by banks to grab users from Alipay and WeChat Pay because people have less use for them.
A venture capitalist who was previously a senior executive at Tencent, agreed. 
He said: "The PBoC certainly hopes the digital yuan can replace Alipay and WeChat Pay. However, I don't think this will happen. Consumers have formed the habit of using Alipay and WeChat Pay. It will be difficult to change their behaviour."
But there is speculation that Alipay and WeChat Pay will lower their fees now that a government-backed competitor is set to arrive. Both Alipay and WeChat Pay charge a small fee for withdrawing money from their wallets.
Commercial banks' role
The Chinese central bank's DCEP system will use a "dual-layer distribution structure" with the PBoC issuing digital yuan to financial institutions such as commercial banks, and then the institutions distributing it to people, both through "currency conversion" processes, according to Changchun Mu, deputy director of the PBoC's payment and settlement department, who was quoted by the state-owned Xinhua News Agency.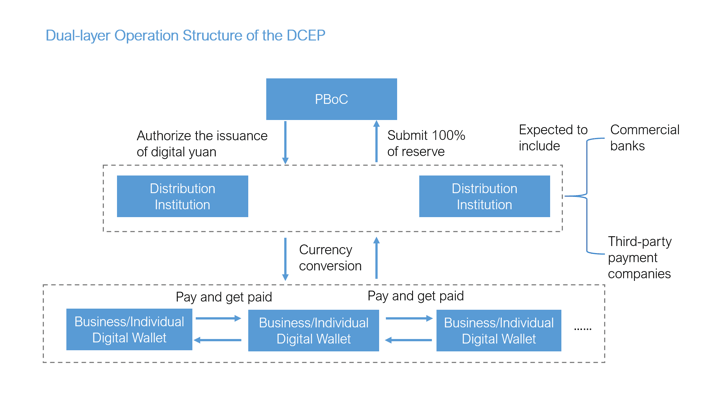 This sort of a set-up, compared with a single-layer structure with just the PBoC distributing digital yuan directly to people, ensures that commercial banks still have a role to play and won't lose people's savings deposits. This would also help to promote competition between the banks and utilise their well-established IT infrastructure and service systems, blockchain service provider OKGroup said in a report.
The digital yuan, designed for consumer and retail use, will be a substitute for M0 – banknotes and coins – rather than deposits in banks or money market funds. It will not bear any interest, and will protect commercial banks from losing their deposits.
Digital yuan wallet capabilities
The big four state-owned banks – the Industrial & Commercial Bank of China, the Agricultural Bank of China, the Bank of China and China Construction Bank – are all reportedly conducting internal tests of the digital yuan.
Recent media reports have described the digital yuan wallet as a standalone app, indicating it has evolved from a feature within a bank app used in earlier tests.
A source from one of the banks told 21st Century Business Herald that the user interface and operating logic of the digital yuan app is very similar to Yunshanfu – a mobile payment app provided by the state-owned card association UnionPay, but much less popular compared to Alipay and WeChat Pay.
Users can top up the digital yuan wallet by linking their card or transferring money through online banking. They can also withdraw funds, make transfers and pay for purchases by scanning QR codes, according to the 21st Century Business Herald report.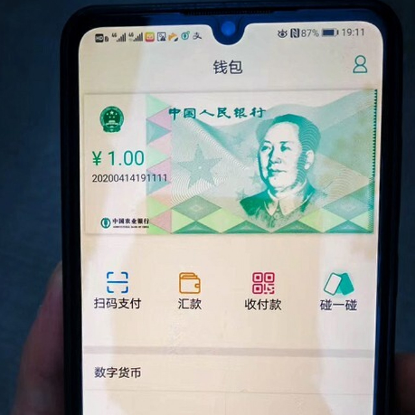 A screenshot of the Agricultural Bank of China's digital yuan wallet app, circulated among social media groups in April. Main features include a scan for QR code payment, the ability to send money, show a code to pay and get paid, and bump to pay.
A peer-to-peer digital yuan transfer can be done by entering a recipient's mobile number. People can also "bump" to pay without the need of a wireless network. The report said it is very convenient to make peer-to-peer money transfers using the app, but there are very limited scenarios currently for use today in regard to purchases people might make.
Didi, a Chinese equivalent of Uber, announced earlier this year a partnership with the PBoC's digital yuan research institute to explore use of the digital yuan application in various transportation scenarios.
Alipay and WeChat Pay are reportedly also participating in the PBoC's digital yuan tests for fear of being left out. In theory, they will also be able to distribute and circulate the digital yuan – so it will likely become a payment option in these apps.
Cash will continue to exist
While PBoC's work to speed up developing the digital yuan is seen as a move to push toward a "cashless society" and address concerns over banknotes possible carrying Covid-19 germs. But analysts don't believe the digital yuan will completely replace cash.
"Cash has irreplaceable advantages for small volume and random transactions – it is highly flexible and can adapt to various occasions. You don't need any third-party equipment or network connection to make a cash transaction. Anybody can use cash to pay for small transactions anytime and anywhere," Hongyan Xue, vice-president of the Suning Institute of Finance, said in an analysis.
Besides, cash is likely to be preferred by people in less-developed areas and the elderly in China compared with digital payments. For people who wish to make anonymous transactions, cash is still preferred. And this advantage of anonymity will become even more pronounced when the traceable digital yuan is launched, Xue said.
Limited impact globally
Meanwhile, the digital yuan's role in internationalisation of the renminbi/yuan is also likely to be limited, many analysts believe.
"To internationalise the renminbi is one of the objectives of launching the digital yuan," the former Tencent executive said. "The government will promote the digital yuan to countries that currently support renminbi as a settlement currency. It will become a cross-border settlement option."
According to the 2020 Renminbi Internationalisation Report released recently by the PBoC, China had established renminbi settlement arrangements in 25 countries and regions outside mainland China as of the end of last year. In 2019, cross-border renminbi settlement amounted to 19.67 trillion yuan (US$2.85 trillion), accounting for a record-high of 38% of the total cross-border settlement.
But Chenjun Zhou, head of the PBoC's Financial Research Institute, tried to set things straight in regard to expectations for digital currencies, saying at a summit in June that digital currency systems – central bank digital currencies and third-party currencies such as Facebook's Libra – do not help to control risks associated with cross-border transactions and the fight against money-laundering, terrorist activities and tax evasion the way that international commercial banks do today.
Digital currencies do not have branches and networks like international commercial banks, Zhou said. They are not familiar with the laws in various jurisdictions, and do not have customer identification programs.
Internationalisation of the renminbi would depend on the growth of China's influence in the global economy, and there is still a long way to go, Xue from Suning Institute of Finance said in his article.
"At the moment, the PBoC's digital yuan will improve the experience of cross-border renminbi transactions. And that's all," Xue said.