(ATF) Three of China's top electric-vehicle companies – Nio, Li Auto and Xpeng – plan to list in Hong Kong this year.
People familiar with the plans say the goal of the EV trio is to sell at least 5% of their stock in Hong Kong. Based on the market value of the three companies in New York on Monday, total proceeds from the sale of shares may be around US$5 billion.
Tencent Technology News reported on Tuesday (March 9) that according to three sources, the car companies listed in the US have been working with advisers and could begin to list as early as mid-2021. The three firms declined to comment.
People familiar with the plans told Tencent the three companies – known locally as Weilai (Nio), Ideal (Li Auto) and Xiaopeng (Xpeng), respectively – have raised $14.7 billion in US markets since 2018, but they want to capitalise on the growing demand of potential investors in Asia to raise more funds.
While considering the second listing in Hong Kong, the three companies are increasing financing to provide funds for technology development and expansion of sales networks in order to better compete with Tesla in China, the world's largest electric vehicle market.
Automotive industry executives believe that 2021 will be a key year for electric vehicle manufacturers to seize market share, as they expect China's new energy vehicle (NEV) sales will jump nearly 40% from last year to 1.8 million vehicles.
In the context of tensions in international trade relations, the issuance of new shares in Hong Kong will enable the three to join the ranks of Chinese companies listed in New York, who seek to be listed and traded on more local exchanges.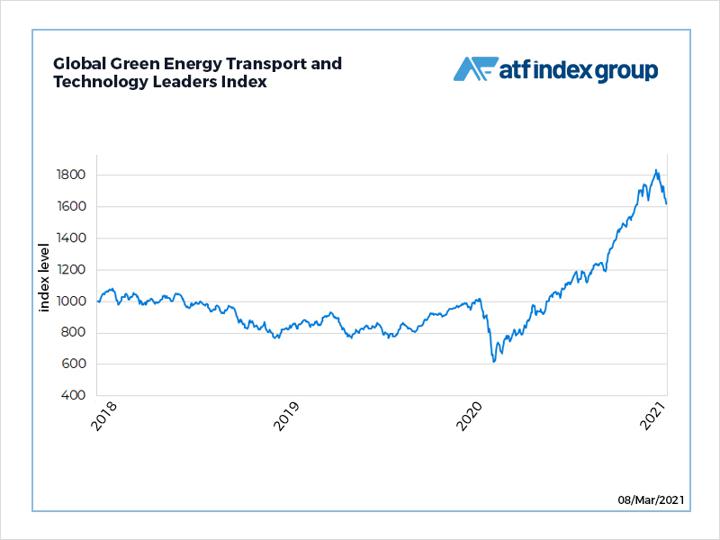 The Global Green Energy Transport and Technology Leaders Index created by Asia Times Financial in collaboration with ALLINDEX, is a benchmark that tracks shares of leaders in electric vehicle and renewable energy production and storage businesses.
Regulatory compliance
According to Hong Kong regulations, companies seeking a secondary listing must have good regulatory compliance records for at least two financial years on other qualified exchanges. People familiar with the matter said that both Ideal and Xiaopeng were listed in the US in the middle of last year, so they are likely to apply for dual listing status in Hong Kong.
Hong Kong's dual listing rules stipulate that companies in Hong Kong and the second exchange must comply with all exchange requirements, but are not subject to the two-year rule. According to people familiar with the matter, Xiaopeng is also considering a third listing on the Shanghai Science and Technology Innovation Board.
When asked about the local listing plan last week, Xiaopeng President Gu Hongdi said: "In the long run, it is helpful for a consumer-focused company like us to establish contacts with domestic capital markets and domestic investors. This is where should focus," but he declined to comment on any plans to list in Hong Kong.
The Chinese government vigorously promotes new energy vehicles (such as battery-powered vehicles, plug-in hybrid electric vehicles, and hydrogen fuel-cell vehicles) to help reduce air pollution, which has stimulated interest from technology companies and investors.
Last month, there were media reports that Huawei also planned to sell electric vehicles as early as this year. Baidu also plans an electric vehicle, as reported by ATF.
China predicts that by 2025, new energy vehicles will account for 20% of the country's annual car sales, and this proportion was about 5% in 2020.
Last year, Li Auto (Ideal) delivered domestic car 32,624 domestic vehicles, while Nio/Weilai delivered 43,728, and Xiaopeng (Xpeng) delivered 27,041. In contrast, Tesla's sold 147,445 vehicles in China.
ALSO SEE: