China Evergrande's failure to meet bond coupon payments is creating a "perfect storm" in the nation's high-yield bond market that's left it broken, devoid of trust and with a feeling similar to that of the global financial crisis.
That's according to Monica Hsiao, founder and CIO at asset manager Triada Capital in Hong Kong, who said the market is now driven by emotions as some investors, struggling to separate fact from fiction, just "throw everything out the window."
"We're in a vortex of fear,'' she said. "We're really going through the eye of the storm. We're at a point now where just any little rumour or talk or speculation, whether true or not true, will cause bonds to move 10 points.''
Bondholders said Evergrande hadn't stumped up $150 million for a coupon payment due on Monday, its third missed payment in as many weeks, while developers Modern Land and Sinic are among others scrambling to defer payments. The high-yield China bond market plunged as fear over contagion in the $5 trillion sector spooks investors.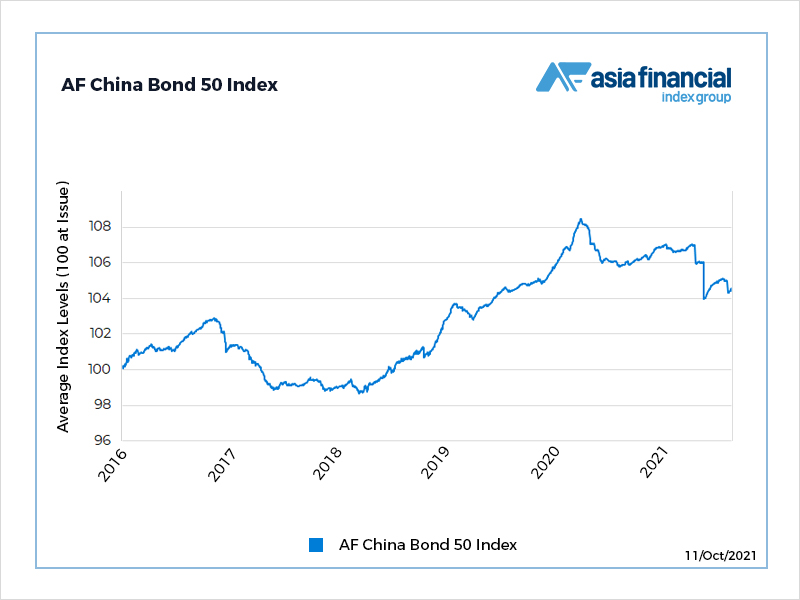 While the contagion is, thus far, largely contained within the high-yield sector, some knock-on effects are apparent even in the AF China Bond 50 index – see the chart above – which has no property companies among its constituents and is dominated by triple-A credits. The AF China Super Liquid index – see below – has fared a little better, in large part because it includes government-issued bonds that act as an additional buffer for investors, who feel more secure because they're backed by the sovereign. Both indexes are owned by Asia Financial's parent, Capital Link International.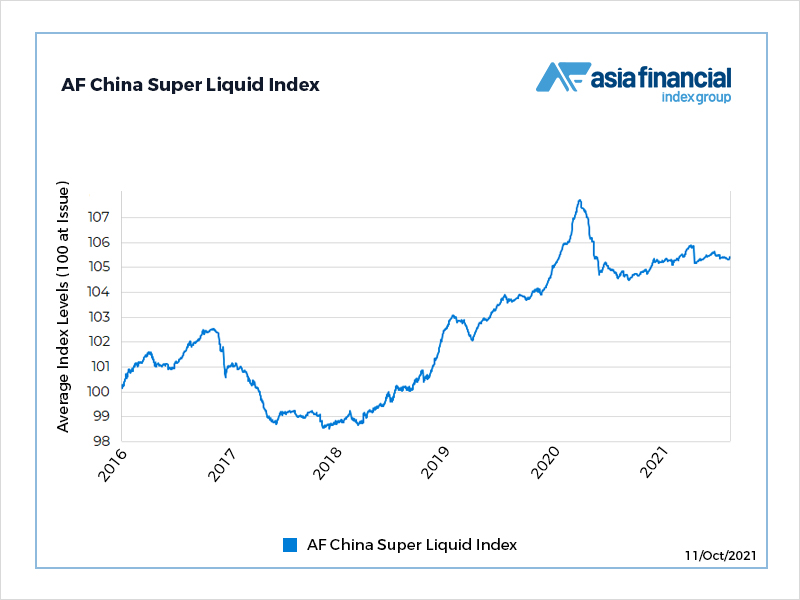 The market's mood further soured recently after cash-strapped Chinese property developer Fantasia limited trading in its Shanghai bonds on Monday – a move often aimed at curbing volatility ahead of a default following a credit downgrade. And Modern Land (China) Co, a smaller developer, said it was seeking consent from investors to extend the maturity date of a dollar bond due on October 25 by three months in order to avoid a default.
What Led To The Evergrande Crisis? from AsiaFinancial on Vimeo.
The measures taken by both companies highlight the fallout from China Evergrande Group, struggling under $305 billion in debt. Fantasia Group China Co, controlled by Fantasia Holdings, said in a filing its bonds will now only change hands through negotiations, after a downgrade by China Chengxin International Credit Rating Co (CCXI). They previously traded on an auction system at the Shanghai Stock Exchange.
Two bonds of Fantasia Group were suspended from trading by the exchange on Friday following a slump, after Fantasia Holdings missed the deadline on a $206 million international market debt payment on October 4.
The Fantasia situation was in some ways more damaging to market sentiment than Evergrande because it led to "everybody in the market questioning what can we believe from any property issuer if it's like this,'' said Hsiao.
Issuance of high-yield bonds has literally come to a halt in China, and refinancing costs have significantly increased due to the trust crisis, said Hsiao, speaking in an online forum. The lack of transparency over property developers worsened after the surprise dollar bond default of Fantasia, a smaller developer founded by the niece of previous Chinese vice-president Zheng Qinghong.
Issuers are now in a "double whammy" when a trust crisis has increased the cost of refinancing, and put pressure on their credit quality, said Annalisa Di Chiara, senior vice-president of the  Corporate Finance Group of Moody's Investor Services.
The turmoil has triggered a panic from investors, especially those from Europe, who are in different time zones than Asia and have more difficulties, getting information, said Kenny Chan, chief financial officer of Zhenro Properties Group.
Where things go next is anybody's guess. Hsiao said the contagion has already spread beyond where she expected it to be last week and the week before that, and that bonds are moving on very little volume.
"Selling begets selling,'' she said. "There is a point right now of fear where people think there's no price. You dump at 60, you dump at 50, you dump at 40. There's such a herd mentality.''
Some analysts say it will take at least six to 12 months for the market to normalise, at which point China property bonds may be sought after again by investors. And the demand and supply for high-yield bonds in non-property sectors such as industrial, gaming, cement and aluminium have all risen this year, said Sibo Feng, managing director and deputy global head of credit markets at China International Capital Corp.
By Kevin Hamlin and Iris Hong
ALSO ON AF: