In the backdrop of the US-China tech war, India is emerging as a key strategic destination for global underwater cables, due to its geographic location and the fact cable systems connecting Europe and Southeast Asia have to pass by there
(AF) In the geostrategic race between the US and China for dominance over the world's technology infrastructure, there is a new kid in town: India is set to see the first submarine cable system that originates from its shores. And this will also be the biggest.
Reliance Jio Infocomm (Jio), one of India's top telecom operators, announced in mid-May that it is constructing the largest international submarine cable system centred on India. Jio is controlled by Asia's richest billionaire Mukesh Ambani.
The company said that, along with several key global partners and world-class submarine cable supplier SubCom, two "next generation" cables will span over 16,000 kilometers (10,000 miles), when completed, in about two years time. The cables will provide high-speed data-connectivity with a capacity of more than 200Tbps (Terabits per second).
The world had over 400 underwater cables in 2020, but this is the first time in the history of fibre-optic submarine telecommunications that India will be at the centre of an international network, which underscores the country's increasing geopolitical importance. The new cable system also opens up a new moment of opportunity.
Some experts say it will enable India to position itself as non-aligned.
"The rivalry between US and China is gradually creeping lower and lower down into the physical layers of the internet," Emily Taylor, the CEO of Oxford Information Labs, and an associate fellow with the International Security Program at the London-based think-tank Chatham House, told Asia Financial.
Taylor, who is also a research associate at the Oxford Internet Institute, said: "The whole of [Asia's] east coast is underserved and what Jio has proposed (the submarine cable system) here will be a real step change in connecting Asia and the West, placing India on the journey of data between Asia and Europe, which would also be fantastic in terms of connectivity and access for people in India."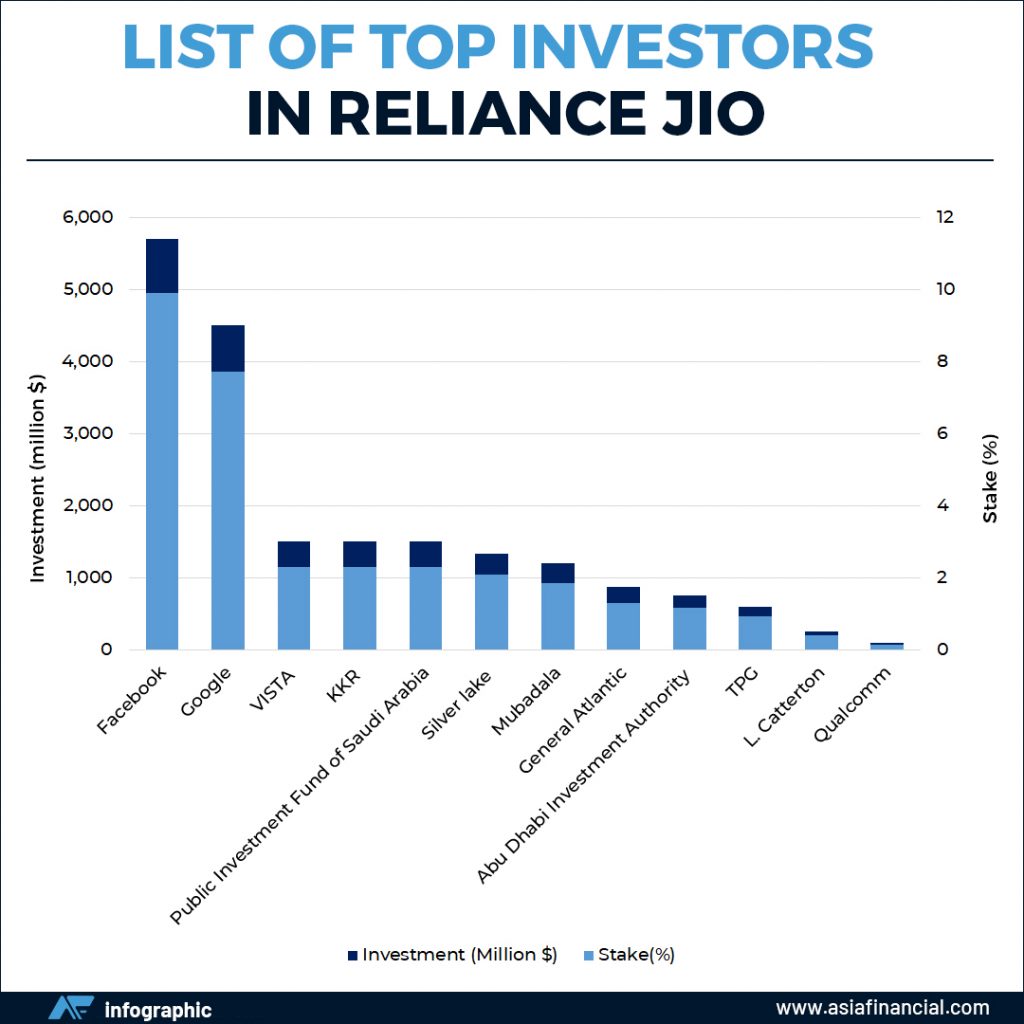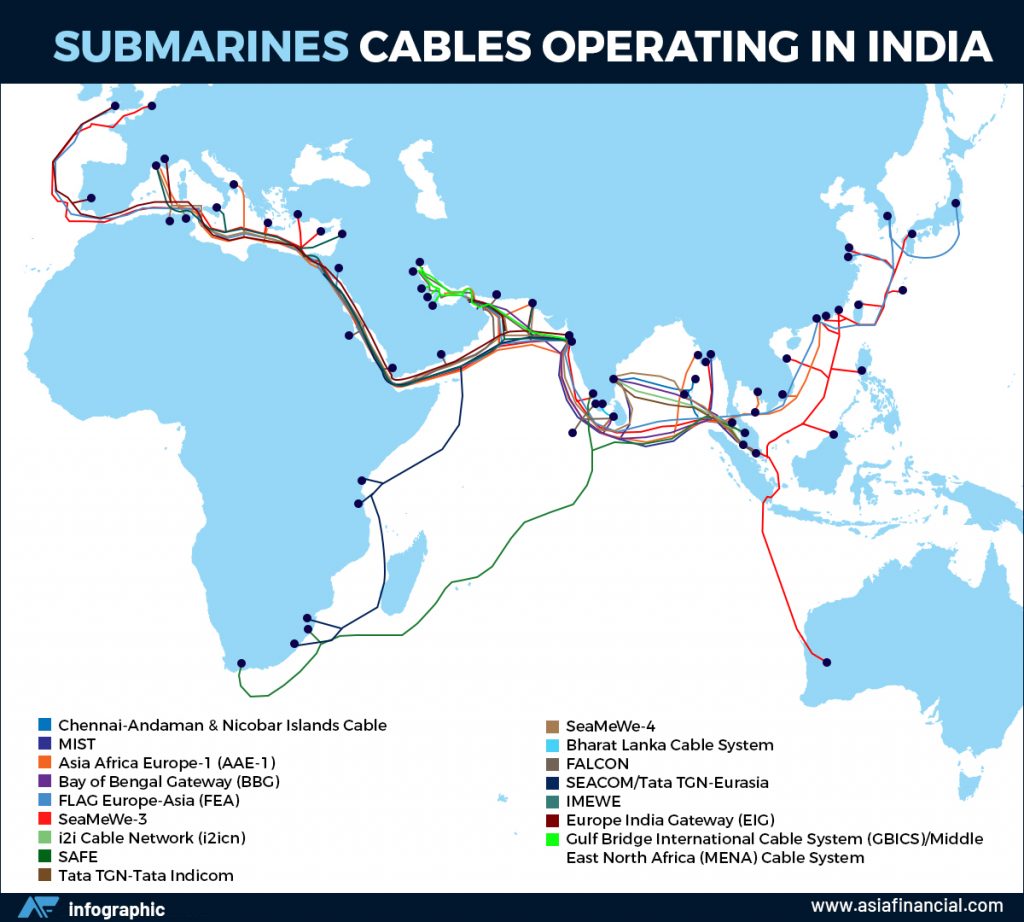 A NEW FLASHPOINT
Indeed, in the current tech war between the US and China, the undersea submarine cable – laid on the seabed between land-based stations that deliver the internet – is a new battleground.
The 'war' started as a trade dispute under the Trump administration but soon morphed into a battle for leadership in core technologies like 5G, artificial intelligence (AI) and semiconductors.
Those tensions have continued under US President Joe Biden through sanctions on several major Chinese technology companies, such as Huawei Technologies, ZTE, SMIC to Hikvision, the world's biggest surveillance camera maker.
But after Washington began blocking China's access to core US-controlled technologies like semiconductors, and waged a high-profile campaign to exclude Huawei from US's next-generation mobile networks over fears of espionage and strategic dominance, Chinese companies also sought to gain a foothold in some of the world's most essential communications infrastructure – undersea cables.
Some 400 submarine cable systems globally carry almost 98% of global data communications – the rest is streamed by satellites – and Chinese companies like Huawei and China Unicom have laid thousands of kilometres of cables to quietly erode US, European and Japanese dominance over this backbone of the internet.
Huawei Technologies, for instance, has reportedly worked on some 90 projects to build or upgrade submarine cables around the world.
Its progress led to the US Department of Justice blocking the Pacific Light Cable Network (PLCN), an underwater web cable linking the US to Hong Kong, from being activated in June last year, because of fears of Chinese data theft, as Huawei is the cable system's primary software and equipment supplier.
Although PLCN has the backing of American tech giants Google and Facebook, US officials claim that Huawei's access to undersea cables could allow China to attach devices that divert or monitor data traffic — or, in the event of a conflict, to sever links to entire nations.
"We are acutely aware of counter-intelligence and security threats to undersea cables from a variety of actors," William Evanina, director of the National Counter-intelligence and Security Center, said. "Given that undersea cables carry the bulk of the world's telecommunications data, safeguarding these cables remains a key priority for the US government and its allies."
SHUNNING CHINESE CABLES
The move to block use of the PLCN also rattled US companies, who have now started shunning other cables systems originating from China.
In early May, Google and Facebook said they would not be using a new Chinese land-and-sea link called Peace, because they have enough capacity already. Built by Chinese companies, Peace is an undersea cable network that will travel overland from China to Pakistan, from where it will go underwater and snake along 7,500 miles of ocean floor via the Horn of Africa before terminating in France.
But even if Google and Facebook wanted to be part of the network, experts said Peace would have been declared 'out of bounds' for them because of the US-led boycott on Huawei, which is the third-largest shareholder in Hengtong Optic-Electric Co, the Chinese company building the cable. Huawei is also making the equipment for the cable landing stations and its underwater transmission system.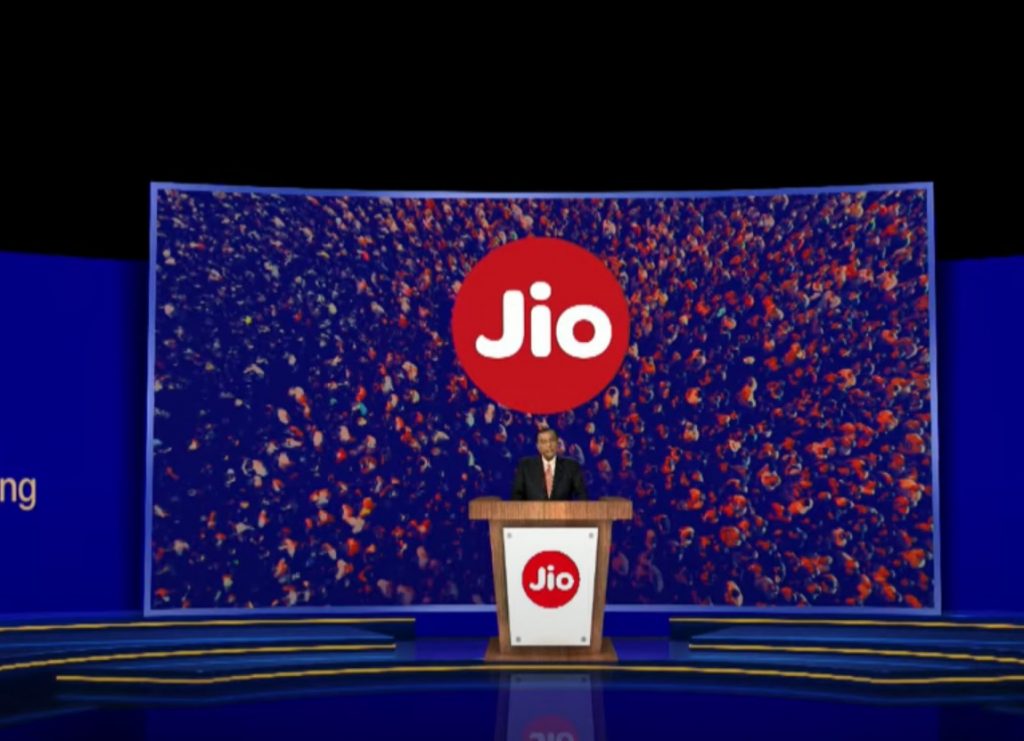 OPPORTUNITY IN POLARISATION
Emily Taylor, of Chatham House, said: "As we see polarisation in geopolitics in the developed world, the middle countries like India that project themselves as not being on one side or another, could potentially have a real moment of opportunity. Amidst that polarisation comes an opportunity for countries like India to position themselves as non-aligned," she said.
Jio's cable will consist of two fibre-optic cable networks called India-Asia-Xpress (IAX), and India-Europe-Xpress (IEX).
The IAX will connect India east to Asia-Pacific markets with express connectivity from Mumbai and Chennai to Thailand, Malaysia, and Singapore.
While IEX will extend India's connectivity west to Italy, landing in Savona, and additional landing points in the Middle East and North Africa.
Apart from the connection of the IAX and IEX sub-sea systems, the two systems will also be connected to the Reliance Jio Global Fibre Network beyond Asia Pacific and Europe, linking it to both the east and west coast of the USA.
IAX is expected to be ready for service mid-2023, while IEX will start carrying data in early 2024.
"For India, the IAX and IEX are really big deals. India is an underserved market and needs as many cable networks as possible to come in," Sunil Tagare, founder of OpenCables – a submarine cable consultancy – as well as the undersea cable company Flag Telecom, told AF.
Some, 16 cable networks have already landed in India, according to TeleGeography. But Tagare says the country needs many more.
But the expanded capacity from Jio's IAX and IEX cables should facilitate a healthy internet ecosystem, by enabling greatly improved accessibility for people and businesses.
The Covid pandemic has highlighted the importance of connectivity as billions of people around the world rely on the internet to work, attend school, and stay connected. "IAX/IEX will enhance the ability for consumer and enterprise users to access content and cloud services in and out of India," Jio said in its statement.
"Implementing these critical initiatives in the shadow of a global pandemic is a challenge, but the ongoing pandemic has only accelerated the digital transformation and the necessity of high-performance global connectivity for the delivery of a richer experience to enterprises and consumers," Reliance president Mathew Oommen said.
MANY MORE WILL FOLLOW
According to Alan Mauldin, research director at TeleGeography, given that there is a global need to refresh the cable network to build for the future, the IAX/IEX cable system will be just the first of the many coming to India.
"Jio did not disclose that the two cables (IAX/IEX) are not entirely Jio's cables. These are co-owned by partners, who may announce their involvement in the next few months and we can already guess who they could be," Mauldin told AF.
He was pointing to the news last year, when Ambani sold a little over 25% of Jio to global investors such as Facebook, Google and Qualcomm (see chart below) for $19.8 billion.
"So, this is the first foray of many upcoming content providers involved in laying submarine cables to boost capacity to India in major way, and this is also the first part of the wave that we will see in the months and years ahead," Mauldin said.
Tagare said US giants like Google, Facebook, Amazon, Oracle, and others have spent billions setting up data centres in China and Hong Kong in the recent years. But with the US now frowning upon its companies using Chinese cables and telecom equipment, it means they are 'stuck'.
"Much of the data centre business will also need to be moved to India and IAX/IEX could push that shift," Tagare said.
India is slated to see a slew of new announcement in the next four years, including the already announced landings of Southeast Asia–Middle East–Western Europe 6 (SEA-ME-WE 6), Blue-Raman, (a Google venture) and 2 Africa.
"The whole politics of cables really highlights the fact that we need some kind of international agreement for peaceful use of these technologies, which are very expensive to invest in," Taylor, of Chatham House, said.
"If all states can restrain themselves and agree to certain norms or rules about the use of these fundamental technologies and networks, then that could bring us on a step forward to benefit from the connectivity rather than fussing ourselves about which cable to use," she said.
READ MORE: