(ATF) – The ATF AllIndex CBM50 Index of leading Chinese bonds climbed for a second day, advancing 0.07% to 106.68. Gains were bolstered by the biggest jump in a month on the Local Government sub-index.
The ATF ALLINDEX family have started the week on a firm note with the ATF ALLINDEX Local Governments climbing 0.24% on the day.
For the month of March, the CBM50 returned 0.075%, the ATF ALLINDEX Local Governments index returned 0.75%. The Corporates index edged up 0.03% on the day with the one month return of -0.13%.
The Financials index added 0.02% on the day and returned 0.43% for March. The ATF ALLINDEX Enterprise index returned -0.05% for March following a rise of 0.01% on the day.
This month has been quite a roller coaster for a number of assets. US corporate high-yield bonds have recovered some of their lost ground and HYG closed at 77.65 up from a low of 69.35 on 23-03-20. Investment-grade US bonds have shown an even more impressive rally with LQD closing at 123.92, up from a low 105.50 on March 18.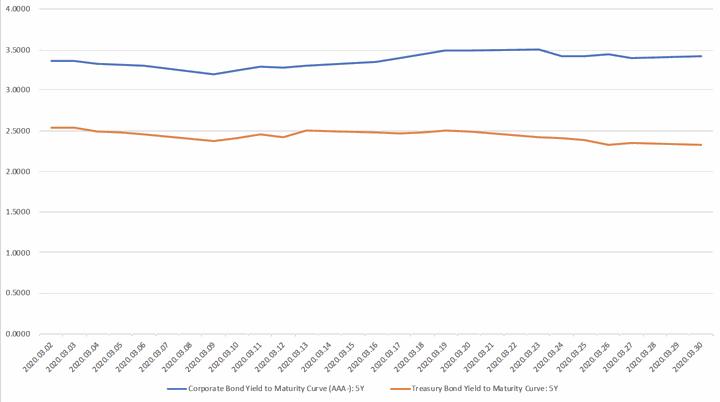 The spread between Chinese five-year treasury bonds and five-year corporate debt started to slightly widen this month. While the spread was at 80bps at the beginning of March, it ended at 110bps on Tuesday. 
---
ATF ALLINDEX CBM50 Bond Index: A 50-constituent index, updated daily and selected from across the entire Chinese onshore bond market, that provides a benchmark measure of the Chinese onshore fixed income market. The CBM50 is taken from the ATF ALLINDEX Chinese Bond Market Index that tracks the price movements of Chinese CNY-denominated onshore bonds across the Corporate, Enterprise, Financial and Local Governments sectors.