Perilous finances of LGFVs weigh on AFCB50 indexes as coupon payments further dampen the mood

 
(AF) Investors dumped Chinese municipal bonds Thursday on concern that companies they use to raise funds for public works and projects may be on the verge a a spate of defaults.
Growing unease over the fragility of the sector amid a growing debt pile was accentuated by a media report that warned many may soon be unable to repay their lenders.
The drop sent down an AF returns-focused gauge of the local government securities by the most since March 2019. 
The gauge – a sub-index of the AF China Bond 50 Index – is now at the lowest level since January. Then, it had been battered along with the AFCB50 by growing disquiet over the possibility of an inflationary spiral damaging a world economy slowly emerging from the doldrums of the pandemic downturn.
The yield on the index is within two basis points of its 2021 high at 3.74%.
LGFV weakness
Analysts had warned as long ago as last spring that weaknesses were appearing in local government financing vehicles (LGFVs). The structures became popular after a law banning local governments in China from direct borrowing came into force in 1994. These entities provide finance for local governments to construct public social welfare infrastructure and develop land, with the primary aim of undertaking government functions rather than seeking profits.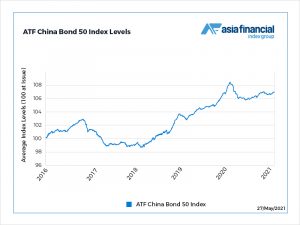 But their fundamentals have suffered in recent years as the government has clamped down on shadow banking and local authorities have had to seek funds at higher rates of interest from the markets.
The pandemic's uneven impact on China has made matters worse, with some poorer provinces that have yet to share in the nations' broader recovery falling further into financial difficulty. Even before the pandemic many had reported "credit incidents" – late or non-payment of debt obligations.
The slump in the the local government sub-index dragged down the broader AFCB50 Index, which fell 0.09%, the steepest decline since December, to 106.88.  
The index was also pummelled by two coupon payments, on Industrial Bank's 2.9% note due in May 2025 and Sinopec's 2.2% security maturing in May 2023.