(ATF) Chinese analysts say the electric car startup Nio significantly outperformed peers, after the company unveiled its first sedan that critics say will be the biggest rival for Tesla's Model S.
The all-electric sedan ET7, released by Nio founder and CEO William Li at the Nio Day 2020 in Chengdu last Saturday evening, is the first sedan in Nio's lineup following the company's SUV and crossover models and its EP9 hypercar. It is billed by the company as its "first autonomous driving model".
The comments come as data showed China's auto industry continued its recovery in December, although sales slumped for the full year amid the pandemic-led downturn.
The ET7 will start at 448,000 yuan ($69,171) before government subsidies and come with a 70-kilowatt hour (kWh) battery pack that promises about 500 kilometers (310 miles) of range.
Extended range
Beyond that, a 100 kWh model with 700 km range is priced at 506,000 yuan.
If customers choose to pay for battery services based on a 980 yuan monthly subscription fee, the entry-level variant costs 378,000 yuan.
Deliveries will start from the first quarter of 2022, Nio said in a press release.
ALSO SEE:
New energy vehicles (NEVs) including battery-powered electric vehicles, plug-in petrol-electric hybrids and hydrogen fuel-cell vehicles, are to play a key part in the government's plan to green the economy and develop "smart" city infrastructure.
Sales of NEVs increased 11% in 2020 to 1.37 million units, outperforming the broader all-format auto market, the world's biggest, which fell 1.9% to 25.3 million vehicles last year from 2019, data from the China Association of Automobile Manufacturers (CAAM) showed. 
Vehicle sales rose 6.4% in December from a year earlier to reach 2.83 million vehicles. While that was down from a 12.6% year-on-year rise in November, it was the ninth consecutive month of increases. CAAM said last month it expects vehicle sales to rise by around 4% in 2021.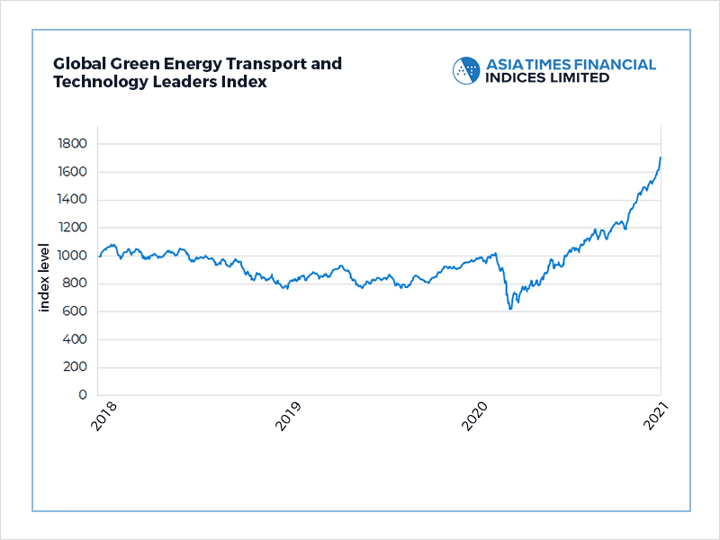 Global Green Energy Transport and Technology Leaders Index – capture innovation in green energy transport
Larger battery
Nio also launched a larger-volume battery pack that can improve driving range to 1000 km, an upgraded autopilot system and the second iteration of its battery-swap station – an alternative energy solution that allows people to change the vehicle's battery rather than recharge it. Nio targets reaching 500 battery swap stations by the end of 2021.
While Tesla announced earlier this month a new China-made electric SUV, the Model Y, with a price tag of 339,900 yuan, Nio's pricing for the ET7 has shown its confidence in Chinese consumers' growing demand for premium cars. Qin Lihong, Nio's co-founder and president, told Chinese media that Nio did not see a significant SUV sales decrease when Tesla released the China-made Model Y.
Nio's CEO Li, speaking in Shanghai prior to this weekend's event, compares Tesla to "a Volkswagen or Ford in electric-vehicle manufacturing" and his own company to "a BMW, Mercedes-Benz or Audi in the EV era", and said Nio will insist on producing premium cars.
Comparing with 733,900 yuan for an imported Tesla Model S, which automobile critics have said is similar in performance to Nio's 100 kWh sedan variant, the ET7 may still be a budget choice.
Strong startup
Analysts from Everbright Securities consider Nio one of the strongest Chinese car-making startups judging by its market positioning, product lineup, business management and technological capabilities.
"The ET7 demonstrates Nio's capabilities in core intelligent technologies. The company has also improved its business performance by effectively controlling expenses since the fourth quarter of 2019. We believe Nio's Battery as a Service (BaaS) and certified used-car service programs will help the company gain more revenues and raise its gross profit margin," Everbright Securities said.
The brokerage has raised Nio's pricing target to $65.25 and maintained a "buy" rating.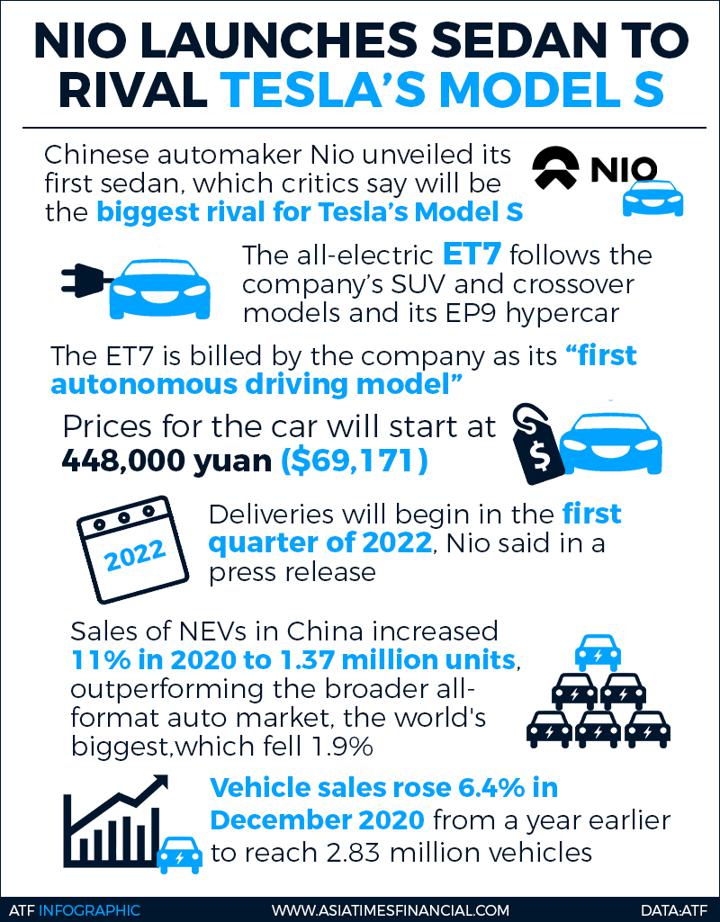 Nio's NYSE-listed shares went up 6.42% on Monday and closed at $62.7, while Tesla, Li Auto and Xpeng dipped 7.82%, 4.4%, and 2.4%, respectively.
"The ET7's configuration of autonomous driving and digital cockpit technologies are the most advanced on the market. We expect the launch of the ET7 to trigger a race of Chinese automakers to pursue advanced intelligent technology configurations in their EVs," analysts from
CITIC Securities said, adding that autopilot system suppliers such as Shenzhen-listed Desay SV Automotive and cockpit solution providers such as Shanghai-listed Joyson Electronics will benefit.
Business turnaround
The release of the ET7 is evidence of the startup's business turnaround. Nio started delivering its first vehicle, the ES8 SUV, in mid-2018 before floating its shares on the New York Stock Exchange (NYSE). But in 2019 its business got hit badly when China reduced subsidies on luxury EVs and a fire risk in the battery packs made the company recall thousands of ES8s.
Nio had unveiled a concept version of the ET7 at the Shanghai Auto Show in 2019, but later postponed its launch as the startup recorded a loss of $390 million for the first quarter of 2019.
Besides delaying the sedan project, Nio also canceled plans for its own factory and sold its Formula E electric racing team.
In the early months of 2020, the automaker warned investors that it was running out of cash having spent heavily on marketing and showrooms for its ES8 and ES6 electric SUVs. But in April, it received a US$1 billion (S$1.32 billion) investment from entities led by the municipal government of Hefei and in July, a US$1.5 billion credit line from Chinese banks.
The capital injection helped Nio achieve a stellar year 2020. It rolled out a revamped version of the ES8 SUV that rejuvenated sales, and released a third SUV, the ES6, that sells even better. It finished the year having delivered 43,728 vehicles, more than double the figure a year earlier.
That made the automaker the best performer among other New York-listed Chinese electric car start-ups. Nio's market cap on the NYSE went up 11 times last year and its nearly $100 billion current valuation exceeds those of Ford, General Motors and Daimler.
According to the research of Orient Securities, Nio has 5.44% of overall EV market share in China by sales volume in the first three quarters, while the largest players BYD Auto and Tesla have 16.19% and 16.08%, respectively.
Nio and Tesla split the luxury EV segment of models above 400,000 yuan (US$61,200), and account for 67% and 33% respectively.
At present, Nio only sells its cars in China. But the company has said it plans to enter the European market in the second half.