(ATF) From a "staycation" in a five-star hotel to a "flycation" with views of Victoria Harbour, Hong Kong's tourism industry is getting creative with ideas to generate business from potential local customers who have been unable to travel due to the coronavirus pandemic.
"We have a better environment and more social distancing here," said Pang Zoei Dauk, a two-month resident in the Heritage Lodge, a boutique hotel in a former hospital run by a Hong Kong non-profit organisation, Jao Tsung-I Academy.
As a historic compound over a century old, the Heritage Lodge features gardens that are regarded as a green oasis in the city. Moreover, it represents hope for tourism and travel, one of the business sectors hardest hit by the pandemic.
Along with serving as a quarantine centre from February to May, the Heritage Lodge embraced the staycation trend with pet-friendly packages and "healthy and therapeutic experience" offerings incorporating Japanese-sourced products such as the IntelliLife mattress and an electrotherapeutic foot masseur.
A hotel official noted that its occupancy rate has bounced back to 85% since it stopped being a quarantine centre. Guests are offered a Chinese cultural studies exhibition and a new mini-farm will soon be available to showcase the pleasure of farming in a city full of skyscrapers.
"We see a new demand from older customers who are recommended to stay home because of a higher risk of infection," said Paul Chan Chi-yuen, founder of "Walk in Hong Kong", a Hong Kong tourism organisation offering well-researched walking tours in the city and has recently switched to a virtual tour format. 
"Virtual tours offer potential for hybrid presentations. We can bring our audience from street to indoors in just one second," he said. He started developing virtual tours in early March before the border closure with China and launched in August. He claimed some success in hosting about 20 virtual tours in November, or roughly half of the tour numbers before the onset of the pandemic.
"The pandemic has revealed that the tourism industry lacks resilience, as people rely on a single market or business model for too many years, and it's hard to change in the snap of a finger," said Chan.
Looking locally
The tourism industry in Hong Kong and elsewhere has been left with no real choice except to rely on local customers. According to the United Nations World Tourism Organization (UNWTO), international tourist arrivals in the form of overnight visitors declined 70% – by 700 million tourists – in the first eight months of 2020 on a year-on-year basis. 
The decline translates into a loss of $730 billion in revenues from international tourism, more than eight times the effective impact on travel demand of the global financial crisis in 2008 and 2009 The UNWTO expects a rebound in international tourism by the third quarter of 2021, but does not predict a return to pre-pandemic 2019 levels before 2023.
As international travel is still largely off the table amid global restrictions, the UNWTO suggested domestic travel can be a way out, especially for large markets such as China and Russia. China has enjoyed a recovery, bouncing back to about 90% of the 2019 level of domestic travel by the end of August, a McKinsey report stated. 
Thailand is one of the most tourism-reliant destinations globally, with its tourism sector generating almost 20% of gross domestic product in recent years. Oxford Economics estimated the overall tourism industry in Thailand could take four years to reach 2019 levels but domestic travel can help, given that 113 million domestic trips took place in 2019.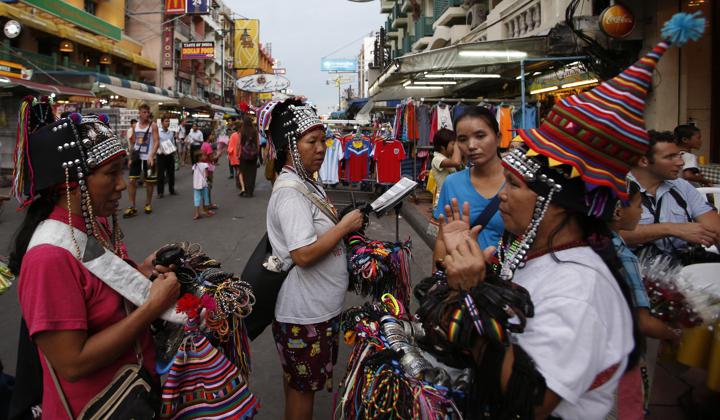 Somsak Boonkam, founder of Local Alike, a social enterprise focused on domestic travel, shared his pandemic strategy at the Social Enterprise Summit 2020. Seeing his local community partners losing 10 million baht ($330,000) in the pandemic, prompted him to create a delivery business called Local Aroi D – "aroi" means "delicious" in Thai – catering to food delivery demand from the work-from-home market, including livestreaming of the cooking process and selling recipes through the delivery platform to provide income for people whose livelihood relied on tourism.
Justin Francis, who founded Responsible Travel in 2001 and was named one of the 50 most influential people in travel by The Times of the UK in 2006, warned that tourism had been reaching crisis proportions before the pandemic at the Social Enterprise Summit 2020. 
"Over-tourism in very popular destinations caused protests by residents who saw tourism doing more harm than good," said Francis. He suggested consulting local people and environmentalists to set up specific indicators for the management of destinations. "Every destination has its limits," he said.
Creativity is key
Andres Vejarano, founder of Hong Kong-based marketing consultancy Cali 17, suggested the hospitality sector should "be creative and keep experimenting with new seasonal offers and partnerships" to personalise and customise the experience, such as retail pop-up experiences, neighbourhood and field trips, instead of simply dropping prices, especially for those who want to capture repeat business from domestic tourists with short term and seasonal staycation experiences.
He also stressed the importance of maintaining safety vigilance by putting health protocols in place to avoid pandemic fatigue in 2021. "A setback on health will lose hard-won trust for the business," said Vejarano.
"Travel bubbles" between states offer some hope of revived business, but with serious limitations. Freddy Yip Hing-ning, the founder of 40-year-old Hong Kong-based travel agency Goldjoy Holidays, said the effect of the proposed travel bubble between Hong Kong and Singapore would be very limited. He noted the bubble, which involves four Covid-19 tests, would focus on business and family visits, instead of tourism. And the bubble has already been postponed for two weeks due to a fourth wave of Covid-19 cases surging in Hong Kong.
"The pandemic is different from any crisis before, as it affects the globe rather than a particular region as we have handled before," said Yip. "I diversified my business into fields such as wine, property, food and beverages 10 years ago. It's too late to start that now," he said, adding that there has never been easy money from the travel business but his motivation in providing a service is simply "because I love to!"  
ALSO SEE: