(ATF) South Korean manufacturers plunged into electric vehicle (EV) development this week as Samsung SDI said it would invest $850 million to expand its battery factory in Hungary and Hyundai Motor launched a new model in a bid to capture 10% of global sales by 2025.
Samsung SDI, an affiliate of South Korean tech giant Samsung Electronics, with customers such as Ford and BMW, is also considering building another EV battery plant in the central European country.
Production began at the Hungary plant in 2018, producing batteries for 50,000 EVs a year. Samsung SDI also has EV battery plants in South Korea and China. 
Hyundai launched its Ioniq 5 midsize crossover SUV on Tuesday (Feb 23), based on a new EV-only platform that uses its own battery technology and requires fewer components than Hyundai's existing electric cars, resulting in faster production at lower cost.
The Ioniq 5 is the lynchpin of Hyundai's long-term goal to account for a tenth of global EV sales by 2025, up from a combined market share of 7.2% for Hyundai and Kia in January-September 2020, according to SNE Research data.
"We expect this year's (global) EV demand will increase more than 30% versus last year," company president Chang Jae-hoon told a news conference.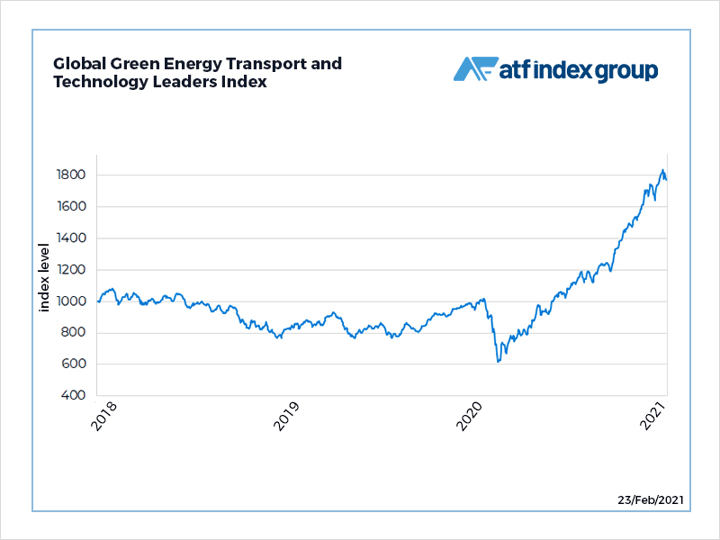 The Global Green Energy Transport and Technology Leaders Index created by Asia Times Financial in collaboration with ALLINDEX, is a benchmark that tracks shares of leaders in electric vehicle and renewable energy production and storage businesses.
BATTERY RECALL
The launch is a welcome relief for Hyundai Motor, which has been caught up in one of the world's most expensive EV recalls following a string of electrical fires.
The carmaker said on Wednesday February 24 it would recall 25,083 Kona EVs made between September 2017 and March 2020 after more than a dozen caught fire.
After a recalled Kona model caught fire after receiving software upgrades, Hyundai is considering replacing the vehicles' batteries. That could cost as much as $900 million, the Financial Times reported.
In a separate development, San Francisco-based Lucid Motors plans to launch a rival to Tesla's Model 3 in 2024 or 2025.
This week Lucid announced plans to go public by merging with a special purpose acquisition company, or SPAC, which would value the firm at $56 billion.
Lucid has battery contracts with two South Korean manufacturers, LG Chem and Samsung SDI.
ALSO SEE: