Moody's says policy support and recovery in financial conditions should prevent a widespread emerging markets debt crisis, while Fitch warns more defaults are possible
(AF) The sovereign issuer-based default rate rose to a record high in 2020 against a backdrop of weakened sovereign credit profiles due to the Covid-19 pandemic, rating agencies said, setting the stage for possible further defaults this year.
Global debt rose by $32 trillion in 2020, according to Moody's Investors Service, led by government and non-financial corporate debt, and has continued to rise in 2021.
"The pandemic will push government debt to record highs, set back progress on social goals and add to existing challenges in many countries, such as slow growth, low investment, dependence on volatile commodity prices and vulnerability to climate shocks," Charlotte Needham, senior director, rating performance analytics at Fitch Ratings, said.
"Despite an uptick in defaults, policy support prevented a debt crisis in emerging markets, but the pandemic and its aftermath will challenge their debt-servicing capacity," she added. "Advanced economies have more fiscal space but will face productivity and demographic challenges."
DEBT AFFORDABILITY
Moody's noted that although sovereign defaults spiked in 2020, policy support and a recovery in financial conditions prevented a widespread emerging markets debt crisis, while low interest rates will support debt affordability in advanced economies.
"Such economies have more fiscal space in the short term, but will face medium-term debt sustainability challenges arising from low productivity growth and unfavourable demographic trends," Elena Duggar, chair of Moody's macroeconomic board  and associate managing director, credit strategy and research, said.
Asia is more vulnerable than Central and Eastern Europe, the Moody's analysis concluded. "Tightening financial conditions are a key risk for many emerging markets," Needham said.
A report by S&P Global Ratings analysts Nick Kraemer, Evan Gunter and Vincent Conti noted that by the end of 2020, the number of sovereigns rated at the lowest rating levels, 'CCC+' and below, had risen to seven, suggesting defaults could remain elevated in coming years.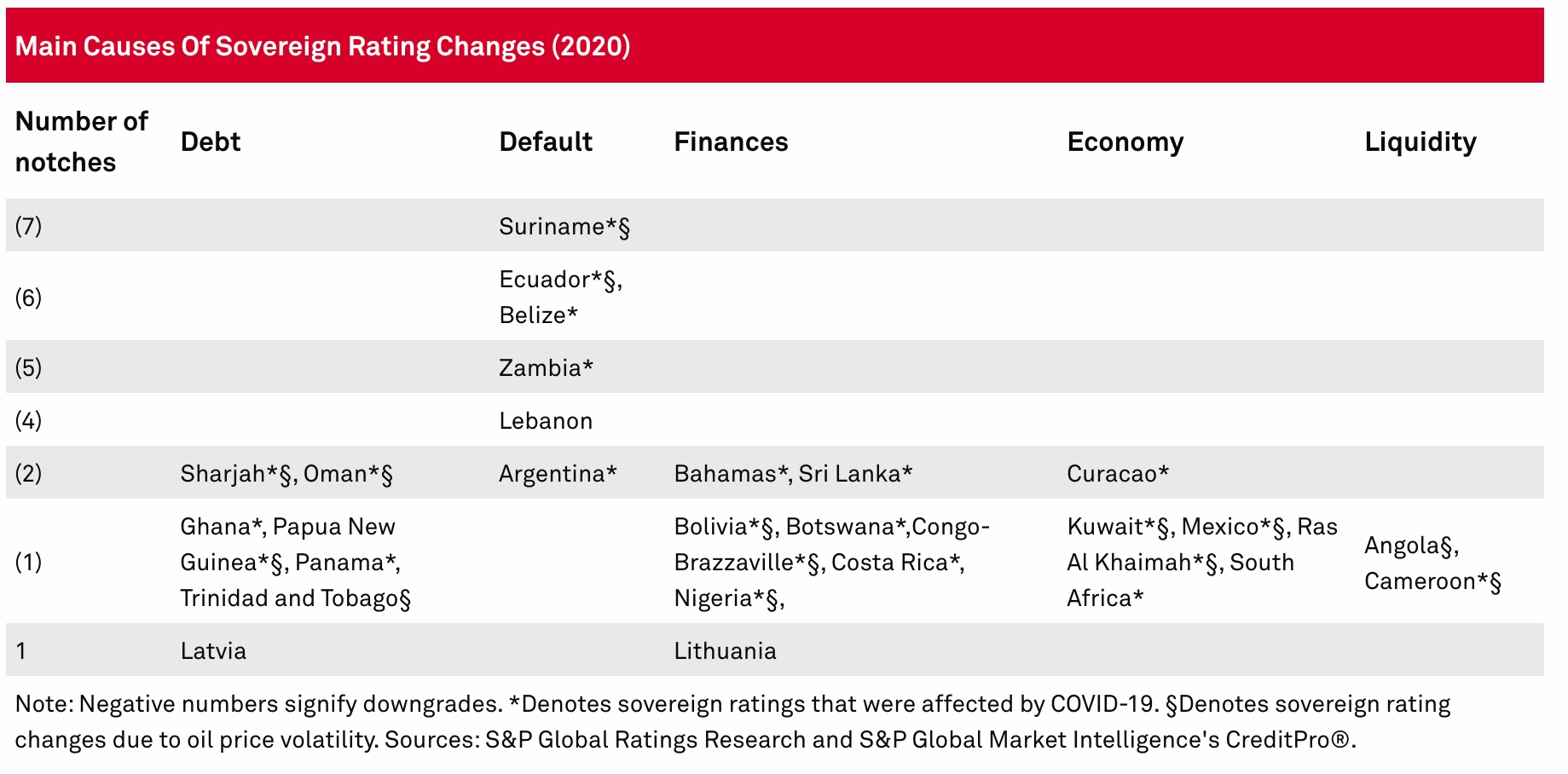 "The spread of Covid-19 and the collapse of oil prices created challenging credit conditions for sovereigns rated by S&P Global Ratings in 2020," they said. The number of sovereign defaults climbed to a high of seven, while downgrades rose to their highest tally since 2011 and outnumbered upgrades by a ratio of 10 to 1."
With the global economy falling into a sudden recession in the first half of 2020, sovereigns that entered the year with weaker ratings were most exposed. All of the defaults were from sovereigns rated 'B' or lower by S&P, and most downgrades were of speculative-grade sovereigns (rated 'BB+' or lower) from the emerging and frontier markets.
"In 2021, sovereign ratings may continue to face pressure amid expected massive fiscal and monetary stimulus that will leave a substantial debt overhang for several years to come," S&P noted.
Five Fitch-rated sovereigns defaulted in 2020, up from only one in the previous year. As a result, the sovereign default rate rose more than threefold to 4.2% from 0.9% in 2019. The previous high was 1.8% in both 2016 and 2017.
WIDESPREAD PRESSURE
"The scale and breadth of the pandemic's economic impact and of governments' policy responses put widespread pressure on sovereign ratings, with Fitch downgrading 32 sovereigns in 2020 compared with just two pre-pandemic upgrades.
The majority of Fitch's downgrades last year occurred early in the pandemic, between late-March and mid-May. The resulting ratio of downgrades to upgrades was 16 to 1, whereas the ratio was 0.8 to 1 in 2019. By comparison, the 2009 ratio following the global financial crisis was 7 to 1.
No developed market (DM) sovereigns defaulted in 2020, and the majority of downgrades were emerging market (EM) sovereigns, although Fitch downgraded six DM sovereigns.
S&P noted that large rating transitions are not common among sovereigns. Most downgrades are typically of one notch or occasionally two notches. Sovereign upgrades within a calendar year seldom exceed one notch.
In 2020, the average downgrade was 1.25 notches, slightly higher than the 1.20-notch average in 2019. The average upgrade in 2020 was of 1.00 notch, unchanged from 2019.
ALSO SEE: