(ATF) A Swedish company headed by two Tesla 'defectors' – or rather, former employees –  has hit the big time. Not quite as big as their former boss Elon Musk, but in the future, well, they are beginning to make a mark of their own.
After leaving Tesla, Peter Carlsson and Paolo Cerruti founded Northvolt in 2016 and set out on a 'mission to build the world's greenest battery to enable the European transition to renewable energy'.
Carlsson and Cerruti appear to be key beneficiaries of the European Union's desire to ensure that Europe is self-sufficient in terms of lithium-ion batteries for electric vehicles in the years ahead.
The electric car battery-maker Northvolt received a $14-billion (11.7-bn-euro) order last week from Volkswagen, which has ambitious plans to become one of Europe's largest battery makers.
At the heart of Northvolt's plans is what the company calls a "gigafactory" for producing batteries aimed at supplying the growing electric vehicle market.
Their initial factory, dubbed Northvolt Ett (Northvolt One), is being built in the northern city of Skelleftea. The company says it will be powered by 100% clean energy and large-scale production is expected to commence at some point this year.
Northvolt was co-founded by its chief executive Peter Carlsson, and chief operating officer Paolo Cerruti (seen below in a Reuters image), both of whom previously worked as supply chain managers at Tesla.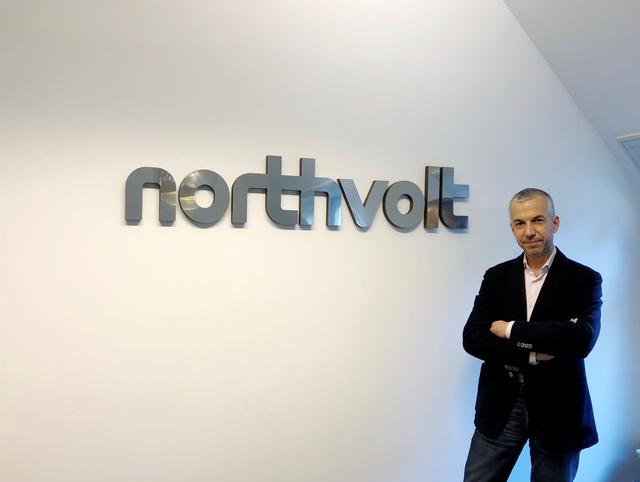 While Northvolt itself may be still be relatively unknown, its rapid expansion has been driven by its ability to establish partnerships and secure investments from some of the biggest players in the automotive business.
In June 2019, the company announced it had raised $1 billion in equity capital, securing the funding for its "gigafactory".
The investments were led by Volkswagen and Goldman Sachs but also included German carmaker BMW, as well as Swedish pension fund AMF, insurer Folksam, the IMAS Foundation, which is part of the IKEA Group, as well as Spotify founder Daniel Ek.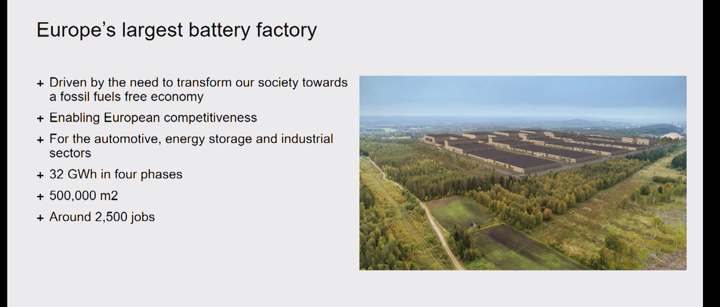 The Northvolt One factory in Sweden is seen in this presentation image that Carlsson has promoted in talks, some of which can be found on the Internet. Photo: YouTube screen grab.
Northvolt has previously said production will "have a capacity of at least 32 GWh by 2024," which would mean batteries for about 600,000 electric vehicles per year. 
However, the Volkswagen deal announced last week would see the capacity upgraded to at least 40 GWh just to cover the supply to the German automaker. 
Even though the company has only existed for five years, it employed over 1,000 people by 2021. In addition to the main facility in Skelleftea, it has also set up a facility for research and development in Vasteras, some 100 kilometres west of Stockholm.
In October 2018, the company announced it was also establishing a facility "designed for industrialisation and assembly of battery modules," in Gdansk Poland, and said production commenced in the spring of 2019.
Another factory, Northvolt Zwei (2), was announced in September 2019 and is due to be located in Salzgitter Germany and set up as a joint venture with Volkswagen, but Northvolt said it was selling its stake in March 2021 to VW.
International competition
Northvolt represents one of Europe's hopes to compete with China, which is the leader in the field of battery manufacturing, and US giants like Tesla.
In February the newly formed Italvolt announced plans for 45 GWh factory in Italy, and CATL, the Chinese market leader in battery production, is building a factory in Erfurt in Germany.
US electric automaker Tesla is also planning a "gigafactory" of its own in Germany.
Last week, EU Commission Vice President Maros Sefcovic said he expected Europe to be able to manufacture all the lithium-ion batteries needed for the continent's automakers by 2025.
That assessment is banking on the European Battery Alliance, sometimes described as the "Airbus for batteries," which was launched in 2017, in order to secure a competitive European battery industry.
Europe today accounts for only 3% of world battery cell production.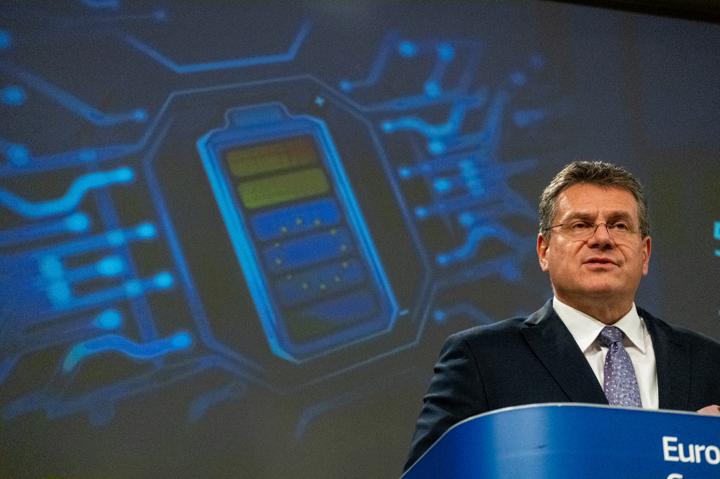 Electric vehicles are seen as an increasingly critical element in the fight against global warming, particularly in Europe. European Commission vice-president Maros Sefcovic, seen above in an AFP photo taken 10 days ago (March 12, 2021), spoke at the launch of the European Battery Alliance.
With the help of companies such as Northvolt, European firms will have the capacity to supply all the lithium-ion batteries needed for the continent's automakers by 2025 as they ramp up electric vehicle output to meet strict pollution limits, Sefcovic and other EU officials said earlier this month.
The bloc is banking on the Battery Alliance, launched in 2017, to reduce its reliance on batteries and other technologies imported from the US or Asia while pursuing its Green Deal goal of carbon neutrality by 2050.
"We expect that we will be able to cover all the industrial needs of our car manufacturers when it comes to batteries already by 2025," EU Commission Vice President Maros Sefcovic said at a press conference broadcast from Brussels.
"By that time we expect giga-factories in Europe will produce between seven to eight million batteries… so even more than what are the current plans for manufacturers of EVs by that time," he said. Sefcovic spoke alongside Thierry Breton, the EU's internal markets commissioner, after talks on the battery alliance with German Economy Minister Peter Altmaier and French Finance Minister Bruno Le Maire.
Le Maire acknowledged that meeting the goal would require massive training programmes to produce enough skilled workers for Europe to catch up with rival battery makers.
"Our goal is to train and reconvert 800,000 workers between now and 2025 across the entire value chain for electric vehicles," he said by video link from Paris.
"Already we are investing 20 billion euros ($24 billion) in total in 70 projects in 12 member states," he added, to ensure battery autonomy – including by developing independent supplies of key raw materials such as lithium, nickel and graphite.
"Europe must invest, invest, invest – this is how it will remain at the level of China and the United States," he said.
New EC standards for batteries
By next year, the Commission also hopes to adopt strict new environmental standards for batteries, including on material recycling, to fend off imports of cheaper and less sustainable imports that would undermine the EU's efforts.
"I'm sure batteries in Europe will be the greenest and most sustainable, and their performance will be the best in the world," Sefcovic said.
The alliance, sometimes dubbed the "Airbus for batteries," involves dozens of companies including automakers and energy groups that are building production capacity while also vying to create next-generation power sources.
Sefcovic said he would work with the European Investment Bank to leverage additional private money to come up with an additional 50 billion euros to meet the ambitious 2025 goals. 
In April, he said, the Commission and private firms will sign an accord to finance "cutting edge" research to the tune of some 900 million euros.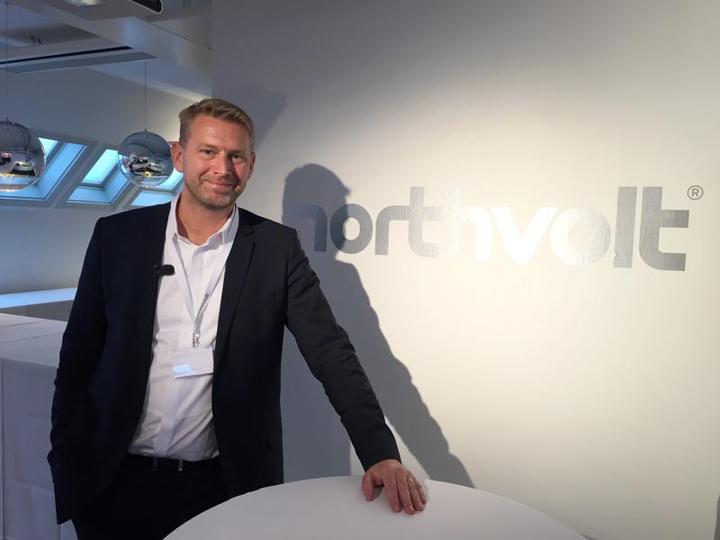 As for the Tesla 'defectors', they appear happy to be doing their own thing outside of Elon Musk's booming operations in China, the US and elsewhere – while helping the world beat its addiction to oil.
Asked by a reporter in 2017 how Musk viewed Northvolt's plans, Carlsson said: "We are not competing with Tesla because they are not going to sell batteries, but we do share a very strong vision, which is that it is hugely important to accelerate our society away from its addiction to fossil fuels."
With reporting by AFP and Reuters
ALSO SEE: