The driver of a Tesla Model 3 electric taxi involved in a fatal accident in Paris last weekend was on Wednesday charged with manslaughter and causing unintentional injuries.
The taxi was not in service when the driver, who was travelling with his wife and daughters on Saturday evening, lost control in the French capital's 13th arrondissement. One person died and 19 were injured in the incident.
Taxi company G7 on Tuesday said it would suspend the use of its 37 Model 3 cars in its fleet following the accident, but Tesla ruled out any technical failure.
After checking the crashed vehicle's data remotely, Tesla denied any technical problem with the car and said it would share all details with French authorities if requested.
"My client is very shocked by the accident, which was particularly violent," the driver's lawyer, Sarah Saldmann, told AFP.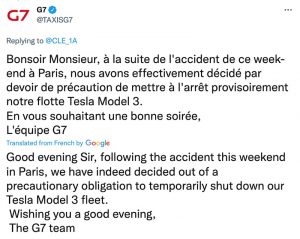 "He did everything to press on the brake pedal, which was blocked, and meanwhile the car raced away and went too fast," she said, adding that the car had no handbrake.
Saldmann also said the electric vehicle was bought new three months previously and had shown no problems.
Prosecutors opened a preliminary inquiry on Saturday and handed over investigations to judges on Wednesday to determine the causes of the accident.
G7, the biggest taxi firm in Paris, said Tesla cars other than Model 3 cars would remain in service.
Tesla's safety record has been questioned in the past over a series of fatal accidents linked to its cars' Autopilot driver assistance programme, which can steer, brake and accelerate a vehicle on its own.
READ MORE: