(ATF) Goldman Sachs, JPMorgan and Morgan Stanley are delisting around 500 structured products from Hong Kong, as the impact of the Trump administration's push to ban US investments in firms with links to China's military continues to widen. Hong Kong Exchanges and Clearing (HKEX) says its markets remain robust despite the move by the US banks.
The last 10 days of the outgoing Trump administration will be dominated in the US by attempts to hold the departing president to account for his role in encouraging violent attempts to overturn the results of the recent election, with a second impeachment effort possible.
The effects of Trump's move to ban US investments in Chinese companies with military links continue to reverberate without much extra effort from the administration, however, as major market players decide to err on the side of caution by withdrawing products that might fall foul of executive orders.
Leading US banks including Goldman, JPMorgan and Morgan Stanley are withdrawing structured products that are listed in Hong Kong to avoid potentially breaching new rules.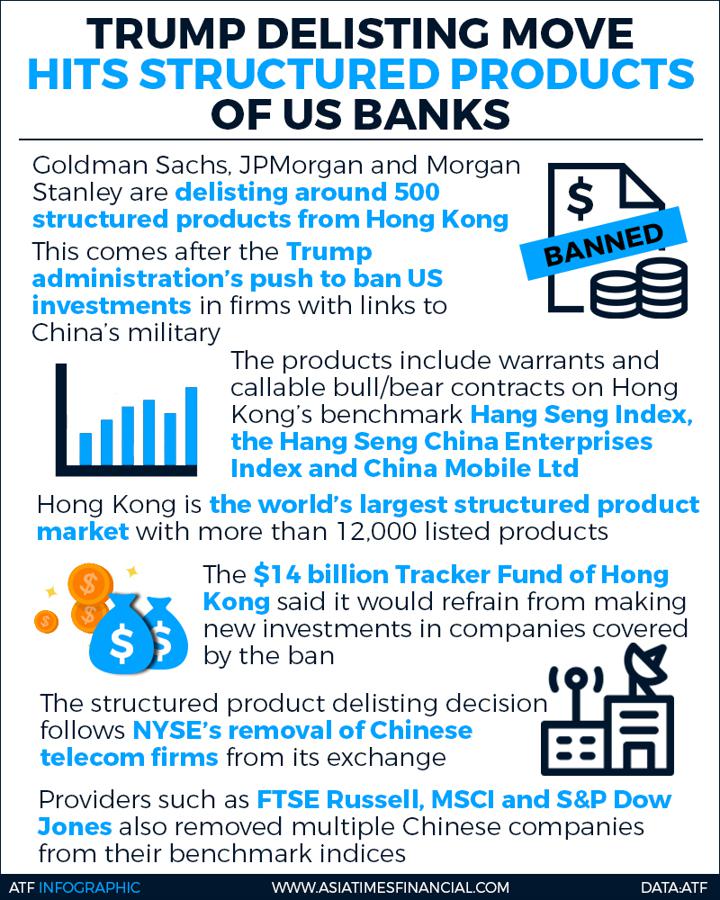 HKEX was quick to try to address concerns that this might affect liquidity in one of its key markets. 
"We do not believe the delistings will have a material adverse impact on Hong Kong's structured products market," HKEX said in a statement on Sunday January 10.
"The Hong Kong market is well established, competitive, and dynamic, with 15 issuers across the structured product ecosystem, and we are confident that there will be sufficient investment choices to meet market demand. To provide some context: in 2020, the Hong Kong market saw a record 518 structured product issuances in one single day. Also in 2020, the market in one single day saw mandatory callable events resulting in the delisting of 656 (products)."
The five biggest US investment banks – JPM, Goldman and Morgan Stanley, along with Bank of America, and Citigroup – are major issuers of structured products that are listed in Asia, but HSBC and French, German and Swiss banks join regional issuers in rounding out the ecosystem of structured product sellers that HKEX referenced in its statement.
HKEX's concern about the potential impact of the delisting move was obvious from its insistence on the robust nature of its markets, however.
World's biggest structured products market
"Hong Kong's structured products market is the world's largest, with over 12,000 listed products, and includes derivative warrants, callable bull/bear contracts, and inline warrants. In December, the total structured products market had an average daily turnover of HK$13.8 billion. As of 2019, Hong Kong has held the title of the world's biggest structured products market by turnover for the 13th consecutive year," the exchange group said.
HKEX pointed out that the delistings are voluntary and should proceed in an orderly fashion.
"Listing termination of these structured products is the issuers' decision and they are doing so legally, pursuant to the terms of the products. The issuers have volunteered to conduct a buyback arrangement in order to reduce the impact of termination to investors and the market. HKEX is facilitating the buyback arrangement, by providing a waiver from compliance with certain listing rules to support this process," it said.
The structured product delisting move follows policy gyrations by the New York Stock Exchange over whether to remove Chinese telecom firms from its market and multiple removals of Chinese companies from benchmark indices run by providers such as FTSE Russell, MSCI and S&P Dow Jones.
Further reverberations from the Trump crackdown on Chinese firms seem likely.
ALSO SEE: