(ATF) China has become one of the fastest growing medical aesthetic service markets in the world, ranked second in terms of market size in 2017, and poised to become the world's largest market this year. 
According to Frost & Sullivan, the total revenues of China's medical aesthetic services industry reached $17.7 billion in 2018, growing at a compounded average growth rate (CAGR) of 23.6% from 2014. Revenues are forecast to reach $52.4 billion by 2023.
Medical aesthetic services are elective medical procedures that specialise in improving cosmetic appearances and can be divided into surgical and non-surgical treatments.
Surgical medical aesthetic services are often referred to as plastic surgeries while non-surgical medical aesthetic services can include injection procedures – such as botox (Botulinum toxin1), or Hyaluronic Acid2 (HA) injections, laser, as well as other energy-based skin treatments (eg. Thermage).
Growing beauty enthusiasts
Unlike developed countries such as the US where anti-aging treatments are popular, the younger consumers drive much of the demand in China as rising social media usage and the booming live-streaming economy have heightened the desire to look young and attractive.
Exposure to medical aesthetic treatment at a younger age, when consumers are more prone to form entrenched habits, potentially creates a longer consumer life cycle and ongoing demand.
China's rising disposable income also helps lift the penetration rates. Per capita disposable income in China increased from $2,933 in 2014 to $4,106 in 2018, an average growth rate of 8.8%. Growth is expected to continue at a CAGR of 7.7% from 2018 to 2023.
Meanwhile, about 12 in every 1,000 people in China underwent medical aesthetic treatments in 2017. This is low compared to numbers for South Korea (80), the US (50), Brazil (43.6) and Japan (27). China's significantly lower penetration rate highlights the tremendous growth potential, particularly in the lower tier cities.
Non-surgical procedures growing
In China, while surgical aesthetic procedures currently account for a larger share of medical aesthetic services, the share of non-surgical aesthetic procedures is expected to grow at a faster rate as the range of treatments increases.
The demand for non-surgical aesthetic procedures is also boosted by the perceived lower risks and shorter recovery times.
Fig. 1: Growth of China's medical aesthetic service market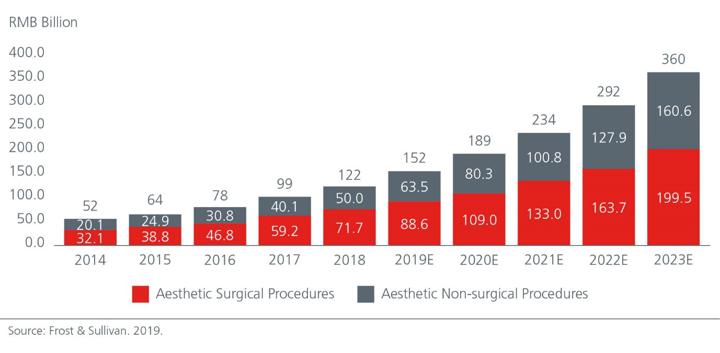 Botox and HA injections currently make up the bulk of the non-surgical procedures in China. In 1998, researchers from the Shandong Pharmaceutical Research Institute began domestic production of HA derma fillers using the fermentation process.
Today, China has a number of local HA derma filler manufacturers which are established and based in Shandong, some of which have listed themselves on the Chinese stock market in recent years.
While China's HA derma filler market is still dominated by foreign brands such as LG (Korea), Allergan (US), Humedix (Korea) and Q-Med (Switzerland, the top three brands are local – Haohai, Imeik and Bloomage.
According to Frost & Sullivan, domestic brands of cosmetic injectables in China grew rapidly at CAGR 32% during 2014-2018, higher than the 19% CAGR of imported brands. Among the 15 manufacturers (eight domestic and seven imported) of injectable HA approved by China's National Medical Products Administration (NMPA), the top 3 domestic brands secured 42% market share in terms of sales volume in 2018, but only 23% share in terms of sales revenue. We believe that quality domestic players can gain further market share from imported brands by improving on their product range, quality and pricing.
Fig. 2: Breakdown of China's Hyaluronic Acid filler market (2020E)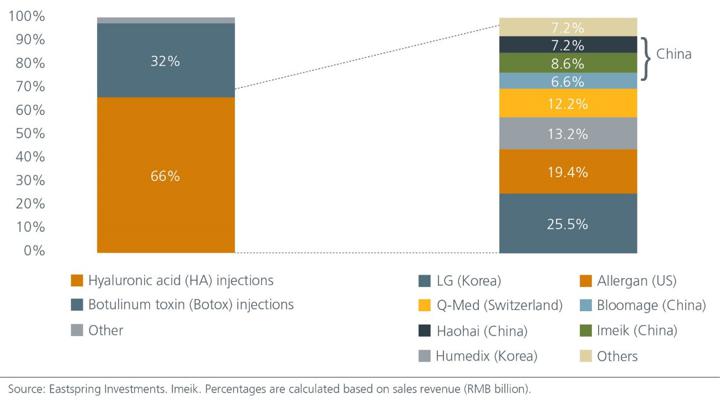 But contrary to the trend in other countries, China's botox market is currently smaller than its HA market. This is due to China's lengthy approval process, as it can take up to eight years for botox products to be approved.
Currently, the only two approved botox products in China – Hengli and Allergan, make up a RMB3 billion market. In October 2020, a botox product produced by Hugel, a biopharmaceutical company in South Korea, was approved for sale in China, making it South Korea's first botox product to be approved by China's NMPA. We believe that China's botox market has the potential to become a RMB10 billion market in the near future.
Meanwhile, with a number of imported and domestically produced products still at the approval stage, a leading domestic player has yet to emerge in this space.
Beautiful opportunities
With a greater focus on customer acquisition, publicity, better service quality, improved brand recognition and an enhanced safety record, an increasing number of Chinese consumers are viewing beauty treatments as a natural extension of traditional non-medical wellness procedures.
There are various avenues for investors to gain exposure to China's growing medical aesthetics market.  Local manufacturing of HA injectables that can deliver more effective treatments that meet the increasingly segmented market demand may present compelling opportunities.
HA manufacturers have been able to produce differentiated products that offer shaping, filling or lifting effects. Cross-linked HA, for example, makes HA more durable and firmer in consistency. Although incumbents may have an early mover's advantage, late entrants can seize opportunities too through product innovation. The Poly-L-lactic acid-based filling products, as well as emulsifier-based fat dissolving injections recently introduced in China.
Hence, investors will need to stay abreast of market developments given the rapidly evolving market dynamics. Besides having an exciting pipeline of products, consumer education is also important. Manufacturers that are willing to invest in experienced sales personnel would be able to improve their engagement with the critical network of medical institutions and physician groups and hence have a competitive edge.
The asymmetry of information and large number of aesthetics service providers have created a role for internet platforms that offer customer reviews and specialised information. Consumer finance applications targeted at helping consumers pay for medical aesthetics treatments have also emerged.
Over time, consolidation of China's aesthetics services providers may also create interesting downstream investment opportunities.
 Xiang Xu is a senior analyst, equities at Eastspring Investments, China
READ MORE: