The United Arab Emirates aims to crank up trade with India and Indonesia as it moves to strengthen its role as a global hub for business and finance.
The UAE Minister of State for Foreign Trade, Thani Al Zeyoudi, led a delegation to New Delhi this week for talks on deepening trade and investment following similar talks with Indonesia in Jakarta and Bogor in early September. Al Zeyoudi held in-depth talks with his Indian counterpart Piyush Goyal and declared an aim to conclude a Comprehensive Economic Partnership  Agreement by the end of the year that would boost non-oil trade between the nations from $40 billion a year before the pandemic to $100 billion over the next five years.
Abu Dhabi wants to "strengthen our position as a global gateway to Africa, Asia and Europe," said Al Zeyoudi. "The UAE is paving the way for a more vibrant and competitive knowledge-based economy and continues to be a catalyst for economic growth for our partners around the globe."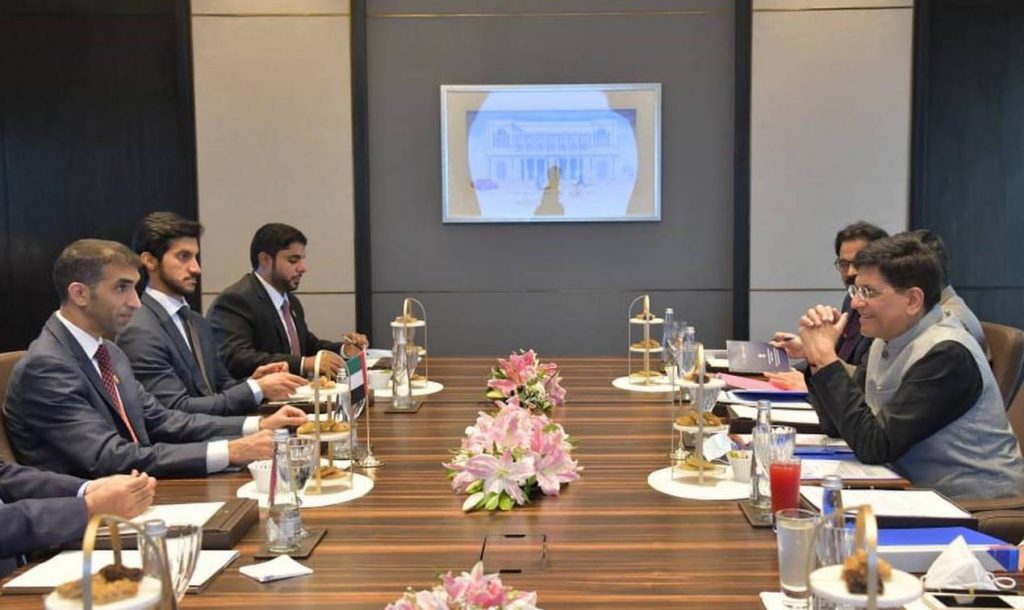 Goyal said the two countries would focus on sectors including petrochemicals, textiles, jewelry, medical equipment and "techno-finance." The UAE is India's sixth-largest source of crude oil but it wants to broaden trade in other sectors, too. Being a desert nation dependent on imports, it launched investments of $7 billion dollars in 2019 to create a "food corridor" and support the development of Indian agriculture.
Relations between the two nations are long and extensive with Indians among the largest immigrant groups in the Gulf nation and among the largest sources of foreign remittances. India is now the UAE's second-largest trading partner, after China, and accounts for 13% of the Emirates' non-oil exports. Bilateral trade between the two countries has reached $21 billion and is growing rapidly, according to the UAE Economy Ministry.
The UAE is the commercial and trading hub of the Middle East and on both visits discussions were held on trade pacts and strategic cooperation. In Indonesia, Al Zeyoudi met President Joko Widodo in Jakarta and established the Indonesia-United Arab Emirates Comprehensive Economic Partnership Agreement with Indonesian Trade Minister Muhammad Lutfi. Indonesia has sought to lure business from the Gulf state, including investment in its newly established sovereign wealth fund, which the UAE said in March it would invest $10 billion in.
More UAE investment plans are expected to be announced in November when President Joko Widodo visits the Gulf state. Jakarta also hopes to boost exports of stainless steel, automotive products, gold jewellery, halal products and Islamic fashion to the UAE.
UAE and Indonesia have had a longstanding collaboration in oil exploration, halal food, green technology, utilities, agriculture and education. In 2019 the Indonesian government became the largest Sukuk issuer on Nasdaq Dubai. Bilateral trade reached $2.93 billion in 2020 and the trade minister hopes to boost that amount significantly in coming years.
Al-Zeyoudi said his country would also like to import food products from Indonesia, including palm oil. But 'new economy' deals in high-tech finance could also be on the menu.
In August, the UAE launched its '50 Projects' plan on strategic goals it wants to achieve. The first package includes agricultural technology, manufacturing, entertainment, supply chain, logistics, healthcare, medical and medical tourism, information and communication technology, "fintech", e-commerce, renewable energy, education and more.
• Jim Pollard and Kevin Hamlin with Reuters
This report was updated on Sept 26.