Tesla chief executive Elon Musk has effectively banned work from home, saying attendance for 40 hours a week  is a "minimum" requirement, according to an internal memorandum.
Musk appeared to confirm the existence of the memo in a Twitter message, saying of those unwilling to comply: "They should pretend to work somewhere else."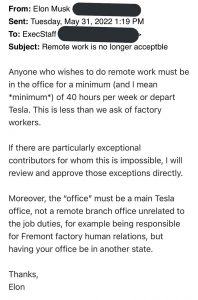 The Tesla boss warned employees in the memo, shown at left, they must work in the main office closest to their work, not a "branch office unrelated to their duties".
He said he would approve any exceptions to the working from home ban himself.
Musk's push for productivity comes as Tesla restored weekly output at its lockdown-affected Shanghai "gigafactory" to nearly 70% of the level which it had operated previously.
The US automaker, which added a second shift of workers in the middle of last week, is expected to increase output further this week, said the people, who declined to be named as the matter is private.
While the city government had given Tesla significant help to reopen, the company had battled numerous obstacles such as insufficient workers, as well as logistics problems that affected the supplies of parts, including wire harnesses.
After reopening on April 19, the Tesla factory produced 10,757 vehicles by the end of April, selling 1,512 of them, data released by the China Passenger Car Association showed.
That compared to 65,814 cars sold in March and marked the lowest sales tally since April 2020, four months after the factory started delivering China-made cars.
George Russell, with Reuters
Also on AF: