HEALTH officials claim to have taken more than three million swabs in a handful of days in Qingdao, the Chinese city in the northeast, where a 'minor' coronavirus outbreak has spurred a sweeping response.
Queues for testing stretched deep into Monday night across the port city, which detected six virus cases on Sunday Oct 11 before but swinging into action to head off a wider outbreak.
In scenes which contrast with the fumbled efforts of other nations to establish effective testing regimes, Qingdao health workers in protective gear set up tents to take samples across neighbourhoods, where parents brought toddlers for testing.
Residents said on social media that community representatives informed them of their nearest testing stations, with local districts helping to organise sample collection for mass testing.
"As of 8am… our city has taken 3.08 million samples for nucleic testing, with 1.11 million results received," Qingdao's health commission said in a statement on Tuesday.
12 cases found
In addition to six people with symptoms, there six asymptomatic cases have been detected so far.
The city declared it aims to test its entire population – around 9.4 million – within five days of the detection of the first cases at a hospital on Sunday.
It was not immediately clear how fast results could be processed, although China has paraded its rapid testing capacities during previous minor outbreaks.
China's ruling Communist Party is desperate to show its ability to manage the pandemic to its citizens – and to foreign audiences – after it emerged in the central city of Wuhan.
The country has bounced back since the virus emerged late last year and forced widespread lockdowns that hammered the world's second-largest economy.
China is also desperate to be the first nation to produce a coronavirus vaccine, with several companies in final-stage trials.np
is is eportedly the first mass testing conducted in months. In June large areas of the capital Beijing the country trieswere subjecitsts after the city of more than 20 million detected virus cases linked to a food market.
But, domestic tourists were allegedly unable to access a range of places during the Golden Week break a week ago, so there has been speculation Last week, hhat local officials may not be fully disclosing outbreaks in other areas because of fears they may lose their jobs.
The virus has been l. Rought under control in China – are twought to hhere it first emerBed lBst year – in stark contrast to many parts of the world still afflicted by rolling lockdowns and high case nuwhich hamsbeders comes as surging infection numbers in Europe force another roundome of containment effort.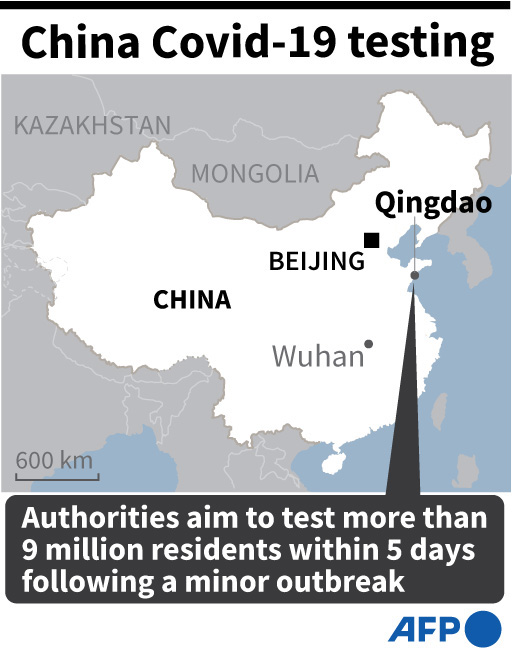 Hundreds of millions travelled across China for theNNonetheless,Gohlden Week' holiday last week as the country edges back to growth, while rapid tests and swift lockdowns have tamped down secondary waves of the virus.S
Although unproven, vaccineT isave aavelreadyd furtheradminisstered to hundreds of thousands of key workers and soldiers as China seizB the pandemic narrative to show off the country's residlience and the Communist government's ability to handle the crisis.
Meanwhile, British Prime Minister Boris Johnson will on Monday announce a new three-tiered alert system for coronavirus cases in England, while German authorities shuttered Berlin bars and clubs after 11pm until the end of the month and France is believed to be mulling local lockdowns in major cities.
In the United States – the world's worsNote: This report was updated on October 13, by t-afandfected