The Bank of Japan unveiled plans on Friday for a flagship review by new governor Kazuo Ueda of its unconventional monetary easing policy.
The review will include a workshop to be held in December that will discuss themes such as monetary policy, financial system and market developments, the central bank said in a statement.
Taking into account feedback from the first workshop, the central bank will conduct further research and analyses that will be wrapped up in a second workshop to be held around May next year, it said.
Aside from such workshops, the BOJ will exchange views with overseas academics as part of the long-term review, it said.
Experts to study BOJ policy in long deflation battle
"In proceeding with the monetary policy review, the Bank will incorporate diverse expertise and take various initiatives with a view to enhancing the review's objectivity and transparency," the BOJ said in the statement.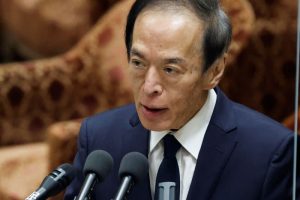 At his debut policy meeting in April, Ueda announced the plan to conduct a review of the effects and side-effects of various unconventional monetary easing steps taken by the BOJ during its 25-year battle with deflation.
With inflation exceeding the BOJ's 2% target, markets are rife with speculation Ueda will soon phase out the massive stimulus programme of his predecessor Haruhiko Kuroda.
Having joined in the deflation battle as a BOJ board member from 1998 to 2005, however, Ueda knows all too well the danger of a premature exit from ultra-loose policy.
The BOJ became the first central bank to take short-term interest rates to zero in 1999, to fend off a domestic banking crisis and heightening risks of deflation.
After experimenting with quantitative easing and purchases of risky assets, in 2013 it deployed a massive stimulus programme to fire up inflation to its 2% target in roughly two years.
When the radical asset-buying programme failed to prop up inflation, the BOJ took short-term rates to negative territory in 2016 and introduced a cap on the 10-year bond yield.
The BOJ will examine how its monetary policy steps affected economic and price developments at the time, as well as their impact on financial markets and the banking system, it said in the statement released on Friday.
The central bank will also "deepen its understanding" on how structural factors like globalisation and demographics could have affected corporate and household behaviour, it said.
While Ueda has said the long-term review won't directly affect the BOJ's decision on monetary policy, the results may offer lessons on the pros and cons of unconventional tools.
Reuters with additional editing by Jim Pollard
ALSO SEE: