(ATF) After receiving a warning from the bourse, Huachen Automotive Group Holdings – also known as the Brilliance Group – agreed to pay the interest for a billion-yuan bond that was two weeks overdue. But it seems investors are having difficulty getting back the bond's principal because the group made a special arrangement for its most valuable asset – its holding in BMW's joint venture partner – in advance.
The 17 Huaqi 05 corporate bond privately issued by China's state-owned automobile giant Brilliance Group in 2017 matured on October 23, but the group said it could not repay the 1 billion yuan (US$151 million) principal and 53 million yuan ($8 million) interest on time because of "tight liquidity" and "financing difficulty".
Brilliance Group's bond default shocked the market because it is directly owned by the Liaoning provincial government, and its interim financial report claimed that it had 51.4 billion yuan ($7.8 billion) worth of "cash and equivalents" as of the end of June. Just two months ago, Brilliance Group was still saying everything was in "an orderly manner".
The bond default is just the tip of the iceberg. Worries about a default started to intensify in August when some banks set up a creditor committee to coordinate claims on Brilliance Group's debt. Besides this bond, Brilliance Group has 13 batches of outstanding bonds totalling 16.2 billion yuan ($2.4 billion), and many of them will mature in 2021 and 2022.
On Tuesday November 3, Shanghai Stock Exchange published a supervisory warning to Brilliance Group, saying the group failed to disclose in a timely manner a series of important events this year including defaults, lawsuits, asset freezes, and "a shareholding transfer in important subsidiary Brilliance China Automotive Holdings Ltd". 
Secretive transfer of a valuable asset
Hong Kong-listed Brilliance China is one of Brilliance Group's four listed subsidiaries. But it is the group's most valuable asset because it owns a 50% stake in a joint venture (JV) with BMW, and the JV is a "cash cow" that contributes the majority of Brilliance China's and the group's income. 
Brilliance Group no longer owns Brilliance China directly though. It technically became a "grandparent" through an internal shareholding transfer in September but made no disclosure about it to the Shanghai Stock Exchange.
According to a low-key company filing on the Hong Kong Stock Exchange on Sept 30, Brilliance Group transferred its entire 30.4% ownership in the listed company to Liaoning Xinrui Automotive Development Co Ltd. The latter is a wholly-owned subsidiary that was only registered on September 22, according to data on Chinese business credit reporting platform Tianyancha.
"This means when Brilliance Group defaults, the creditors can only seek for the court to freeze its shareholding in Liaoning Xinrui, but not in Brilliance China," Meng Xiangjuan, an analyst from SWS Research, said in a commentary.
In other words, it would be impossible for the court to put Brilliance China's shares on auction to repay the creditors, some commentators said.
In another dubious move, Brilliance Group last month changed the registered address of its other listed subsidiary, Shanghai Shenhua Holdings, from Shanghai to its home province Liaoning where it has more connections. The subsidiary's name was also changed to "Liaoning Shenhua Holdings".
This means lawsuits against the company can only be filed in Liaoning, adding more barrier for creditors to get their money back, Meng said.
Brilliance China agreed in 2018 to give up 25% of ownership the JV to BMW in 2022 for 29 billion yuan ($4.4 billion). Critics say that money would be enough to cover Brilliance Group's outstanding debt.
"Given Brilliance China's several moves before the bond default, it makes it very difficult for investors to believe the group is willing to pay back the debt," Meng said.
Two days after receiving the warning letter from Shanghai Stock Exchange, Brilliance Group said in a statement that it managed to gather funds and will pay the "bond interest" this Thursday. But it did not say when it will repay the principle.
How Brilliance Group managed to gather funds is unknown, but a report from Dagong Global Credit Rating said Brilliance's main source of funds to repay debt has been from its stake sale of Brilliance China to Liaoning Transportation Investment Group.
On May 22 and July 14 this year, Brilliance Auto sold 600 million shares (nearly 12% of total equity) of its listed company Brilliance China to Liaoning Transportation Investment Group.
Business in serious trouble
Brilliance Group's business has been in trouble for quite some time. In 2019, the group on the whole recorded net profit of 10.9 billion yuan ($1.6 billion) while the JV – BMW Brilliance – contributed 15 billion yuan ($2.3 billion). This means without BMW Brilliance, the group would have recorded a loss.
Sales of the luxury BMW remained resilient during the pandemic, but sales volumes of Brilliance's self-developed Zhonghua brand and Renault-Brilliance JV Jinbei plunged by 55% and 15% respectively in the first six months of this year. 
Brilliance Group won't be able to rely on BMW Brilliance much longer. In 2022 after it loses control of BMW Brilliance, the JV will disappear from its financial statements, Dagong pointed out in its report.
According to Dagong, which has reduced Brilliance Group's credit rating from AAA to BB, assets worth 20.2 billion yuan ($3 billion) of Brilliance Group were limited as of the end of June, accounting for 33.4% of its total net assets.
"The group's room for financing is limited, and its near-term debt pressure has increased significantly," it said.
Limited impact to listed company and JV
The stock price of Brilliance China dipped at the news of its parent company's debt problems, but has rebounded this week since Tuesday.
Most analysts believe Brilliance Group's debt crisis will have limited impact to the Hong Kong-listed company.
"The parent company's debt problems have affected the sentiment of the stock. But the listed company's business is fine. The JV is doing well," Rachel Miu, an analyst from DBS, told ATF.
She noted that the suffering Zhonghua brand used to be with the listed company, but is now with the parent.
She thinks it possible that the listed company will pay special dividends to help solve Brilliance Group's debt crisis given that it paid special dividends last year. But the amount won't be large enough to cover the group's debt.
Toliver Ma, an analyst from Guotai Junan Securities, had a similar view.
"We believe that due to the size of the outstanding debt, it will be hard to rely solely on Brilliance China to resolve, and financial support from the province or the loan committee may be necessary," he said in a commentary.
According to the analysis of SWS Research, Brilliance Group won't be able to tap BMW Brilliance's pockets for funds either.
"Brilliance Group has no control over the BMW Brilliance today and its control is only weakening when Brilliance China will be giving up 25% stake to BMW. BMW Brilliance's funds won't be used to pay off Brilliance Group's debt," Meng from SWS Research said.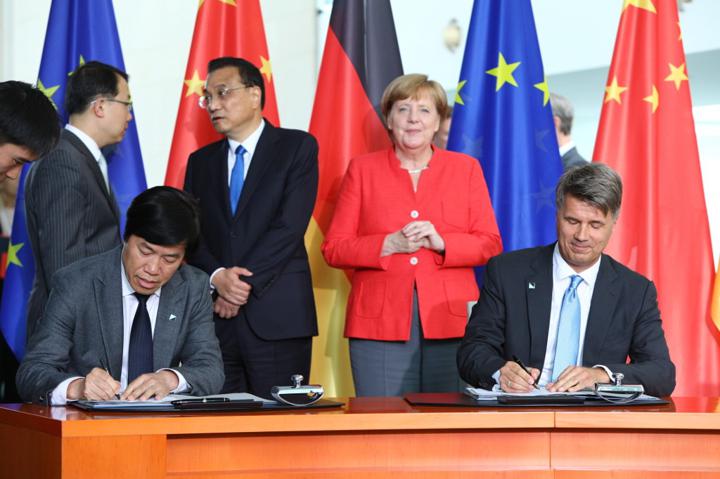 German Chancellor Angela Merkel, right, and Chinese Premier Li Keqiang look on as Qi Yumin, CEO of Brilliance Auto Group, and Harald Krueger, right, CEO of German car maker BMW sign a letter of intent on electric mobility at the Chancellery in Berlin on July 9, 2018, as part of Germany-China government dealings. Photo: Messinger / AFP.
Poor credit conditions in the northeast
Brilliance Group's default invokes memories of a slew of defaults on 7.1 billion yuan ($1.1 billion) worth of bonds by Northeast Special Steel in 2015. That marked the biggest bond-default case in China up to that point. The subsequent restructuring of Northeast Special Steel involved deep cuts for bond investors before the company was sold to a private steelmaker.
Northeast Special Steel's case has set red flags to other bond issuing companies in northeastern provinces over the last few years.
Besides Brilliance Group, another enterprise owned by Liaoning provincial government, heating supplier Sheng Jing Energy also defaulted on repayments on two bonds recently. The company is facing bankruptcy and restructuring.
These default instances are also fuelling the perpetuation of a popular expression among bond investors – "no investment should be made beyond the Shanhai Pass".
The Shanhai Pass is a section of the Great Wall of China in northern Hebei province that divides the northeast from the rest of the country. Investment conditions in the northeast, including Liaoning, Jilin and Heilongjiang provinces, have been historically poor because local authorities there are said to lack the fiscal resources to save troubled businesses.
Liaoning has said its economy contracted by 1.1% in the first nine months of 2020 from a year earlier, making it one of the worst-performing provinces in China as the country as a whole reported growth of 0.7% over the same period.
SEE ALSO: