(ATF) China has invested massively to speed up water-related projects – both new and some already underway – partly to absorb surplus labour.
There are 108 major projects to conserve water underway, on which work has resumed after the coronavirus outbreak. More than 120,000 construction workers are employed on these, and the scale over investment exceeds 1 trillion yuan (over $142 billion).
Dams are rising, water pipelines are crossing mountains and rivers, while work on the 108 projects speeds up.
According to estimates by the China Macroeconomics Research Institute, every 100 billion yuan invested in major water conservancy projects can boost GDP growth by 0.15 percentage points. So, investment of over 1 trillion yuan in water conservancy means 1.5 percentage points of economic growth driven during the construction cycle.
"Water conservancy investment will inject strong momentum into economic development," Wang Shengwan, director of the Water Conservancy Engineering Construction Department at the Ministry of Water Resources, told the Peoples Daily.
He said water conservation projects need large investment, long construction cycles, strong driving capacity, and large demand for raw materials and mechanical equipment. After a project produces benefits, it can also promote the development of industries such as clean energy, shipping, modern agriculture and tourism.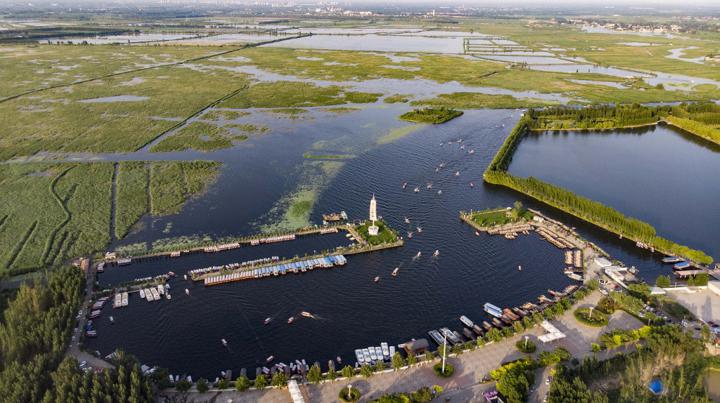 Baiyangdian Lake in Anxin county is northern China's largest freshwater wetland and part of Xiong'an New Area, a special economic zone in Baoding city in Hebei province. A regulation to protect nine rivers upstream of the lake will come into effect in July. So, the city plans to invest more than 30 billion yuan ($4.3 billion) in over 180 projects related to sewage treatment, plus control of air pollution and soil contamination over three years. These projects will run from July to the end of the year. Photo: Imaginechina via AFP
China's plan is to break through its "water bottleneck" and provide confidence for food security. For example, the Yellow River and the Huaihe River Basin are now connected via a canal to the Eastern Henan Plain, and the second phase of the Zhaokou Yellow River Irrigation Plan is in full swing. The irrigation scheme will add 237 million cubic meters of water to the Yellow River diversion project every year.
"Vigorously promoting the construction of major water conservancy projects will play an irreplaceable and important role in economic, social and ecological environments," said Chen Houqun, an academic with the Chinese Academy of Engineering and a professor at the China Academy of Water Resources and Hydropower Research.