(AF) China is set to reach its electric vehicle uptake target sooner than expected – and long before the US.
Sales of battery-powered electric vehicles, plug-in petrol-electric hybrids and hydrogen fuel-cell vehicles rose to a record in August, with market share reaching almost 18%. That puts China's goal of achieving 20% EV deployment before 2025 within touching distance, according to  China Association of Automobile Manufacturers (CAAM) data. Meanwhile, sales in the US account for just 3% of all vehicles, data from researcher Canalys shows.
Sales of EVs in China almost doubled in August to 321,000 and have increased sixfold this year, the CAAM said. That came even amid a deepening of a chip shortage that has slowed or halted production at international carmakers from Ford to Toyota. A resurgence of Covid-19 in Malaysia during August shuttered semiconductor plants, adding to holdups at manufacturers in Taiwan and the US. The shortage is unlikely to be resolved soon because the pandemic is still raging in many parts of the world, Chen Shihua, a senior official at CAAM said.
"If the momentum continues, China is expected to reach its mid-to-long-term goal… earlier than the planned year of 2025," the CAAM said.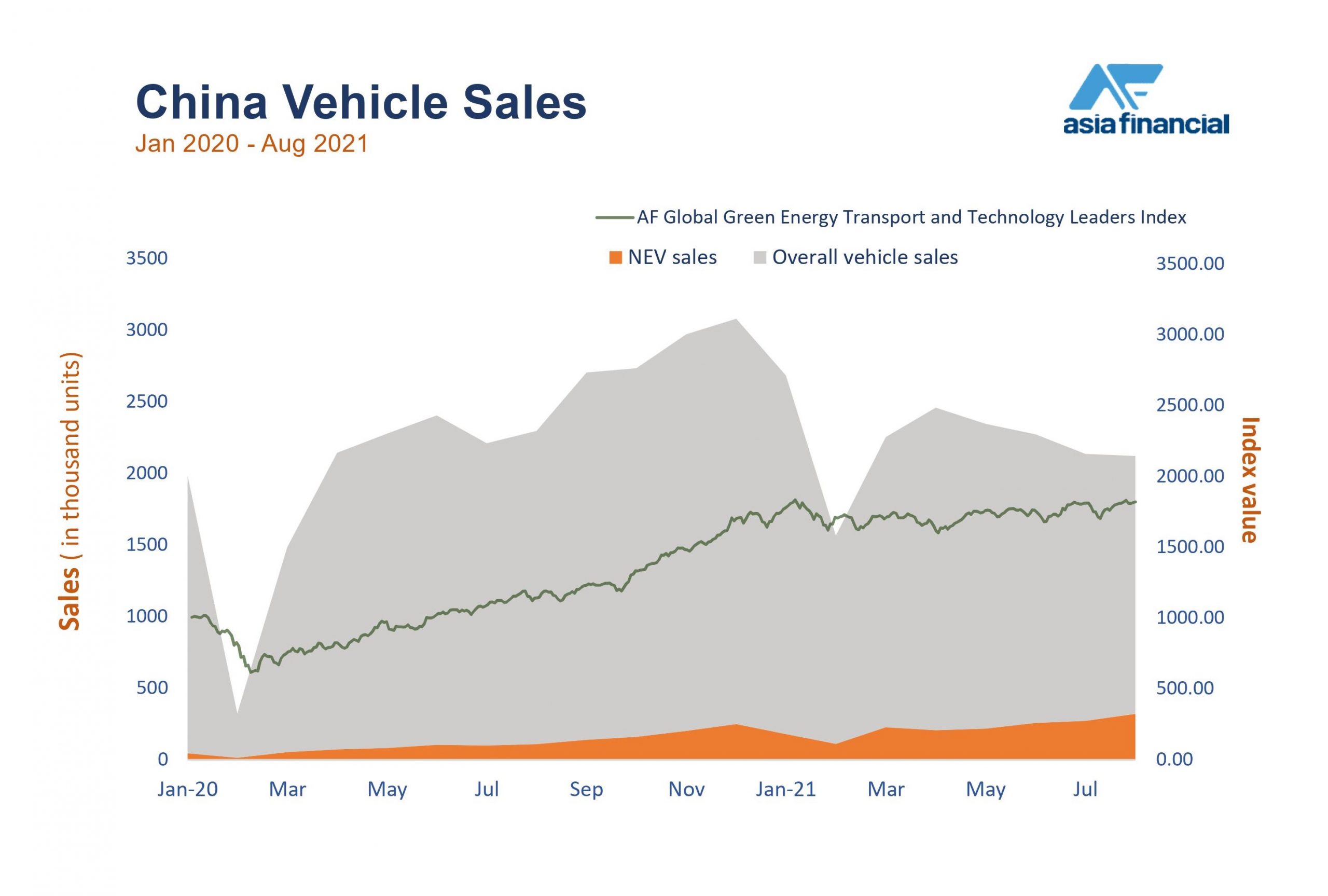 Plunging sales of fossil fuel cars in China meant total car sales in the month fell almost 18% to 1.8 million. They're now expected to limp behind last year's 6.5% growth, Chen said.
According to data released by the China Passenger Car Association (CPCA), BYD topped EV sales in August by delivering 60,858 vehicles. Tesla and SAIC-GM-Wuling shipped 44,264 and 43,783, respectively.
EV sales are broadly tracking gains seen more widely across the globe this year. Canalys data shows they jumped 160% with penetration in Europe climbing to 15%. The European Union's target is for its roads to be full of emissions-free cars by 2035
Investors are also benefiting from the surge in demand for EVs. Asia Financial's Global Green Energy Transport & Technology Leaders Index has climbed 13% this year. The gauge measures the performance of stocks linked to new energy vehicles, autonomously driven vehicles, battery technology and renewable energy Energy storage.
The government's promotion of more environmentally friendly vehicles to cut pollution has prompted electric car makers such as Nio Inc, Xpeng Inc and BYD to expand manufacturing capacity in China.
• By Iris Hong, Mark McCord
ALSO SEE: