(ATF) 

Real estate giant China Evergrande (03333.HK) announced today – Sept 17 – that in order to reduce its debt levels and financing costs, the company will make an early payment of US$1.565 billion on bonds, which is equivalent to 10.6 billion yuan. This debt repayment has set a new record in Hong Kong's capital market.

As reported by Asia Times Financial, the China government recently set three red lines for real estate developers, and analysts believe this move aimed to get the debt-laden Evergrande (and others) within capital-to-debt ratios, as set out under the new rules.

According to Chinese financial news site jrj.com, Evergrande will use its own funds to pay the debt this time, reflecting its current relatively abundant cashflow to a certain extent. The website quoted analysts who pointed out that Evergrande's early repayment of such a large-scale US dollar debt not only reflects "the company's strong strength and good credit, but also once again released its great determination to greatly reduce its debt to the outside world."

China Evergrande enjoyed the strongest sales this year among the country's real estate companies, because of deep discounting on property sales.

At the end of March, Evergrande proposed a new development strategy of "high growth, scale control, and debt reduction".
Jump in sales 
As of the end of August, the company had achieved sales of 450.6 billion yuan, a year-on-year increase of 21.8%. Calculations based on the firm's payment collection rate of about 90% in the first half of the year suggested that Evergrande's payments received in the first 8 months exceeded 400 billion yuan in cash. Since September, Evergrande has adopted a 30% discount for its whole line, planning to obtain 200 billion yuan in sales during the "Golden Nine, and Silver Ten period" – as August, September and October are referred to in China's real estate sector.
It is worth mentioning that at the semi-annual performance meeting held at the end of last month, Evergrande disclosed a data set showing its interest-bearing liabilities had increased significantly in the second quarter since the implementation of the new strategy of "debt reduction."
At the end of March the firm said it saw debt decline by 40 billion yuan. As Evergrande's sales continued to accelerate in the second half of the year, it is foreseeable that the company's interest-bearing liabilities will fall further.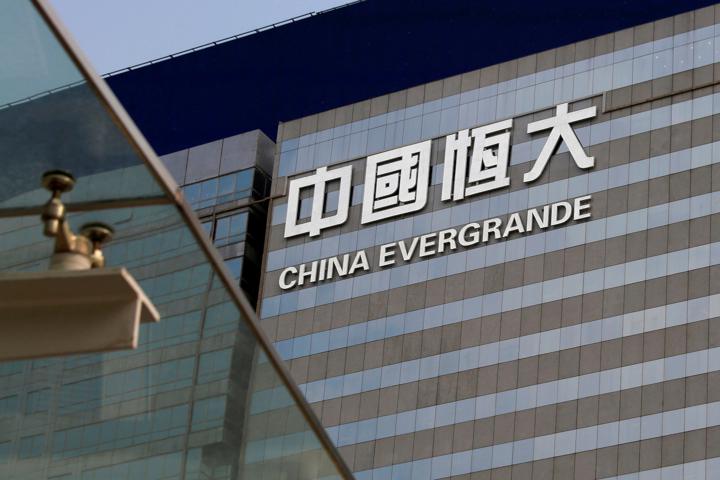 China Evergrande's office in Hong Kong (Reuters/ Bobby Yip).
Recently, Evergrande's property management business also announced a strategic investment of 23.5 billion Hong Kong dollars, with a focus on new-energy-vehicle business, and the firm has taken shares in Tencent, Alibaba and other 'blue chips,' which should also significantly improve the company's debt structure.
Real estate sector 'tight'
Xinye Finance reports that China's real estate sector is getting increasingly tight – with growing government control. According to Xinye's data, from January to August this year, China passed 368 real estate regulations and control measures. Among them, in August alone, 32 new real estate regulations were issued.
Related data shows that among the 28 listed real-estate companies' financial reports that have been announced, the sales completion rate was only 40% in the first half of this year. From this point of view, many real estate companies are still under considerable pressure in the second half of the year. In addition, on August 20 the "three red lines" were announced, which restrict the funding activities of many property developers.
According to Xinye Finance, under these circumstances, if real estate companies do not reduce prices to promote sales, sales targets may not be achieved. Xinye said house buyers should be very wary during this period, and only buy in "golden locations." These locations are properties near subway stops, good school districts, and property near parks or popular 'entertainment areas.'
It is expected that China's real estate market will go through big changes over the next decade.