Australian broadcast journalist Cheng Lei – jailed for three years in China for "supplying state secrets overseas" – has been released from prison and reunited with her two young children in Melbourne.
News of her release was confirmed on Wednesday by Chinese and Australian officials.
It is a further sign that ties between Canberra and Beijing are warming after relations hit rocky waters under former PM Scott Morrison.
Australian Prime Minister Anthony Albanese said Cheng Lei was freed after legal proceedings in China concluded. "The Australian people very much wanted to see Cheng Lei reunited with her young kids," the PM said.
Cheng, who was born in Hunan province, became an Australian national after her parents emigrated to the country when she was a child. She returned to China and joined the state broadcaster CGTN in 2012, where she became known for her TV interviews with foreign business executives.
Chinese officials arrested Cheng in August 2020 and accused her of violating a confidentiality clause with her employer, for illegally providing a state secret to a foreign institution via her mobile phone.
Political motive?
However, many suspected the case against Cheng was politically motivated, as it occurred at a time when relations between China and Australian were rocked by Morrison's call in April 2020 for an inquiry into the origins of Covid-19, which spread from the Chinese city of Wuhan.
Morrison's remarks spurred a diplomatic offensive by Beijing and were followed by curbs on a wide range of Australian goods and exports – measures later described as economic coercion and a 'shadow trade war'.
Chinese Foreign Ministry spokesman Wang Wenbin said on Wednesday that Cheng had served two years and 11 months.
"After she served the sentence, she was released," he told media via a translator.
"I'd like to stress that the Judicial Department had this sentence in accordance to law and to protect every right of Cheng Lei in accordance to law, including consular rights."
Australia's ABC News said Cheng's family was "very happy" to have her back with them.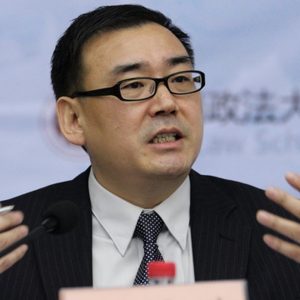 Second Australian writer still detained
News of Cheng's release is not a surprise, given the Albanese government's more careful handling of ties with China and its strong push for the reporter to be reunited with her young children.
Albanese met Chinese Premier Li Qiang at the ASEAN summit in September and said he was keen to mark the 50th anniversary of the first visit to communist China by an Australian leader in 1973.
"I look forward to visiting China later this year to mark the 50th anniversary of Prime Minister Whitlam's historic visit," Albanese said in a statement last month.
He is also keen to end trade curbs imposed by China, its biggest trading partner, which still affect Australian wine and other goods.
Albanese said he had raised the cases of Cheng Lei and Yang Hengjun, another detained Australian reporter, in his talks with Li Qiang.
Yang Hengjun, who used to post satirical commentaries critical of the Chinese government to nearly 130,000 followers on X (formerly known as Twitter) was arrested in 2019, and accused of espionage, while on a visit to see his family.
The writer, 58, said last month he has health concerns as a cyst has been found on his kidney.
ALSO SEE: