(ATF) Chinese oil and gas companies have discovered oil fields with 200 million tonnes of oil, plus gas fields with reserves estimated to have a total of about 300 billion tonnes, local news website Netease has reported.
In the past year, China's newly discovered oil reserves reached 1.124 billion tonnes nationwide, it said. But the big news is the country is about to begin work to extract vast amounts of gas from a huge field found by a China National Offshore Oil Corporation (CNOOC) rig about six years ago.
Energy discoveries, oil rig locations and related data are usually kept as state secrets, so this announcement of a huge project in the South China Sea is very significant.
What is more surprising is the world's largest semi-submersible drilling rig and storage platform has been built and will be deployed to tap oil and gas from a field south of Hainan Island from January 2021.
The South China Sea region is a large area of ocean, hotly contested by China and numerous other countries such as Vietnam, Taiwan, the Philippines, Malaysia and Indonesia. For decades oil and gas companies have believed there are massive oil reserves untapped under the Sea. Some estimates put the amount of undersea oil and gas as more than the Gulf in the Middle East, and that doesn't include other resources or minerals on the seabed.
But little drilling and production has gone ahead due to territorial disputes, as China claims the whole sea as its sovereign territory – despite the fact the United Nations' Convention on the Law of the Sea says the sea is international waters, as well as having some of the world's busiest shipping lanes.
Flashpoint for regional tensions
Official Chinese maps have a dashed red line up to the territorial waters of Vietnam, Cambodia, the Philippines, Brunei and other states. China's claims to a series of reefs and islands in the South China Sea have been disputed neighbouring countries, and naval vessels have occasionally been utilised to deter other states from drilling in disputed waters. But to date, despite UN rulings, numerous 'incidents' at sea and China converting its clutch of islands into military bases that include air strips, the matters are far from resolved and the region is a flashpoint for international tensions.
According to the Netease report, large areas of gas combustibles were discovered in the South China Sea in areas up to 1,225 meters deep. This is a clean energy source, but because of its depth and the difficulty of this type of drilling, China constructed a huge new drilling rig and storage platform.
China built the 53,000-tonne Lingshui 17-2 oil storage platform to undertake oil and gas extraction from this area, and construction was completed on October 29 in Yantai in Shandong Province. This is the world's first semi-submersible oil storage platform bigger than 10,000 tonnes.
The exact location of the rig will be closely watched to see if it is sited in a disputed area also claimed by Vietnam. Chinese naval vessels have harassed and prevented drilling projects from being undertaken in waters off Vietnam, so the question may be whether Hanoi (and any of its allies) are prepared to respond in a reciprocal manner.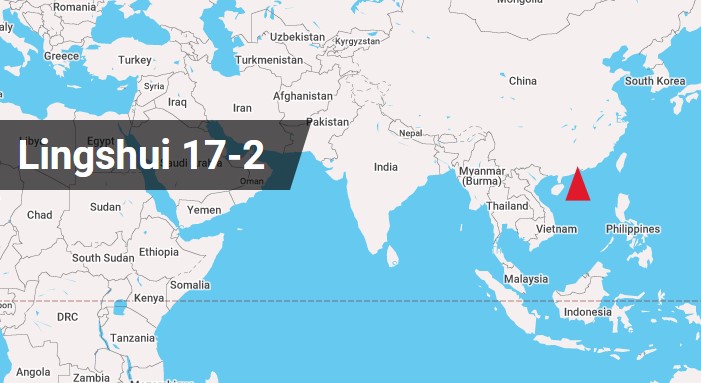 The platform will be installed in the Lingshui 17-2 field, which is 150 kilometres from Hainan Island, in mid-January (two months time).
The Lingshui 17-2 is a deepwater oil and gas field was originally discovered in 2014. It made headlines in China, because it was the country's first deepwater gas field discovery in the South China Sea.
It is located in the east Lingshui Sag of Qiongdongnan Basin, with an average water depth of about 1,450 meters, according to CNOOC.
The discovery well Lingshui 17-2-1 was drilled and completed at a depth of 3,510 metres and uncovered a gas reservoir with a total thickness of about 55 meters, AFP reported at the time. The discovery not only proved the exploration potential of the central Canyon channel of Lingshui Sag, but also further confirmed the exploration prospects in the deepwater area of Qiongdongnan Basin.
Lingshui 17-2 will be China's first self-operated large-scale deepwater gas field rig, and is due to begin extracting proven reserves believed to exceed 100 billion cubic metres of gas, the Netease report said.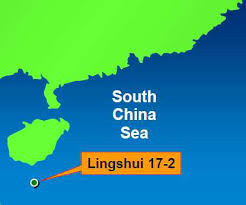 In related news, PetroChina Xinjiang Oilfield Company has said its cumulative oil storage output has exceeded 100 million tonnes, plus it has found an additional 200 million tonnes of recoverable reserves.
It also has the largest domestic production base for high-quality naphthenic heavy oil. Known as the "rare earth" in oil, it is a very precious energy source and a strategic raw material often used for national defence, military industries and major projects.
ALSO SEE: