Australian exports of LNG look set to tighten amid tension between Beijing and the Morrison government over multiple issues, despite big investments by Chinese oil majors in recent years, as Beijing looks to source more natural gas from Turkmenistan via a new pipeline
(AF) Turkmenistan may have a golden opportunity to supply Beijing with more natural gas via a new pipeline, following the slump in relations between China and Australia.
Senior Turkmen officials were in China recently and are said to have discussed further cooperation on natural gas.
But such a move in Central Asia could ruffle feathers with Russia, which is also piping gas to China – and be bad news for Australian firms exporting liquefied natural gas (LNG) to the same destination. Australian LNG shipments are worth 64-billion-yuan a year (about US$10 billion).
Last week two Chinese LNG importers were told to immediately suspend LNG imports from Australia. Trade with Chinese oil majors that have invested billions in gas projects Down Under has not been affected so far. And given just these two smaller natural gas importers have received the notice, some US media outlets have suggested that this is only a 'test' by the Chinese government.
But it is another shot across the bow at Canberra as ties with Beijing continue to deteriorate. The bilateral relationship is clearly in bad shape – the lowest point in decades.
The Labor Party's Shadow Foreign Affairs Minister Penny Wong said on Tuesday Prime Minister Scott Morrison was so focused winning a domestic political advantage he did not seem to "fully comprehend Australia's interests in relation to China. The first job of national leaders is the safety of their citizens. Our leaders do not make us safe by beating the drums of war with China," Wong said.
Part of the problem stems from the fact a Federal election will be staged late this year or in early 2022.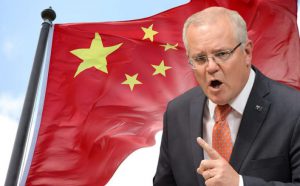 China's Global Times warned in May 2020, not long after Morrison called for a probe into the origin of the coronavirus, that Australian LNG exports were "at a crossroads because of trade tensions".
"Australia's LNG market share in China is likely to fall in the coming years, ceding market share to the US and Qatar, should Canberra's tensions with China continue," Guo Jian, a gas marketing director at Sublime China Information Co, a Chinese commodity market information provider, told the paper at that time.
And this week Chinese media kept the needle at Morrison's belly, reporting that there will be a "smooth transition" when the country abandons Australian natural gas, while China and Turkmenistan cement ties with an US$8 billion pipeline and more plans afoot.
Turkmenistan is the second largest country in Central Asia and has a population of 5.6 million. A landlocked country that shares borders with Iran, Afghanistan, Uzbekistan, and Kazakhstan, it is playing a key role in China's Belt and Road scheme.
Data from China's Ministry of Commerce shows the country imported about 101 million tons of natural gas for an estimated 231.4 billion yuan (about US$36 billion) last year. Imports rose by 5.3% year-on-year, while the money spent decreased by 19%, mainly because natural gas prices fell during the Covid-19 pandemic. Of the LNG imported by China last year, the proportion of imports from Australia accounted for 46%, valued at about US$10 billion (about 64.3 billion yuan).
DIVERSIFYING IMPORTS
In recent years, China has been diversifying its imports of natural gas, with the opening of the Power of Siberia onshore natural gas pipeline from Russia, which starting operating in late 2019 and doubled the volume of gas delivered during the winter late last year.
In August 2007, construction began on a 118km link from Turmenistan to the Kazakhstan-China pipeline and a connection was added from Uzbekistan the following year. The Central Asia-China gas pipeline was inaugurated during a visit by Hu Jintao in late 2019 with leaders of the 'three stans'. And two further lines were added in subsequent years.
The inflow of Turkmen gas helps China meet its energy demands and stabilises the country's overall consumption, according to the China National Petroleum Corp. The pipeline's deliveries boosted the proportion of natural gas that China consumes in its energy use by about 2%. For Turkmenistan, the project helped the country diversify its energy exports after it previously delivered gas to Russia and Iran (through Russian pipelines).
On May 10, the two deputy prime ministers of Turkmenistan visited Xi'an for talks with Foreign Minister Wang Yi, who emphasized that "China regards Turkmenistan as a long-term partner in the natural gas field". This little-known landlocked state is the world's fourth-largest in terms of its proven natural gas reserves. Later, the two parties agreed to consolidate and expand cooperation in the natural gas field.
Work has been continuing on the D line – a fourth line linking to the Central Asian pipeline. The high-level meeting between China and Turkmenistan likely means that it will come online soon.
EXPERT'S VIEW
Professor K Paik, an expert on Sino-Russian oil and gas cooperation, said China had made a big effort to boost the economics of the natural gas supply from Central Asia. The academic, who is in the process of setting up a Sino-Russian Energy Forum, told ATF China wanted Turkmenistan gas to enable a total of 85 bcm/y of gas to be sent via Uzbekistan and Kazakhstan – with 15 bcm/y via Pipeline A, the same amount via Pipeline B, plus 25 bcm/y via Pipeline C and 30 bcm/y via Pipeline D. CNPC paid all the bills for the latest pipeline development, he said, together with its three domestic trunk pipelines (West-East Pipelines 1, 2 and 3).
"As is well covered by the media, China had difficulty in getting full capacity of pipeline gas from Turkmenistan a couple years ago when the gas supply shortage became a serious problem in China. The core point was Turkmenistan was not happy about the low gas price for their exports, and China was not happy about the burdensome gas price for their imports," Prof Kaik said.
Paik said Turkmenistan is introducing a new gas market by accelerating the TAPI Line, with their own investment for 85% of the line's construction.
"In my view, this is the mistake Turkmeni authority made with regard to construction of the D Line. A pipeline passing through Afghanistan without a proper security protection will be a huge liability. Consequently, Russia saw the opportunity to accelerate its own initiative by promoting a Mongolian route. From Gazprom's view, Russia's west Siberian gas supply to China via the Xinjiang route has to compete against Turkmen gas. But the Mongolian route will enter into China's Bohai Bay gas market at a stroke."
AUSTRALIAN GAS IN PERIL?
Australia's LNG trade with China dates back to Prime Minister John Howard who pushed for "a new energy partnership" in the early 2000s, when the North West Shelf venture run by Woodside won a 25-year contract to supply Guangdong LNG. Howard played a role in securing that deal while on a trip to Beijing at that time.
This led to other LNG contracts with China, such as a long-term deal by PetroChina to buy LNG from the Gorgon LNG project off Western Australia run by Chevron. PetroChina is also involved in Woodside's $28 billion Browse project, which is currently stalled.
China's three big national oil companies – PetroChina, CNOOC and Sinopec – have all invested in the LNG industry in Queensland in northeastern Australia. CNOOC is a partner in Shell's Curtis LNG project, while Sinopec buys the bulk of the LNG from Origin Energy's Australia Pacific LNG.
PetroChina is a 50-per-cent partner with Shell in the $10 billion Arrow gas venture, which started its first phase about a year ago.
So, with big long-term deals a fair proportion of Australia's LNG trade with China would appear to be relatively steady.
Natural gas, like iron ore, is one of Australia's cornerstone industries. Australia's annual LNG exports account for about 10% of total exports. So, if China, as the largest importer of Australia's natural gas, only stops importing 30% or so, it could cause some hair pulling.
Australia and China have fallen out over a long list of political issues including influence peddling, human rights, Taiwan and the root causes of the pandemic. China is using its "kill the monkey to scare the chickens strategy" – attacking a smaller but leading APEC country as a warning to other states not to challenge China.
In November last year, China froze negotiations with Woodside, Australia's largest oil and gas exporter, as Sino-Australian ties became strained.
In 2020, Chinese power stations and steel plants also received orders to stop importing Australian coal. Similar problems plagued Australian exports of barley, wine, timber and other goods.
The big question is when or where this all stops, as there are signs that China could extend this bunfight to not only LNG, but iron ore – although that would take a few years to achieve, given Australia's overwhelming dominance and fortune in that sector.
Still, Chinese State Councilor and Foreign Minister Wang Yi was happy to draw this saga out after his talks with Turkmen Deputy Prime Minister and Foreign Minister Meredov and Deputy Prime Minister Sheikh Berdymukhamedov, during their visit to Xi'an on May 10. China Petroleum News said the two sides agreed to expand cooperation in the natural gas field and forge a strategic partnership across the energy chain.
Wang Yi said natural gas cooperation was the "ballast stone" of Sino-Turkman relations. China regarded the country as a long-term partner in that field, and was willing to take a long-term and future-oriented approach to discuss comprehensive cooperation plans.
China and Turkmenistan would "vigorously expand cooperation in non-resource fields such as trade, investment, interconnection, science and technology, humanities, and local areas, to create a new 'engine' for cooperation between the two countries, and to promote cooperation in various fields."
The two sides also exchanged in-depth views on the situation in Afghanistan and other regional and international issues of common concern.
It is understood that the Turkmenistan pipelines are being built with 'loans' from China as the country suffered a 'cash flow crisis' when energy prices collapsed at the first peak of the pandemic.
Meanwhile, the writing seems on the wall that Australian LNG exports to China will see diminishing demand.
ALSO SEE: 
Dozens of coal carriers 'stuck' off China despite winter power crisis