(AF) It took SGMW's Hongguang Mini just a year to displace Tesla as the top-selling maker of electric vehicles (EVs) in China. Barring extraordinary shortages of semiconductors, it's poised to sell 1.2 million vehicles next year, surpassing Tesla's 1 million global vehicle forecast to become the largest electric vehicle producer in the world by volume.
How did a state-owned carmaker with no prior experience of electric vehicles come from nowhere in 2020 to potentially knock Tesla off its coveted perch? It is a stupendous feat, as even Tesla CEO Elon Musk would likely acknowledge.  "Prototypes are easy, production is hard," he tweeted back in May 2021, when it appeared almost every automaker on the planet was showcasing a futuristic prototype while projecting Tesla-like sales.
Well, SGMW is one company that is making production look easy. Its electric mini, priced at as little as $4450, is selling like hot cakes.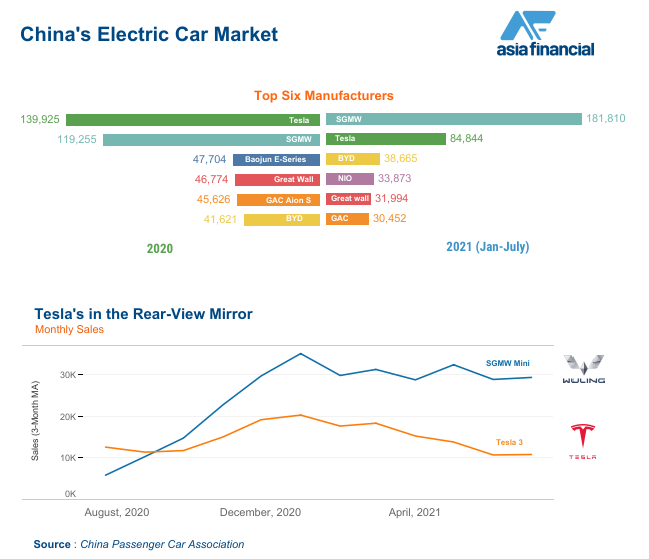 Understanding its success starts, strangely enough, in America at the California Air Resources Board in Sacramento. Many decades ago, the board pioneered the Zero-Emission Vehicle (ZEV) mandate and Corporate Average Fuel Economy (CAFE) standard to jumpstart EV adoption. Much of Tesla's profitability is still based on these ZEV credits, which totaled $428 million in the last financial quarter.
What California did not know was that it would be China, not the rest of the US, that would embrace its innovative policies. After Chinese Minister of Science and Technology Wan Gang visited California and Argonne National Laboratory more than a decade ago, he convinced Beijing to put its full weight behind EVs by implementing similar policies. After years of refinement, China now has a dual credit system that requires traditional car makers to acquire New Energy Vehicle (NEV) credits (14% of total car production by 2021, 16% by 2022, and 18% by 2023) and also to meet Corporate Average Fuel Consumption (CAFC).
Breadbox Cars
To understand how this works in practice, consider the case of SGMW, a joint venture between SAIC Motor (50.1%), America's General Motors (44%), and Wuling Motors (5.9%). It is famous for making microvans known as "breadbox cars", or 小面包车.  SGMW produces 1.6 million of these a year, forcing it to come up with EV credits by buying them on the open market at 3,000 yuan ($463) each, or building EVs itself, where each Mini EV represents two credits. The 311,735 Mini EVs sold over the past 12 months represent an estimated EV credit value of 1.9 billion yuan ($296m).
Little wonder then that SGMW concluded it must make EVs, even if starting the project in January 2020 amid the start of a global pandemic was somewhat unconventional. SGMW's goal was to miniaturise and electrify its "bread box van," a vehicle inspired by Japan's Kei car.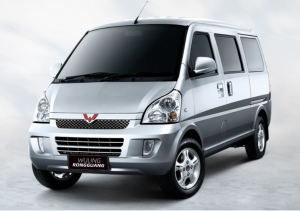 To overcome its lack of experience in EVs, SGMW partnered with Richmond, California-based Octillion Power Systems, or SinoEV. Octillion is the leading independent EV battery system provider and was founded in Silicon Valley by a former director of Tesla's research and development. It powers more than 10% of the China EV market and fills a critical innovation gap for numerous EV makers.
It has a proven safety track record, is a cost leader and enables rapid customization with its flexible technology platforms. By tapping into Octillion's decades of experience, data and engineering know-how, it was able to launch within six months instead of the typical 18 to 36 months.
China not only learned from California but started planning for the future. By spending more than a decade cultivating its EV infrastructure, China is perhaps the first country to have the charging infrastructure and battery capacity to fully support the transition to sustainable EVs.
China has more home and work chargers than any other part of the world, more public slow chargers than the rest of the world put together and 82% of the global fast charger installations. Despite recent regulatory crackdowns on tech companies, new energy remains an industry that's very much in favour.
Battery Companies
China also worked to close the gap on Western nations in other key technology areas. For decades, its battery companies lagged generations behind established players like Panasonic, Samsung, and LG Chem.
Not anymore. China's policy of strengthening indigenous industries has systematically reduced its reliance on imports by supporting the development of critical supply chains and key innovations. So CATL, or Contemporary Amperex Technology, is now the global leader in EV batteries, supplying 20% of the world's demand. It's also the fourth most-valuable company listed in China reaching 1.3 trillion yuan market cap. To put their industrial scale into perspective, CATL targets 230 gigawatts of capacity by 2021 and 1.2 terawatts by 2025. For comparison, Tesla projects 10 gigawatts of capacity by 2021.
Although CATL was originally unsuccessful in working directly with SGMW, it now relies on Octillion to supply battery systems more competitively to SGMW and other automakers. Octillion's vast repertoire of qualified battery partners serves as an aggregator for auto companies like SGMW, saving precious engineering and development effort. Since Octillion makes all its own production equipment, it can scale up in real-time with market demand and at the most competitive cost structure.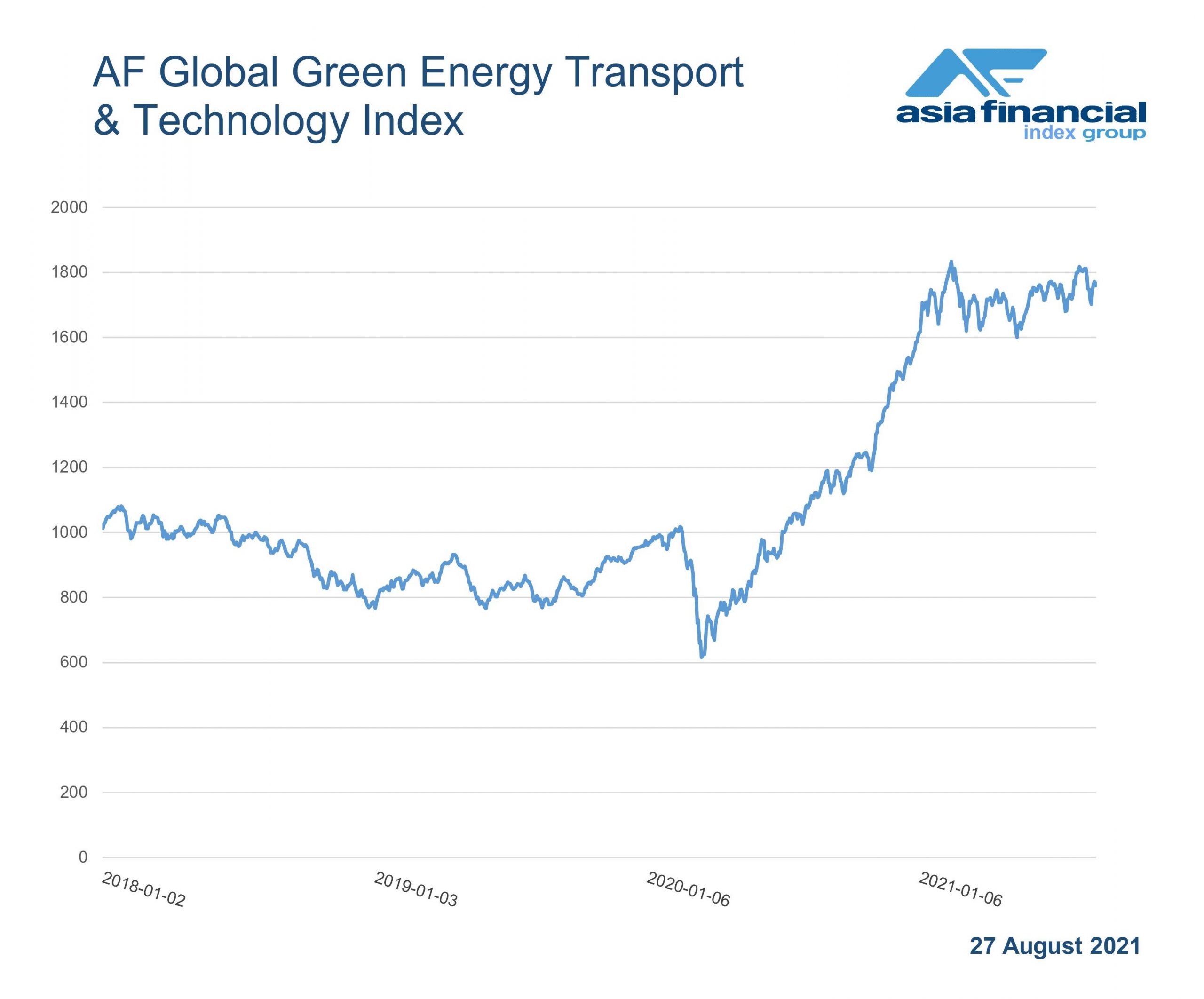 'Golf Cart'
Still, some naysayers dismiss SGMW's Mini. They include legendary investor Cathie Wood, the founder of Ark Investment Management, who oversees almost $60bn in assets under management and a $2.4bn investment in Tesla stock. She derides the SGMW's Mini as being more like a "golf cart".
Contrary to such views, disruptive innovation does not start only from the high end of the market and trickle down. Rather, disruptive innovations, as explained by Professor Clayton Christensen, often originated in overlooked, low-end or new markets that were considered unprofitable, or even the butt of jokes. Automotive giants including Ford (Model T), Volkswagen (Beetle), and Toyota (Corolla) used the same path as SGMW is taking now, producing "good enough" vehicles at bargain prices.
The SGMW Mini's disruptive innovation strategy is reminiscent of the way Japanese carmakers entered the global auto industry and later dominated it for decades. Japanese manufacturers' share of the US market rose from 3% in 1970 to 20% in 1980. By 1990 it reached 30% and in 2005 stood at 40%.
This coming decade of EVs will be the largest industrial transformation in our lifetime. The US aims to make half of all vehicle sales electric by 2030. As bold a goal as that is, China aims for the same penetration rate five years earlier. The Chinese EV industry has invested more than a decade learning from innovation hubs like California and is now uniquely positioned for the transition with strong policy support, a robust innovation ecosystem and supply chain scale.
As the EV race heats up, the fossil fuel establishment will be disrupted like never before. That's great news for global sustainability and will support China's goal of peak emissions by 2025 and carbon neutrality by 2050. Should China achieve that latter goal there may yet be a small place in history for the SGMW Mini's disruptive impact on the electric car market.
ALSO ON AF:
China-Made Tesla Sales Dip Worldwide – And Plunge By Two Thirds Locally
Tesla Unveils Cheaper Model Y in China as Regulators Swoop
EVs to compete with petrol cars by 2030, says battery maker
This story was updated with a photograph.