(ATF) Over the last few years Chinese investors have been buying or taking stakes in high-profile Western businesses. These have included Cirque de Soleil, the Waldorf Hotel, AMC Theatres (the world's largest cinema chain), Pizza Express, plus big investments in Hollywood and property, in a manner similar to the buying boom that Japanese groups did in the 1980s.
But it would appear that China's management style does not work very well at times as a number of previously successful businesses have gone to the wall, although many were badly affected by the coronavirus. But western accounting standards, taxation and financial transparency laws have encouraged China to retreat from more developed markets.
With the continuous influx of foreign capital in the Chinese market, China also increased its overseas investment. However, as the United States continues to set high thresholds for foreign investors, the amount of Chinese money going into the US has also been declining year after year.
The latest latest data published by Sina Finance from Chinese government departments show that China's investment in the United States from January to September this year fell by 14.9% year-on-year – the third decline over the last three years.
Industry insiders say the overall level of Chinese investment in the United States has been on a downward trend since 2019, but there are indications it has been this way for several years. This has been happening amid frequent changes in the US investment environment, which have caused Chinese companies and other foreign investors to lose interest in the US.
According to data from the Rhodium Group, a US business consulting firm, China's direct investment in the United States fell from a record $46.5 billion (about 320 billion yuan/ RMB) in 2016 to $5.4 billion (about 37.2 billion yuan/RMB) in 2018 – an 88% decrease.
'Covid-19 added to uncertainties'
Alicia García Herrero, chief Asia Pacific economist for Natixis, said the global economy has been on a thorny road since the Covid-19 outbreak. "The poor business sentiment, as well as the restrictions on people's movement, has exerted pressure on the mergers and acquisitions (M&A) activities," she said. 
"Furthermore, external regulatory restrictions have toughened amid the rising uncertainties between China and the US, adding another layer of cost to the overseas M&A activities. Against the backdrop, it is not surprising to see the announced deals drop massively in number and even more in value, indicating less big transactions ahead."
"Tencent's purchase of 10% stakes in Universal Music, and Yangtze Power acquired Luz del Sur (84%) in Peru. They have contributed to the increase in average size, especially in the US."
With Sino-US tensions rising, Chinese money has gone to many other places instead – Africa, Europe, South America and elsewhere. Sometimes, investment is tangled up with the Belt and Road Initiative. One of the hair-brained schemes that went wrong was a telecom entrepreneur who tried to build a coast-to-coast canal in Nicaragua.
Herrero, meanwhile, said the industrial sector was still the key focus for Chinese overseas M&A and had attracted the largest number of deals this year. "But in terms of value, energy and entertainment deals stood out due to the aforementioned two giant deals. The average size of the deals decreased in most sectors except for chemical & material, energy and entertainment.
"There was a higher share of state-owned enterprises (SOE) in terms of deal number but with slightly lower value share. The SOE presence has decreased across the board in the three important destinations, namely the US, the EU and Asia Pacific, but increased in the other regions, especially in the Latin America. This pointed to a diversification of Chinese overseas state-owned investment. That said, most of the deals toward the other region were announced in 2019 and only completed in 2020," she said.

Southeast Asia
Another growing market for Chinese investment is Southeast Asia. Bilateral trade with the 10 nations in ASEAN – Myanmar, Thailand, Laos, Cambodia, Vietnam, Malaysia, Singapore, Brunei, the Philippines and Indonesia – has reached 170 billion yuan a year and the 'decoupling' between the US and China has already seen many foreign and Chinese companies shift to some of these countries.
China's exports to ASEAN were 936.62 billion yuan, an increase of 2.8%; imports from ASEAN reached 759.86 billion yuan, an increase of 6%, both higher than the overall growth rate of China's foreign trade import and export in the same period. Today, ASEAN has become one of China's largest trading partners, which makes sense given their proximity (four of these states share the border with southern China).
The Sina Finance report noted that from January to April this year, China's non-financial direct investment in 53 countries and important infrastructure projects was $5.23 billion, a year-on-year increase of 13.4%. Of this, non-financial direct investment in ASEAN reached $3.94 billion, an increase of 43.3% year-on-year. It reported that as early as 2018, Chinese companies had set up 5,200 subsidiaries in Southeast Asian nations, creating 430,000 jobs (many for Chinese workers).
Dai Liyan, vice president of Singapore's United Overseas Bank, stressed that the global supply chain would be reshuffled after the epidemic, but said China was an important market for sales and supply-chain networks. And thanks to China's market, its companies would continue to invest overseas in the future.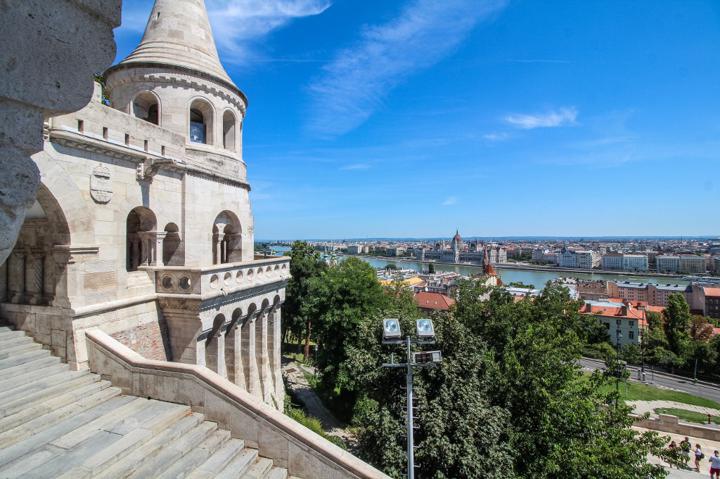 Budapest, seen here with a view over the Danube River in early August, has been a popular spot for Chinese investors, who have bought apartments there which they like to rent out. Photo: Michal Fludra/ NurPhoto via AFP.
Budapest popular
Over the past few years, Chinese investors have purchased many properties in the centre of Budapest, the Hungarian capital. This is often referred to as "land-banking". Chinese money has focused on buying short-term rental properties, so it has also played an important role in the Hungarian real estate market.
But this situation has changed dramatically due to the epidemic. Real estate experts said the Chinese investment began to scale down last year. Most Chinese investors were looking for properties with a living room and one or two bedrooms, priced from 40 to 80 million yuan. They usually wanted them to be used immediately without refurbishment, so that a quick return on investment could be achieved. Vietnamese investors were also very interested in doing this.
Ben-Ezra Orran, a real estate expert in central Budapest said: "The era of high-priced apartments is over, and they can only buy them at a suitable price, so we can expect that the property will be there for a long time, with price reduction."

This graph shows some of the biggest foreign M&A deals by Chinese investors over the past decade.