China's self-interested policies are exacerbating global inflation just as supply chain shocks and Russia's war in Ukraine intensify pressure on prices across the world, an economic think tank said in a report.
The paper by the Peterson Institute for International Economics (PIIE) in Washington said China's imposition of tariffs and restrictions on metals, food and energy is worsening the pressure on global inflation.
Beijing increased its tariffs on pork in January, after consuming nearly 40% of global pork imports in 2021.
"Its new restrictions were not about inflation but about plummeting pork prices that threatened the livelihoods of its farmers," the report by PIIE senior fellow Chad Bown and research analyst Yilin Wang said.
World prices of steel began to increase in the second half of 2020 but Beijing announced that it would engineer a decline in domestic production to help meet decarbonisation goals, they said.
China's Policies Intensify Pressure on Global Inflation 
To help tackle price increases at home it also lifted a ban on imports of steel scrap and restricted exports, they added.
"This combination of Chinese trade policies may have helped tame domestic steel prices," the report said, but "these decreases came at the expense of the rest of the world, where prices outside of China remain higher".
Fertiliser is another example of a global product hit by China's economic policies, the report says.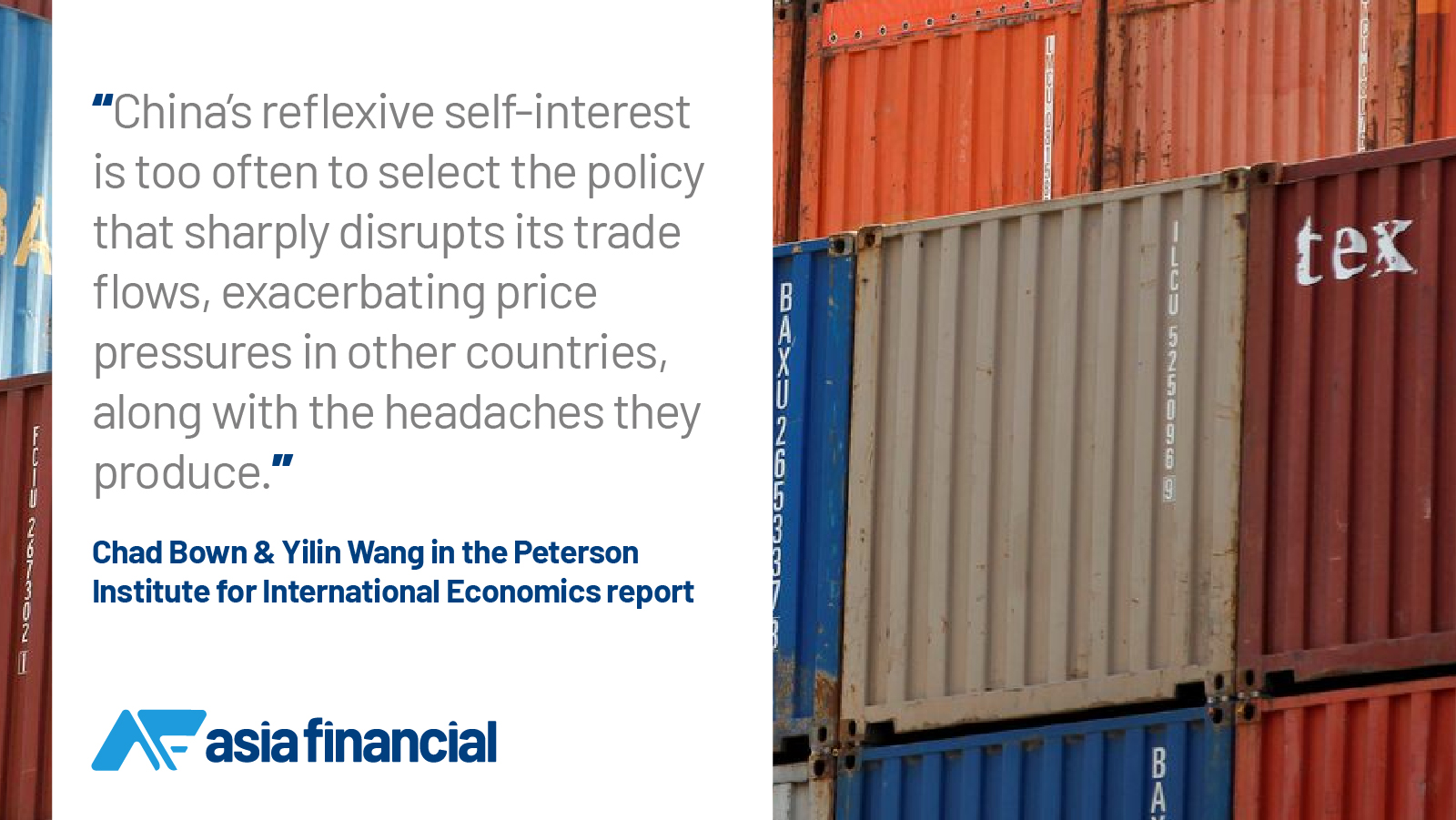 Russia is blocking vital exports needed by farmers elsewhere and is attempting to destroy Ukraine's role as the breadbasket for Africa and the Middle East, it said.
But even before Moscow's invasion, China was stepping up agricultural production and ordered domestic companies to stop selling fertiliser to other countries to preserve supplies at home, it added.
"Beijing's moves on fertiliser are just one example of the bigger challenge facing today's world trading system," the report said.
China Passing Costs to `People Elsewhere' Boosts Global Prices
China has become a massive producer, consumer, and trader of thousands of goods and services, and the world's second-largest economy benefits enormously from integration into the global economy.
"But the way it tackled fertiliser, as well as many of its other problems, illustrates how the rest of the world suffers from its choices," the authors said. "China's reflexive self-interest is too often to select the policy that sharply disrupts its trade flows, exacerbating price pressures in other countries, along with the headaches they produce."
The authors said the trouble with China is that it continues to act like a small country.
"Its policies often have the desired effect at home — say, reducing input costs to industry or one set of Chinese farmers or by increasing returns to another," the authors said. "But they can also be beggar-thy-neighbour, with China selecting the policy that solves a domestic problem by passing along its cost to people elsewhere."
READ MORE: