(ATF) President Xi Jinping has had a rough year to date and recently he got a sharp reminder of realpolitik when Russia expressed support to India over its border conflict with China – and agreed to a big arms deal last week with its old ally on the Subcontinent.
Some Chinese were upset when this news was revealed on Thursday in the Chinese media. But while Russia and India are both members of China's Shanghai Cooperation Organisation, Moscow's ties with Delhi go back much further than the recent warm relations Putin has enjoyed with President Xi Jinping.
To sweeten the blow, Moscow expressed support for China's new national security law in Hong Kong. China Radio International quoted Sergei Sanakoyev, director of the Russian-Chinese Research Center in Russia, as saying the new law "would effectively prevent external forces from interfering in China's internal affairs".
Sanakoyev said the passing of a bill to maintain the security of local administrative regions was a common practice by all countries seeking to maintain sovereignty. He spoke highly of the establishment of the Hong Kong Special Administrative Region's National Security Council and believed it would play an important role in maintaining security and stability in the former colonial financial hub. "The National Security Council is the main body that implements Hong Kong's National Security Law. It will play an important role in preventing the United States and its allies from interfering in China's internal affairs."
On Wednesday, July 1, when the Hong Kong's new security law came into force, Vladimir Putin won a national referendum that will allow him to lead Russia for many more years, if he wants.
But despite a growing interdependence between Russia and China, with energy, weapons and other deals on the table, including talks on creation of a digital currency ecosystem, Moscow confirmed that it supports India's position in the Sino-Indian border dispute.
There are large commercial motives in this decision, as well perhaps as historic geostrategic ties. India buys approximately 60% of its weapons from Russia. Moscow and Delhi have had strong diplomatic relations since the Cold War era. The two countries signed the Indo-Soviet Treaty of Peace, Friendship and Cooperation in 1971 for strategic cooperation. This was a deviation from India's previous non-aligned stand during the Cold war era.
A week after the deadly clash on the Himalayan border, Indian Defence Minister Rajnath Singh visited Moscow to attend the 75th Victory Day Parade in Red Square, that marks the Soviet victory over Nazi Germany in World War II. Singh stayed on to buy more military hardware from Russia. India is on an arms buying spree and Russia is the main provider, although western countries are also supplying some weapons to Delhi.
According to reports in India, the defence minister bought 33 fighter jets – 21 MiG-29s and 12 Su-30 MKIs, plus an upgrade for a further 59 jets – for close to $2.4 billion.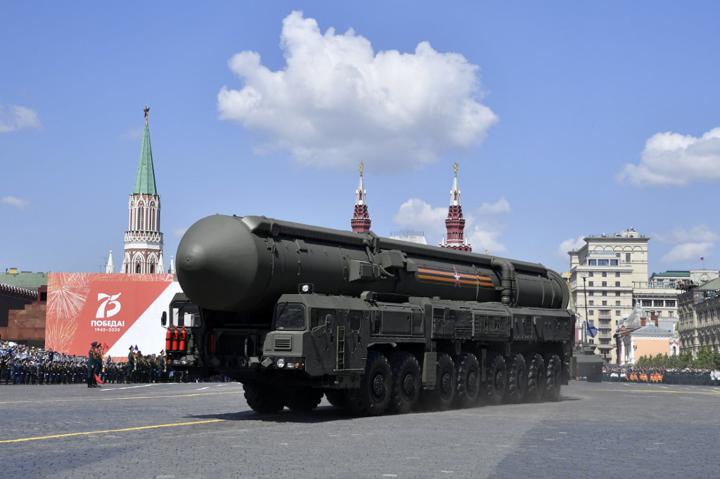 A Russian Yars RS-24 intercontinental ballistic missile is driven through Red Square during the parade marking the 75th anniversary of the Soviet victory over Nazi Germany in World War Two, in Moscow on June 24, 2020. Photo: Alexander Nemenov / AFP.
India also gave the go-ahead for a $5.4-billion deal for the supply of Russian missile system S-400 despite the threat of US sanctions. The S-400 deal was signed in 2018.
Chinese media outlets said India also bought cruise missiles, 300 R-73RVV-MD combat missiles and 400 R-77RVV-SD medium-range missiles, and 300 R-27ET1/ER1 medium-range missiles. This followed a solemn declaration by Russia recently that it could provide India with a large number of weapons in a short period of time. 
This move stirred ire in China, not surprisingly. Beijing had asked Russia not to respond to Indian requests for defence hardware. But Moscow ignored that, at least partly.
'Preserving its independence'
Professor Harsh Pant, at King's College in London, told Live Mint that "Russia would like to preserve its independence vis-a-vis China," he said referring to the stronger bonds between Moscow and Beijing in the aftermath of Russia annexing Crimea in 2014 and attracting Western sanctions. "China is the big brother in relationship but Russia has means to moderate that effect. The India-Russia defence relationship is important for Russia, and India is one market Russia would not like to lose," he explained.
Many Chinese weapon systems are cloned copies of Russian creations. But of course, Russia still has some secret items that were perhaps not for sale.
Despite the upset, Netease reported that Russia recognizes that it and China have close cooperation in missile early warning systems as both sides have huge needs to defend nuclear missile sites. "However, this area is too sensitive, and neither side is willing to publish relevant information about it too much," Netease said.
Also read: China bemused and bewildered by India's app ban
Criticism of Russia
But some Chinese news outlets were critical of the Russian position.
Jiabao Business editorial noted that Putin had been fighting for 20 years, but Russian GDP was only equivalent to one province in China. "What happened to Russia?" the paper asked, saying that militarily, "Russia still looks so powerful and invincible, with its recent Red Square display of the T-90M 'Breakthrough' tank, the Beech-M3 air defense system, the 'Yars' nuclear bomb, the Tu-160 strategic bomber, the Su-57 fifth-generation stealth fighter, and MiG-31K."
However, this "strong" Russia only had total GDP in 2019 on a par with China's Guangdong province. And the IMF's World Economic Outlook report recently predicted that Russian GDP will fall by 6.6% this year and drop below US$1.6 trillion. So, Guangdong was expected to surpass Russia in 2020, which showed that Russia's development in recent years has experienced serious difficulties.
Why is Russia so keen to sell weapons? According to the latest data, Russia's oil reserves rank eighth in the world, totalling up to 80,000 million barrels. Rich oil resources have brought Russia a steady stream of wealth, but the recent plunge in oil prices, for which Moscow was partly responsible, hit the country hard.
"Russia, which lives by making money lying down, has completely been reduced to a typical oil and gas country, and this has become the shackles of Russia's subsequent development," the paper said.
"And in 2020, due to the impact of the coronavirus epidemic, the Russian Minister of Economic Development Leshtnikov said in April that economic activity had fallen by 33%. Corruption is still very prevalent and even Putin admits that Russia's industrial production efficiency is less than one-third or even one-quarter of Western countries. The big Russian 'bear' is still fierce but getting slower and slower," the paper said.
It advised its northern neighbour to upgrade its industrial structure, to punish corruption, and improve international relations, saying these problems were holding back Russia's development.
Rafale jets also
Aside from the fighter jets that India has ordered from Russia, it is also likely to receive six Rafale jets from France by the end of July, according to sources quoted by local reporters. The government has refused to comment on that.
India ordered 36 Rafale jets from France in 2016. The first batch was supposed to be delivered by Feb 2021 but now six aircraft are likely to land in India by the end of this month.
Also read: Indian pharma, tech firms vulnerable if China trade war flares
Modi visits frontier
Meanwhile, Prime Minister Narendra Modi made a surprise visit to rally Indian troops near the disputed frontier with China on Friday. He told them the country's enemies had seen their "fire and fury" following a deadly border clash last month.
The incident in the Galwan Valley in Ladakh saw 20 Indian troops killed in brutal hand-to-hand fighting and was the first time in 45 years that soldiers died in combat on the Asian giants' long-disputed Himalayan border.
China has admitted it also suffered casualties but has refused to divulge how many.
Accompanied by the head of India's military and the army chief, Modi visited an army camp about 100 kilometres (60 miles) as the crow flies from the site of the battle before meeting injured soldiers in a military hospital.
"In these difficult circumstances, you are the shield of the motherland," said Modi, who wore a khaki green parker jacket, aviator sunglasses and baseball cap of the "Fire and Fury" corps stationed there. "The enemies of Mother India have seen your fire and fury."
Without naming China, Modi added that the "era of expansionism is over… History has shown how expansionism pushed humanity towards destruction."
"India has always pursued the path of peace in the world but at the same time, those who are weak can never initiate steps for peace. Bravery and courage is a prerequisite for peace," he added.
With reporting by AFP