China's attempts to prevent hundreds of its companies from being delisted from US stock exchanges may come too late for 25 that have seen their share prices plunge close to $1 per share or lower.
Both the New York Stock Exchange and Nasdaq begin an automatic delisting process when a company's share price falls below $1 for more than 30 business days. The companies are given six months to come back in line with exchange rules.
There are 248 Chinese companies with a combined market capitalisation of about $2.1 trillion that face delisting from US markets within a three-year timeframe if they fail to comply with US audit norms that Congress has ordered the Securities and Exchange Commission to enforce.
The 25 uncovered by an Asia Financial analysis are already on the brink. The list includes Chinese companies working in education, financial services, media and technology.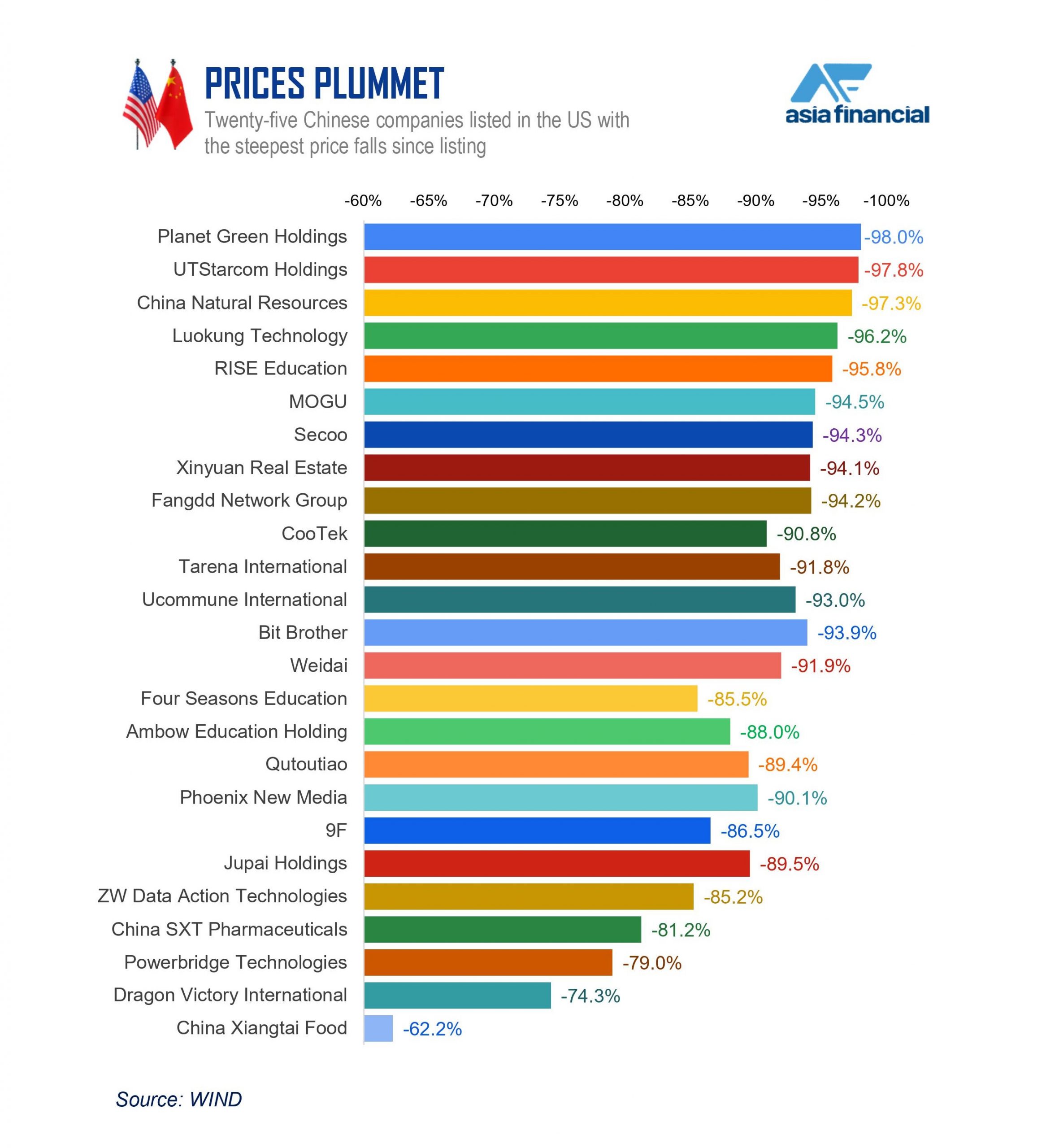 Biggest Loss, Lowest Price
The stock with the biggest loss since listing in the US is tea company Planet Green Holdings Corp., headquartered in New York. It has plummeted 98% since January 2010 to $1.23 on 25 November.
The stock with the lowest price per share is RISE Education Cayman Ltd (REDU), which is trading at $0.60. It slipped below $1 following a steep market selloff in October.
RISE provides after-school English teaching and tutoring services to students between three and 18 years old. It was one of many Edutech companies in China hit hard by Beijing's July diktat that barred tutoring firms from making profits in core school subjects. RISE shares plunged more than 40% on the day news of the stunning policy shift was announced. The new law also restricted foreign investment in the industry.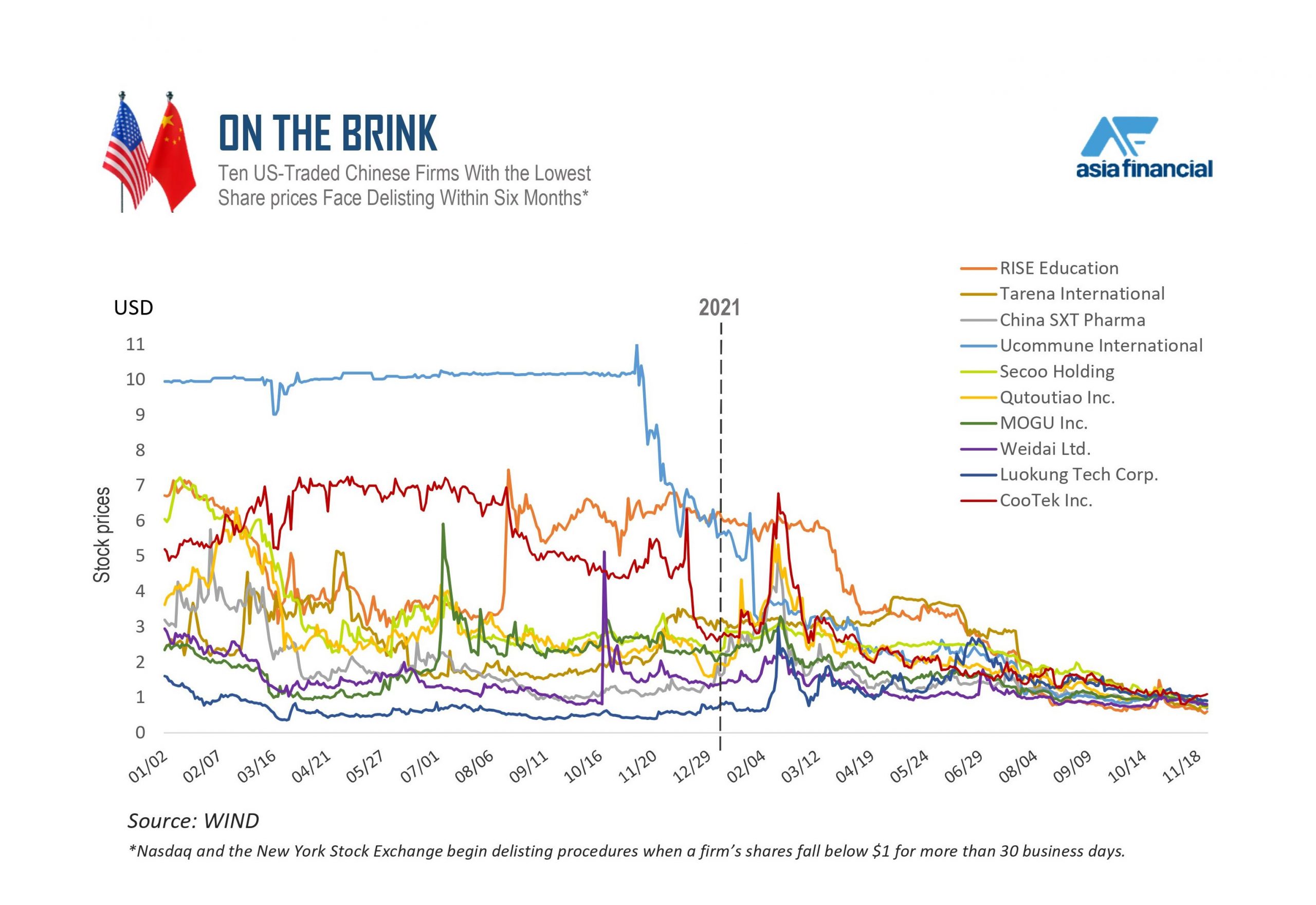 The chart above shows how the ten worst-performing Chinese stocks in the US were hit by the Holding Foreign Companies Accountable Act, a law implemented in March. It directs the Securities and Exchange Commission (SEC) to delist companies that do not meet the Public Company Accounting Oversight Board's audit requirements for three consecutive years. The first delisting under these rules could happen as soon as 2024 and may cause outflows of more than $2 trillion from US exchanges.
A senior Chinese official said Nov. 25  that the nation is working with Washington counterparts to prevent companies being delisted.
"We don't think that delisting of Chinese firms from the US market is a good thing either for the companies, for global investors or Chinese-US relations," Shen Bing, director general of the China Securities Regulatory Commission's department of international affairs, told a conference in Hong Kong.
"We are working very hard to resolve the auditing issue with US counterparts, the communication is currently smooth and open," he said. "There is a risk of delisting of these companies but we are working very hard to prevent it from happening."
ALSO ON AF: JD.com, Pinduoduo Among 80 Firms Added to US Delisting Register 
But unlike some other measures taken against China during the Trump administration by executive order, the new US law cannot be easily undone. An executive order can be quickly reversed by the next president – or the same president. But changing the Holding Foreign Companies Accountable Act would require an act of Congress, and that seems unlikely.
So any compromise reached between senior leaders or regulators in the US and China must comply with Public Company Accounting Oversight Board's audit requests, and the US Congress would have to act to stop delisting.
Such a reversal would require the 435 members of the House of Representatives to either repeal or amend the HFCA. Then the 100 members of the Senate would have to pass similar legislation, and then the two legislative bodies would meet to reconcile differences between the two bills. And once they do, if both chambers again pass the amended version, it goes to the president, and if he signs it, it becomes law. That is a lot of "ifs."
"I don't think this is going to change from the US side," said George Calhoun, founding director of the Quantitative Finance Program at the Stevens Institute of Technology,  "The only way I see things changing is if Beijing blinks."
MORE ON AF:
Alibaba Among Top Six China Stocks Worth $1tn Facing US Delisting
China Stocks Delisting From US Puts $1.1 Trillion at Risk
SEC Official Sets November Deadline for Chinese Company Audits