(ATF) China's central bank governor has warned that climate change poses new challenges to financial stability and monetary policy, and that risks must be assessed and tackled in a timely manner in order for the world's second largest economy to fulfill its pledge to be carbon-neutral by 2060.
The massive amount of investment needed to achieve China's goal of peaking emissions by 2030 and carbon neutrality in 2060 will require mobilisation of the private sector and market forces as government funding will only be able to cover a fraction of the hundreds of trillions of yuan likely to be required, People's Bank of China (PBoC) Governor Yi Gang said at the China Development Forum in Beijing on Saturday.
"Studies show that climate change may lead to the increase of extreme weather events and greater economic losses," Yi said, according to a transcript of his speech posted on the central bank's website.
"Meanwhile, 'green transformation' may cause the value of carbon-intensive assets to fall and sour the balance sheet of firms and financial institutions. This will heighten credit risk, market risk and liquidity risk, and further undermine the stability of the entire financial system."
"It may also affect the room and transmission channels of monetary policy, and be a drag on variables such as economic growth and productivity. These are new challenges to financial stability, as they make the evaluation of monetary policy more difficult," Yi said.
To tackle these challenges, the central bank has made green finance a priority for 2021 and the 14th Five-Year period (2021-2025), and several initiatives are underway.
Focus on 'green finance', reducing emissions
The central bank is working to improve the green finance standards in order to more effectively channel investment into green projects. "We are working with the European Union side to promote the unification of standards and are aiming to introduce a set of common classification standards within this year. We will also discuss this issue at the G20 summit," Yi said.
Yi added that the PBoC continues to strengthen the reporting and disclosure mechanisms of green finance. At present, green bonds in the interbank market have been required to disclose the use of raised funds on a quarterly basis. Financial institutions are also required to report the use of funds and investment directions of green credit.
Climate change factors are also being integrated into the bank's policy framework in aspects such as financial stability, monetary policy and foreign exchange reserves and investment.
"In terms of financial stability, we are exploring to integrating climate change factors systematically in the stress test of financial institutions. In terms of monetary policy, we are studying how to encourage financial institutions to provide financial support for emission reduction through preferential interest rates, green special refinancing and other support tools.
"In terms of foreign exchange reserves and investment, we will continue to increase the allocation of green bonds, control investment in high-carbon assets, and incorporate climate risk factors into the investment risk management framework," Yi said.
International cooperation, more solar and wind
At the same time, PBoC will continue to deepen international cooperation under multilateral schemes such as the Network of Central Banks and Supervisors for Greening the Financial System (NGFS) and the International Platform on Sustainable Finance (IPSF), and help developing countries strengthen their green fiance capabilities, the central bank governor said.
China is the world's largest emitter of carbon dioxide by a large margin and viewed by analysts around the world as critical to the global fight against the climate change crisis.
With an eye on emissions, the country installed 52 gigawatts of wind power capacity last year – double the amount in 2019 and about 70% of the global total – according to data released on March 18 by the Global Wind Energy Council (GWEC), an international trade lobby group.
However, China also led the world in building coal power plants. In 2020, China built over three times as much new coal power capacity as all other countries in the world combined, according to the research by the non-profit Global Energy Monitor.
But on Thursday (March 25), China said it will step up financial support for the development of wind and solar power generation, as part of its efforts to meet its target for carbon emissions cuts. 
China will increase backing to promote a healthy and orderly development of wind and solar power industries, as some renewable energy companies encountered difficulty in production and operations due to tight cash conditions, the People's Bank of China (PBOC) said in a statement. 
In early March, the country set a modest five-year growth target for nuclear power generation capacity and promised quicker development of alternative energy sources, but left its coal industry largely untouched. 
But today the central bank said banks could make arrangements such as loan extensions, refinancing or changes to the schedule and terms of loan payments to promising renewable companies that face short-term repayment pressure. 
China will also give subsidies to wind and solar power companies, and step up credit and loan support, the PBOC said.
Up to this point, Asia has been one of the slowest regions in the world in responding to the climate crisis. Activists from countries all around the world have been campaigning for China and many other countries such as India, Indonesia and even Australia to curb both their use of coal and for an end to coal exports.
The countries in Europe such as Germany, which developed a multi-year plan to phase out use of coal, have led the way in lowering emissions and are now benefitting from getting an early start in developing 'clean' energy technology, which has become a boom area for business.
The issue is regarded as so serious – a threat to ecosystems worldwide – that the European Union is discussing the imposition of tariffs on trading partners that fail to take significant action to counter global warming. New US President Joe Biden is also planning a major conference on the issue next month.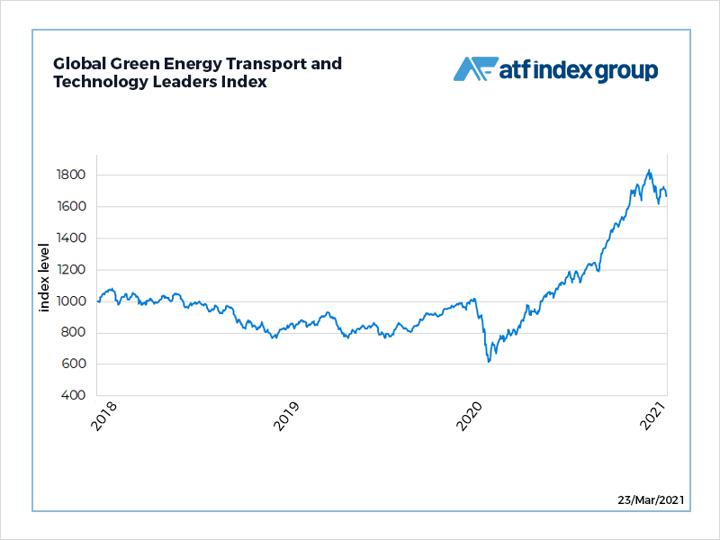 The Global Green Energy Transport and Technology Leaders Index created by Asia Times Financial in collaboration with ALLINDEX, is a benchmark that tracks shares of leaders in electric vehicle and renewable energy production and storage businesses.
ALSO SEE: