(ATF) A vaccine for coronavirus is thankfully in sight, but a swift end to the global economy's woes is not. Hopes that a recovery will unfold in 2021 are justified, but the path will be bumpy and depend entirely on progress in defeating the disease.
The challenge of repairing the economic damage wrought by the pandemic is perhaps best illustrated in Europe. After a 12.7% increase in the third quarter, GDP in the euro area (EA) was still 4.3% lower than a year earlier. As European Central Bank President Christine Lagarde set out in a speech this week (Nov 11), an analysis of the recession paints an even darker picture. 
In the six months following the collapse of Lehman Brothers in 2008, services contributed 1.7 percentage points to the ensuing euro area recession; this year the loss was 9.8 points, compared with 3.2 points for manufacturing.
The big hit to services matters for three reasons, Lagarde explained. First, a recovery from a services-led recession takes longer because less pent-up demand is generated than for consumer goods: people don't eat out twice as much to make up for the closure of restaurants during lockdown.
Second, services are labour intensive. Half of the five million jobs lost in Europe in the first half of 2020 were in service sectors, even though they account for less than 20% of output. And third, the job losses were unevenly spread. The low-skilled euro-area workforce shrank by 7%, twice as much as in the six months after Lehman, raising the spectre of long-term "scarring" in the labour market.
And remember, more pain is baked in as a result of renewed lockdowns imposed in many countries to try to contain the second wave of the virus. Economists expect Europe's GDP to shrink again this quarter. 
Moreover, governments have yet to withdraw the emergency support extended to workers and businesses, postponing a wave of bankruptcies, business closures and defaults. When they arrive, banks could tighten lending standards. 
No wonder Lagarde is cautious. While the announcement by Pfizer and BioNTech that their vaccine against Covid-19 appeared to be more than 90% effective, recurring cycles of accelerating viral spread and tightening social restrictions were possible until widespread immunity was achieved, she said. 
"So the recovery may not be linear, but rather unsteady, stop-start and contingent on the pace of vaccine roll-out. In the interim, output in the services sector may struggle to fully recover," Lagarde said.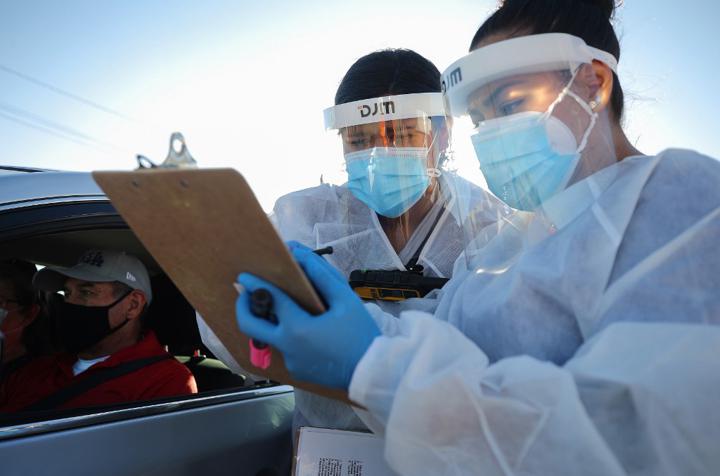 Healthcare workers check details at a Covid-19 testing site amid a surge of cases in Texas on Nov 13, 2020. The state passed a million cases on Nov 11 with El Paso having a virus death toll of 741 plus over 30,000 active cases. Photo: Mario Tama/Getty /AFP.
Third spike hits fragile jobs market 
The US is already battling a third spike in the virus, with new infections of around 150,000 a day and a record number of Covid patients in hospital. At the same time, the improvement in the labour market is running out of steam.
The US economy added 638,000 jobs in October, lowering the official unemployment rate to 6.9% from 7.9% in September. But the pace of job gains has been slowing and there are still 10 million fewer jobs than in February.
After a swift partial rebound, the US labour market now faces a long slog, where the jobless rate falls but remains elevated for a considerable period, according to Jason Furman of the Peterson Institute for International Economics in Washington.
"Further progress in the 'partial bounce back' phase will only get harder, especially if the virus remains a widespread concern," Furman said in a blog post with Wilson Powell of the Harvard Kennedy School.
The fragile state of the labour market underscores the need for fresh fiscal stimulus to tide the economy over the winter until a vaccine is widely available. But the outcome of the US elections, with power split between a Democratic White House and a Republican Senate, greatly reduces chances of swift agreement on a substantial package.
Still, the Pfizer/BioNTech news is an unalloyed positive for policymakers, especially as scientists are confident that similar vaccines now undergoing trials will also prove to be successful. 
"As the vaccine is both more effective than anticipated, and arriving sooner than previously seemed likely, it should lead to powerful demand growth later in 2021, and could well vindicate the extremely optimistic earnings expectations of the market consensus – if not for 2021 itself, then in terms of rapid growth from the middle of next year," said Charles Dumas of Lombard Street Research.
China is already reaping the benefits of successful containment of the virus coupled with government stimulus focused on infrastructure: sales of excavators in the first 10 months of 2020 were up by more than a third compared with the same period last year.
Joe Biden's election as president is likely to usher in a more predictable, less confrontational US foreign policy, but Beijing is probably not counting on the quick withdrawal of tariffs on some $200 billion of Chinese imports imposed by Donald Trump. Biden was as tough on China during the election campaign as his rival.
Hence Beijing's pursuit of the recently enunciated Dual Circulation Strategy with its emphasis on increasing self-reliance, especially in high-tech goods such as computer chips, while reducing vulnerability to politically motivated disruptions to global supply chains.
The sharpened focus on self-reliance underlines the need for the domestic economy to be solidly underpinned. To that end, Beijing looks to have resumed its financial de-risking campaign, begun in 2015/16 and briefly interrupted by the coronavirus crisis, by cracking down on Ant Group and other fintech companies. Regulators have also drafted rules to reduce the leverage of the buoyant but heavily indebted real estate sector.
As ever, officials face a balancing act. Go easy and financial risks and debt burdens could become uncomfortably high. Come down too hard and growth could slow too much, jeopardising Xi Jinping's ambition to double China's GDP by 2035.
Long after Covid-19 is finally conquered, the rest of the world, dependent on China for 40% of global growth, will be hoping that Xi succeeds in striking the right balance. 
# Alan Wheatley is an associate fellow at Chatham House, the London think-tank. He was formerly the global economics correspondent and China economics editor for Reuters.
ALSO SEE: